High winds topple trees, damage Dodd chimney, cause power outage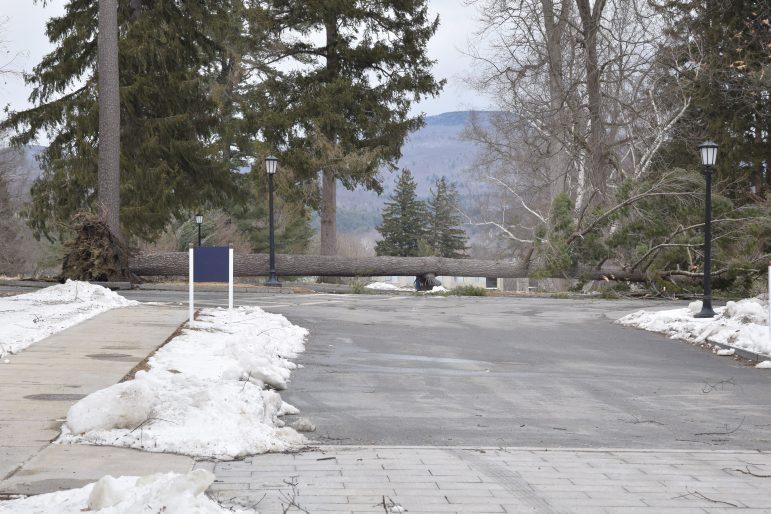 High winds averaging 25 to 35 mph and gusts up to 65 mph caused damage around campus on Monday, including the collapse of and damages to the Dodd House chimney and two student rooms, respectively. Other incidents included the falling of a tree on Mission Hill Drive and a brief power outage in Agard House and surrounding areas. The students whose rooms were damaged have been temporarily relocated until repairs are completed.
Declan Smith '21, who was in Dodd when the damage occurred, described the scene. "I was sitting in my room around 11:30 [a.m.] when I heard a particularly strong gust of wind start up," he said. "I felt the normal feeling of the building settling against the force of the wind, but then there was a shudder, and it felt as if the building gave way. A loud crashing noise accompanied the shudder, so I went over to my window to see if I could see what had just happened. I then saw a large number of bricks, some other debris (it looked like some ceramic stuff and wood) and soot all over the roof of the kitchen and pool room of Dodd."
Allie Campbell '21, who lives in Dodd, said, "I wasn't at Dodd when it happened, but my friend was, and I saw him right afterward. He sent me lots of pictures and videos. One of the chimneys above the kitchen was somehow knocked off the building. Bricks flew everywhere. They were scattered all across the roof and the yard. I know that some peoples' rooms were damaged by bricks."
Additionally, three vehicles sustained broken windshields and related damages from falling debris, bleachers were blown over on the visitors' side of Weston Field and a protective chimney cap blew off another building.
"The three vehicles that were damaged were all Facilities vehicles that were parked alongside the service building, where the wind blew some objects off the roof that was having some repair work done at the time," Executive Director for Facilities Operations Bob Wright said.
Campus Safety and Security (CSS) blocked off areas of concern and removed obstructions where possible. "The duration and the force of the winds made [the clean-up] too dangerous and much of [it] had to be completed [on Tuesday]," Director of CSS Dave Boyer said. "Emergency messages were sent, roads were blocked off [and] warning messages were posted on doors. One area had overnight CSS presence to prevent injuries. OSL notified students whose rooms were affected and arranged alternate housing where needed."
Campbell commended the campus response. "I received an email from [Director of the Office of Student Life] Doug Schiazza extending support if my room was damaged," she said. "I also received a text message from the College with a warning about the wind. One CSS officer was stationed in Dodd for the rest of the day. I am not sure what the support was like on site immediately following the incident. From my end, I did feel like there was an adequate response. It was nice to know that the school was concerned and on top of the damage."
Smith added, "As I was leaving for lunch (around 7-10 minutes [after the events]), I saw a CSS car pull up and an officer go around to the back. So in terms of response, I think they were quite quick and seemed to be doing what they could given the conditions. By the time I was back from lunch, they had already started to assess the damage."
In addition to vacating students from the damaged rooms, CSS closed off Dodd kitchen and had people check on the damage throughout Monday afternoon.
Schiazza encouraged students to be cautious in such weather events. "In any weather event of this nature, I would say that the most important thing is for everyone to be safe and to be especially mindful of what's going on around you," he said.
Boyer also praised student responsiveness as the College worked to repair the damage. "I want to thank the students for their cooperation throughout the day and night," he said.