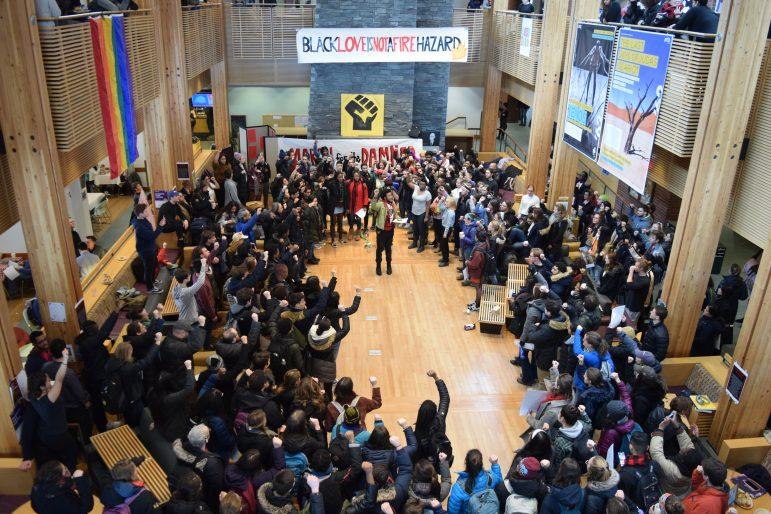 More than 200 students and faculty congregated last Thursday in Hollander Hall to participate in the "March for the Damned," a rally in solidarity with Black and Brown faculty and staff at the College. The march professed "radical love," honoring Kai Green '07, assistant professor of women's, gender and sexuality studies, and Kimberly Love, assistant professor of English. Green and Love took leave from the College earlier this semester, citing the College's "violent" institutional practices and environment for their departures.
"Dr. Green and Dr. Love have not died," Isaiah Blake '21 said at the march. "But we did want to recognize them as [martyrs]… We are creating a memorial to bear witness to their lives. We are taking up space because they took the radical act to do the same. This is a memorial not for the dead but for the damned."
The march's organizers, Coalition Against Racist Education Now (CARE Now), described themselves as an "amorphous group of students who came together to hex all fascists." A recently renewed student movement, CARE Now seeks to continue "in the legacy of Black-led organizing efforts on the Williams College campus." CARE Now members gave speeches during the event, outlining their mission and goals.
The event was, as Blake described it, "a memorial for the memorial – a vigil for the vigil." Students had constructed a memorial in Hollander in honor of Green and Love before parts of the display were removed by Associate Professor of Philosophy Keith McPartland, chair of the Schapiro-Hollander users committee. McPartland cited fire code violations that had been communicated to him by Manager of Safety and Environmental Compliance Frank Pekarski. After its removal, students responded by constructing a larger installation in its place. President of the College Maud Mandel later instructed the students to take down the installation, citing violations of both fire codes and the Americans with Disabilities Act.
"We made this memorial to remind everyone to love your home. Your home is your body," Blake said. "As we saw last week, Black love is a fire hazard. It's passion, it's painful, it scares people, it takes up space, it's a little too salty, it's a little too spicy… it's too loud."
"We honor these professors with this event in recognition of all they did for our community, in recognition of the violence our community did [to] them and in recognition of their willingness to stand witness to the troubles within our community." Rodsy Modhurima '19 said near the end of the march. "We thank them for their commitment for radical love in all its forms and wish to follow their example in spreading love, light and gratitude to all faculty and staff of color and trans and queer folk."
Beginning at 12:40 p.m., students and faculty gathered inside the main floor of Hollander, where organizers handed out flowers and candles. Blake opened with a breathing exercise, allowing everyone who had come to march to take a few moments to recollect. It was then that the students introduced the cheer: "I love you/ I love me/ I love us/ I love we."
As students began marching around Sawyer Quad, they continued to chant the message of love. It took over 10 minutes for the entire crowd to reach Baxter Hall – the final destination of the march.
Once inside Baxter, students began chanting, "Take up space," before proclaiming, "I love Black people/ You don't love Black people/ What's wrong with you?" A memorial had been set up near the fireplace in Baxter, featuring pictures and messages for Green and Love. Under the signs "March for the Damned" and "Black Love is Not a Fire Hazard" in Baxter, students hugged, chanted and expressed solidarity.
Addressing the crowd in Baxter, Blake discussed the motivations of the march and recognized both his ancestors and the people gathered at the march. He read a poem titled "A Letter to the Commodity." "Your home is in crisis… In the midst of your crisis do you hear the sirens? They come to serve and protect, but when they come, they take your brother and your tears, and the hurricanes outside flood your home," Blake read.
Blake referenced the removal of the memorial in Hollander. "Black love is a fire hazard," he said. "We're flames; we're heat. We are a community, a body of homes loving themselves radically. And that is hot."
Blake then passed the microphone to other students, who expanded upon CARE Now's purpose and the aims of the march.
Jesus Payan '20 spoke further on why students march. "The current deprioritization of hiring ethnic … and affinity specialists relies on simply the logic of low enrollments, which are in fact a result of the lack of course offerings," Payan said. "Dr. Green and Professor Love's departure[s] highlight the structural devaluation of knowledge that resists the academic status quo."
Participants expressed their dissatisfaction with the support systems the College has in place for faculty and students of color. Modhurima spoke of the College's "refusal to hold assaulters and abusers accountable, in the ways students are tokenized and in the failure to call out and condemn white supremacy on this very campus." Modhurima then presented a list of demands for the College, which included support for queer and trans faculty and faculty of color and staff, increased development of ethnic studies units, and further administrative transparency beyond just verbal support and affinity housing.
"We will not be forced to make space with people who hate us," Modhurima said.
Following Modhurima's concluding remarks on radical love, students wrote small messages on heart-shaped cutouts, which were placed around the central memorial. "Let's take a moment to breathe and actually feel the love in this room because I feel a lot of it," Isabel Pena '19 said.
Members of CARE Now did not respond to the Record's request for comment.
Editor's note: This story was updated on Feb. 27 at 8:48 p.m. to attribute a quote to Isabel Pena '19 after it had previously been misattributed.