La Voz de Tres performs eclectic, international jazz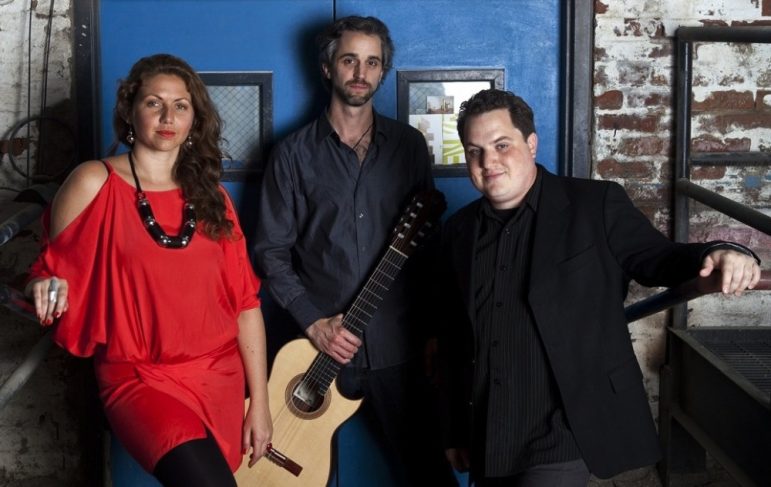 "We're all friends, right? So I can take off my shoes?" Natalia Bernal asked, smiling. She pulled off a shoe and pointed to the heel. "Who came up with this stuff?"
Bernal's casual and honest attitude was contagious during Friday's performance by jazz trio La Voz de Tres, whose members include vocalist Bernal, pianist Michael Eckroth and guitarist Jason Ennis. The performance was part of the annual Ernest Brown World Music Series. Dedicated to former Professor of Music Ernest D. Brown Jr., who passed away in 2012, this performance series works to bring international music to the College community.
Eckroth and Ennis had previously performed as members of a group focused on Brazilian music. At one of their gigs, Bernal stood in for a flute player, and the trio discovered that playing together felt uniquely organic. They decided to form a new group in 2008 dedicated to exploring their sound, and La Voz de Tres was born.
Part of their unique sound is owed to Ennis' use of a seven-string guitar, which is associated with the Brazilian "Choro" style. Ennis believes that the extra string, which provides a lower range compared to a typical six-stringed guitar, gives the group as a whole more freedom to explore different harmonization and voice leading choices.
While La Voz de Tres is considered a jazz group, the group plays a wide variety of music, including their own original songs and classic songs from several areas of Latin America, including Chile, Bernal's country of origin. The group has even recently incorporated tunes from the Great American Songbook into their varied repertoire.
Every piece of music that the group performed had a clear personal significance for the musicians. One song was written by Ennis and Bernal on a trip to Chile, in the foothills of the Andes Mountain; another, by Bernal, was in memory of her grandmother. Before playing a piece from Argentina, Bernal told the audience that she and Ennis always sing it as a lullaby to their son.
The group strives to find balance between expressing personal creativity and respecting various historical musical styles. When describing the group's essence, Bernal explained, "La Voz de Tres is a trio that has been working for the last 10 years in a mad chase for aesthetics. It's aesthetics but it's the sensibility of eras. Every genre, every decade, has its own sensibilities, and it's been beautiful to see how we have brought new inspirations, managed to communicate them, and then find new amazing souls along the way that have that hunger for aesthetics."
For this performance, the group invited one "new soul," cellist Eugene Friesan, to play with them. Though classically trained, Friesan now plays mostly jazz. While he had sheet music in front of him while he played, his contributions during the group's performance were almost entirely improvisational.
La Voz de Tres rarely plays with Friesan but has known the cellist for many years. The members emphasized throughout the performance how much they had been looking forward to playing with him. At the end of one song, Bernal gestured to Friesan and exclaimed, "My soul is being bathed with beauty here. This is a beautiful man."
In the middle of the performance, La Voz de Tres vacated the stage, giving Friesan the opportunity to play a solo. He first described his interest in the mbira, an African thumb piano, and the kora, a harp, and his desire to incorporate aspects of these instruments into cello music. Indeed, Friesan's original piece, Shadowplay, demonstrated innovative left hand percussion and strumming techniques with precision and passion.
To conclude, the group performed a rendition of Stevie Wonder's "Visions," which the group played into Brazilian composer Heitor Villa-Lobos' Prelude No. 1. Tendai Muparutsa, artist in residence in African musical performance and lecturer in music, who invited La Voz de Tres to campus, performed this final song with the group.
The eclecticism and multinationality of La Voz de Tres certainly was a worthy contribution to the College's World Music series.