BFAIR Buddies serve community
Mae Erzini
February 27, 2019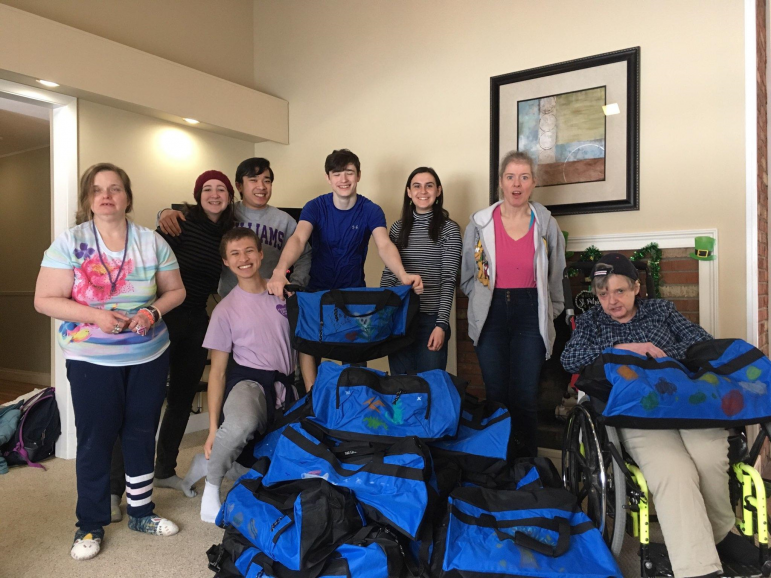 When Regina Fink '22 learned that a local nonprofit serving people with disabilities needed volunteers, she had an idea. Fink saw an opportunity to organize volunteering for the nonprofit through a student-run program.
Based in North Adams and Pittsfield, Berkshire Family and Individual Resources (BFAIR) has focused on meeting the needs of people with disabilities since 1994. Although BFAIR has welcomed student volunteers in the past, student participation has waned over the years.
Last semester, Fink, who has previously worked with people with special needs, saw an advertisement from BFAIR in the Center for Learning in Action (CLiA) newsletter. Fink then contacted Sue Bushika of BFAIR, as well as Paula Consolini, director of CLiA. According to Fink, both were "beyond enthusiastic." At the time, the College lacked a student-coordinated program to facilitate relationships between students and individuals with mental and physical disabilities.
Fink's idea was to fill this void by setting up a new program, BFAIR Buddies. As of February, BFAIR Buddies has expanded to include half a dozen students and has conducted around five visits to BFAIR residences, including in North Adams. As part of its mission, BFAIR provides housing and 24-hour care to neurodiverse individuals.
Still in its infancy, BFAIR Buddies is small in comparison to some other student community engagement groups. But according to Sharif Rosen, the College's Muslim chaplain and the assistant director for community engagement of CLiA, BFAIR Buddies program has elicited "a really good response."
Before BFAIR Buddies, a student group called Eph Buddies played a similar role on campus, working to facilitate relationships between students and people with mental and physical disabilities. Last active in the 2016–17 academic year, Eph Buddies left behind a gap, one that BFAIR Buddies now fills.
Rosen maintained that community engagement groups thrive when highly committed students possess a desire not only to launch initiatives but also to sustain them. Per Rosen, BFAIR Buddies was "blessed to find that in Regina," who was adamant about creating a sustained connection with BFAIR and the College that will survive for her four years and beyond.
Starting small, the BFAIR Buddies program has set itself achievable goals in the short term while also weighing the potential for larger-scale endeavors in the future. The program has used the resources offered by CLiA sparingly, limiting its expenses to gas and supplies, including the arts and crafts materials for their recent Valentine's Day card-making event at a BFAIR residence. Yet the student volunteers are already looking ahead: An idea for one of their next projects is to bring in therapy dogs. Envisioning work for next year, Fink mentioned the possibility of a Winter-Blitz-like project, in which students from the College as well as neighboring undergraduate institutions could sign up to visit multiple BFAIR residences for a day.
"There is no single way to get involved," Rosen said, noting the variety of activities the students hope to organize. He praised the group for offering an opportunity for students to "extend beyond Route 2 [and] to view this entire region as a place to work and grow."
At present, however, the BFAIR Buddies program faces some obstacles. Not yet registered as a student organization, it is seeking to expand its leadership. Fink admits that finding room for spare hours in an already tight schedule can be stressful, but she refuses to adjust her commitment. "There is really no other thing I should be doing with my time … [especially] when I am so privileged that I get to be stressed about my homework."
The group's work is rewarding for student volunteers, Fink emphasized. On the road, student volunteers enjoy being away from the confines of a small college campus and jamming to tunes queued by Eva Castagna '22. Once at the BFAIR residences, the activities are enjoyable for the neurodiverse individuals and for volunteers, Fink says. Recounting an average Saturday morning, Fink began to smile. "We usually have a dance party in the middle – one of the women likes Electric Light Orchestra … and we sing along while we make crafts," she said.
Fink said she was comfortable with the work from the beginning due to her experience working with people with disabilities. She knows that those without that experience can be nervous at first, but she says there is no need to be. "I think that the really wonderful thing is … that all judgements are out the window," she said.