New clubs aim to battle inequities in finance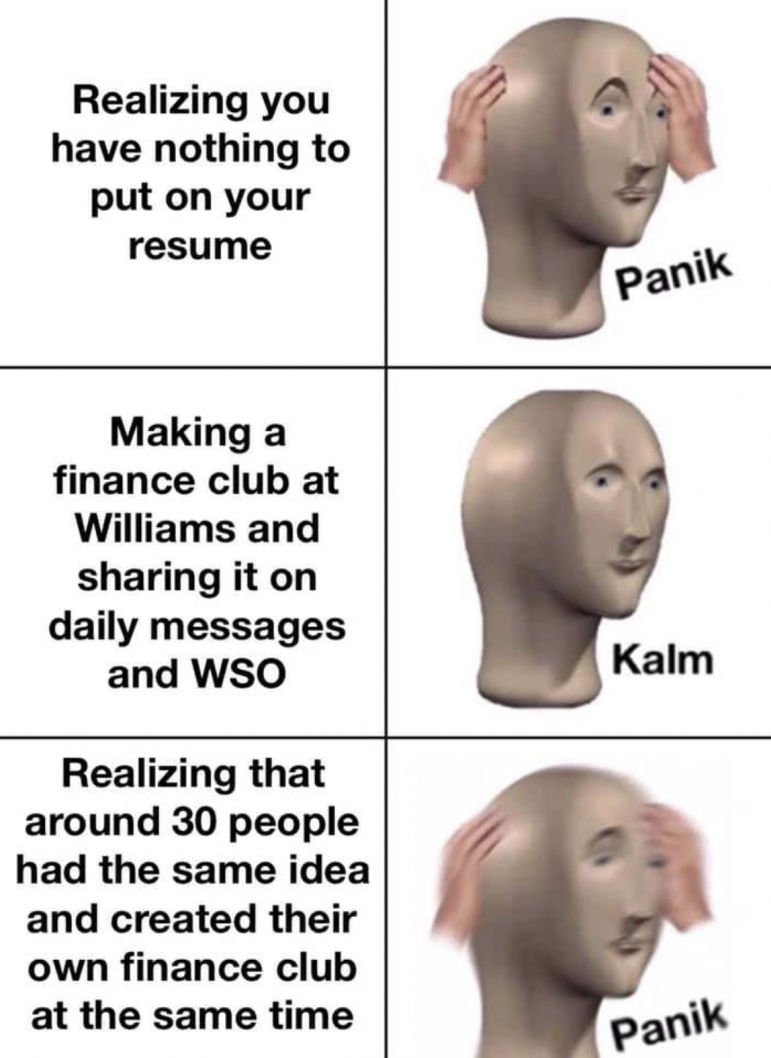 A post in the "Williams Memes for sun-dappled tweens" Facebook group at the start of September poked fun at the recent growth of finance clubs since the spring semester. The meme was responding to the fact that there are now four clubs explicitly related to finance at the College — Williams Insight, the Williams FinTech Club, the Williams Finance Club and Margins Finance Club — and aside from the financial publication Williams Insight, all of these clubs are in their first semester of operation. The meme, which currently has 238 Facebook reacts, reflects the belief that the students who created these finance clubs did so simply to pad their resumes, and unoriginally, at that.
But in interviews with the Record, the students who founded these clubs expressed motivations that went well beyond resume-padding. Members of the Margins Finance Club and the Williams Finance Club spoke about their motivations and goals for the upcoming semester. The Williams FinTech Club did not respond to the Record's request for comment.
Margins
Nick Langel '23 and Chandler Dula '23 met while taking ECON 10, while Langel and Kamara '23 met on the Winter Study Finance Career Trek. However, they said they found themselves excluded from the prevailing views that surround students interested in finance on campus. 
"It was very clear that [finance] has a bad name on campus," Langel said. "The stereotype is that it's white, and bro-y, and jock-y. There's clearly people who are interested in finance who don't fall into that category, and there wasn't a community… where we could talk about these issues."
The trio decided to form a new group, the Margins Finance Club, to challenge the perception of students interested in finance. "Even from the name, you can tell who our targets are … People who are marginalized in Williams and in the finance space," Kamara said when speaking on the goals of the organization.
Langel noted that the club wanted to avoid a technical focus. "Finance is not rocket science … it's more about who you know," he said.
Instead, they wanted to create a space where students from marginalized backgrounds could find a community within their career interest group and gain access to some of the advantages that can make it difficult to enter finance without. "I wanted to provide the kinds of resources that some students come into college having: a network, family connections, that make the field inequitable at the very start," Langel said.
"I learn better in a community where people have faced the same barriers as me and who can understand what it's like to look like me in these situations," Dula said, affirming that an affinity-based space helped him to be more confident in his performance and interest in the field.
The board also expressed concerns that issues of race were systemically undercovered by other campus organizations. "It's very easy to just appoint a director of diversity and inclusion… It's something that can easily be taken advantage of," Langel said.
"Why should we be afraid to talk about race within a finance space?" Kamara added.
Williams Finance Club
The Williams Finance Club, although in the same nominal category as the Margins Finance club, has a very different focus. Co-founded by former roommates Sameer Jain '23 and Brian Anderson '23, the Finance Club was intended to help make up for the lack of a distinct finance major at Williams and, before the fall of 2020, of a central finance club.
Jain noted the close connection between the Williams Finance Club and the Career Center. Robin Meyer, who is in charge of business careers at the Center, was very enthusiastic about sponsoring the club and helping to get it off the ground, Jain said. The club hopes to extend its focus on collaboration even to groups not affiliated with the College.
"We're planning to collaborate with other finance clubs at different schools," Jain said, mentioning options such as stock-pitch competitions and inter-school networking opportunities.
"We definitely see opportunities to work together," Jain said of the College's other finance clubs, noting that they were already planning to collaborate with the FinTech Club and had reached out to Margins.
Jain said that the purpose of the Williams Finance Club is threefold: to provide a basic finance education, to use the College's network to contact alumni and explore finance and to give students practical finance experience through the management of a club fund. Though these goals may seem like those of a garden-variety finance club, the Williams Finance Club also has unique aspects to its approach. For example, unlike other finance clubs on campus, it has no application process. For Jain, this philosophy was critical to the formation of the club.
"First and foremost, the goal of our club is to be open to anyone and everyone," he said.
Jain noted that many students are concerned about the lack of diversity in the field. "Coming into finance, I had a lot of the same concerns," he said. "Diverse funds in finance perform the best … The reason for that is that people with different backgrounds and experiences are able to think differently from those with other backgrounds … In finance, your perspective is so valuable."
Jain urged students who are on the fence about getting into the finance field to try it out. "Finance is always changing, and it will change," he said. "Don't close yourself off to that opportunity."
Correction: It was originally stated that Nick Langel met Isha Kamara and Chandler Dula in Econ 110. Langel met Dula in Econ 10, and met Kamara on the Finance Career trek.