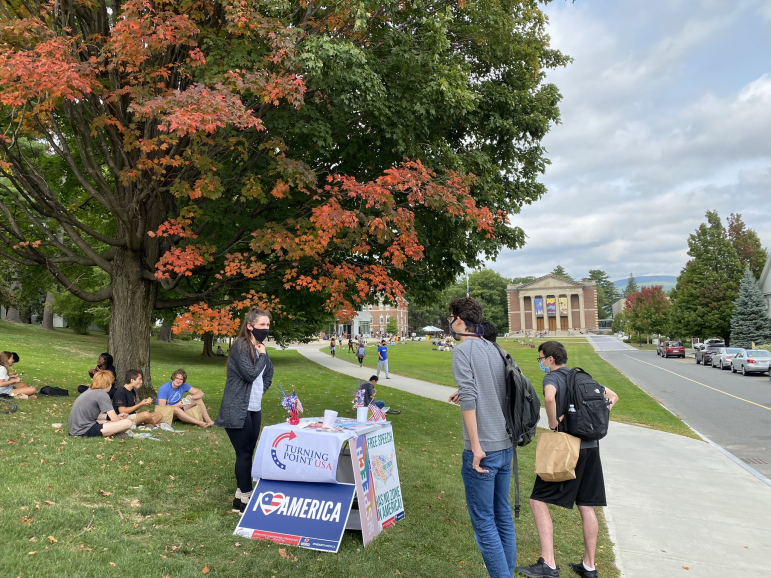 Last Thursday, in an apparent violation of the College's COVID-19 regulations, a representative of Turning Point USA (TPUSA) set up a table by Paresky Lawn — at the edge of Rte. 2 — for several hours. TPUSA's intentions in setting up the table included to form a Williams chapter of the organization, according to the representative. 
TPUSA is a nonprofit headed by prominent conservative activist Charlie Kirk and has the stated mission "to identify, educate, train and organize students to promote freedom," according to the TPUSA website. The representative, Savannah Coelho, is not a College student and is listed as a TPUSA national field program representative on her business card. Coelho did not respond to multiple requests for an interview.
Coehlo's table appeared to be located roughly on the boundary between College and town property, though the campus boundary is not precise enough to discern definitively. "I think it's probably more likely that she was on town property than she was on campus property," College General Counsel Jamie Art said. "We have a porous campus. There are lots of expanses of lawn that seamlessly transition from town green to campus green. And there's no clear boundary there."
A visit to campus by TPUSA would not be in accordance with the College's COVID-19 regulations, which state, "In an effort to prioritize people's health and safety, the college has made the difficult decision to close campus to all visitors." 
Coelho emphasized TPUSA's nonpartisan status, but the group is ideologically and politically aligned with the Republican Party. Kirk, who delivered the opening remarks at the Republican National Convention (RNC), also runs Turning Point Action, a group devoted to "educating, identifying and mobilizing Republican voters on college campuses throughout the country," according to its website. The group is currently engaged in a "Students for Trump" get-out-the-vote campaign ahead of the November election.
TPUSA's projects have included a nationwide "Professor Watchlist" of professors who allegedly "discriminate against conservative students and advance leftist propaganda," as well as an over $2 million initiative to elect conservatives to student governments.
"No one at the school wants me here, and that's okay," Coelho said while tabling. "But I feel like there are some students, in fact, that secretly go by and they're like, 'Yeah,' but they're too afraid of judgment from their friends and from their professors."
Coelho is largely correct that the political views of most College students are not generally aligned with those of Turning Point. President Trump got 3.4 percent of the vote in the Williams College Democrats' March 2020 mock presidential primary (which was open to all students), compared to 95.3 percent of the vote received by various Democratic candidates. Since 1990, 94 percent of College staff and faculty's political donations have gone to Democratic candidates, compared to 6 percent for Republicans. 
It is unclear whether College administration was aware at the time that Coelho was engaging in this activity. According to Campus Safety and Security (CSS) Director Dave Boyer, CSS received no incident reports related to Coehlo's presence. Even setting public health guidelines aside, the College does not allow outside political groups such as TPUSA to canvass on campus uninvited.
"Outside groups, political groups, cannot invite themselves onto campus," Art said. "Even if they're not doing campaign activities. We are not a public forum for people who are not affiliated with the college to engage in their activities."
During the afternoon, Coelho claimed to have received permission from relevant authorities before coming to campus, saying, "I got public permission from the sheriff to stand on this sidewalk." She did not claim to have obtained permission from the College beforehand.
Williamstown Police Chief Kyle Johnson did not respond to requests for comment. The Williamstown Police Department's records do not include Coehlo's name, nor did their log for Thursday include a description of any similar-sounding situation.
For several hours, Coelho talked with students and other passersby, attempting to distribute TPUSA signup sheets and a range of other materials promoting voter registration and campus free speech. Though students generally either ignored her stand or approached her for conversation, Coelho claimed that several students gave her the middle finger or said profanities as well. Throughout the afternoon, Coelho would often engage with several students at any one time, many of whom were trying to determine why she was on campus or question her political beliefs.
Art explained that if voter registration efforts include an ideological bent, they fall into a grey area under federal tax law. "In terms of our voter registration activities on campus, if they're further away from any sort of political party affiliation, or ideological affiliation, then we're on much more solid legal grounds," Art said.
Coelho is not a student at the College and made that fact clear to some of the students who passed by. "I have never sat in a Williams College classroom a day in my life," she said, explaining that she is a graduate student and is TPUSA's field representative for Massachusetts, New York and Vermont. She said she was on campus for several reasons: to register students to vote, to start a local TPUSA chapter and to promote free speech and American exceptionalism.
According to Solly Kasab '21, Coehlo may not have been the only person advocating for TPUSA on campus. "A friend and I were walking back to Prospect when we were approached by a woman, and she asked, 'Are you two Williams students?' We said yes, and she said, 'Great, I am too,'" Kasab said, before describing the woman's subsequent advocacy of TPUSA. Patrick Zhuang '21, the student with Kasab at the time, confirmed Kasab's recollection of events. After viewing an image of Coelho, Kasab noted that she did not appear to be the same woman he talked to. Furthermore, he said he saw the woman affiliated with TPUSA the day before Coelho's confirmed visit on Thursday.
Coelho also claimed that TPUSA was strictly nonpolitical, saying, "We're a nonprofit organization. So we cannot take political-based donations." However, TPUSA's nonprofit status does not restrict what type of donations they receive. Additionally, according to a 2017 New Yorker profile of the group, "Turning Point donors can take tax deductions for their contributions and remain anonymous" due to the group's 501(c)3 status. The profile notes that "the group may have skirted campaign-finance laws that bar charitable organizations from participating in political activity."
Coelho, who described herself as a libertarian, engaged with passersby on a variety of topics, particularly regarding academic freedom and expression. "Professors are biased," she said. "Some of them are some good ones, but I've had very few good ones. And I went to college in the Deep South."
Coelho continued, "I was a poli-sci student. I still am. And all my classes related to politics. When all of my professors feel a certain way, and we are given an assignment where we are to write … an opinion piece on a certain issue or what we think the best policy alternative is, and that professor does not like that opinion, how do you think that affects my grades?"
Following additional student pushback to the idea that the College's professors were politically intolerant, Coelho clarified that she was speaking about college campuses more broadly and was not familiar with the particulars of the College's educational experience. "I'm not going to speak on the professors or the quality of education [at Williams]," she said.
Though most students who visited TPUSA's stand disagreed with Coelho, she claimed that at least three students had privately expressed support for her throughout the day. She saw these private indications of support as part of a broader culture of intolerance towards conservatives at the College, pointing to the lack of a College Republicans club on campus. However, Coelho did not appear aware of the College's Society for Conservative Thought, headed by John DiGravio '21, which does not do political advocacy work but does engage with conservative thinkers.
When asked for comment, DiGravio said, "I do not have any comments on TPUSA. The Society for Conservative Thought has no affiliation or contact with the organization."
Students engaged with Coelho on a variety of additional hot-button issues, including healthcare, education, the Black Lives Matter movement and vaccination.
"Whether you're one year old in daycare, or 30 years old in grad school, you're gonna have to get a flu shot just to go to school, whether or not you believe in that," she said. "That's intrusion on your rights; that's intrusion on a lot of things." Coelho's stance against mandatory vaccination, which has gained popularity in recent years, is often championed by those who adhere to debunked scientific studies that wrongly find a link between vaccination and a number of health maladies, including autism. 
When asked about allegations of racism within TPUSA made by former employees, Coelho was dismissive. "A lot of news organizations don't like us, because they don't like what we promote," she said. "They promote socialism." She also emphasized TPUSA's outreach at historically Black colleges and universities (HBCUs) and "inner cities."
In another instance, Coelho criticized what she saw as colleges' tendencies to equate conservatism with bigotry. "[Conservative students] are labeled as a bigot, as somebody who doesn't care about others," she said. "That's not true. Why does it make somebody a horrible person for not wanting to give their money away to the government?"
Margaux Kristjansson, a Mellon postdoctoral fellow in the American studies department, burned one of TPUSA's fliers near the table on Thursday, citing what she believed to be the organization's "fascist politics."
"[TPUSA] is totally legitimising an idea of the U.S. as somehow under attack by socialism, which is a total ideological sleight-of-hand used to deflect from the ways that the U.S. as a state is built on the ongoing theft of Indigenous land and ongoing structural anti-Blackness," Kristjansson said in an interview with the Record.
Simon Kent '23 said he engaged with Coelho primarily out of curiosity. "I spoke with the Turning Point rep because I was honestly curious what got them interested in approaching the Williams campus, which is obviously heavily skewed liberal and progressive over conservative," he said.
Kent also said he was attempting to engage with Coelho on their differing beliefs. "I also wanted to try and sway her at least somewhat away from some of the toxic ideology I believe she has really bought into," he said.
However, Kent emerged from the exchange dissatisfied, and found Coelho's approach to other students to be dismissive. "I was just frustrated that she was claiming her free speech was being infringed when people told her to go away," he said. "They have the free speech right to do that, and I thought it super hypocritical of her to be so dismissive of other people's response to her."
Editor's Note: This article has been updated to reflect additional information from College legal counsel and from Kasab. The article previously stated that Coehlo was on College property and that she personally approached Kasab, and has been corrected to clarify that Coehlo may have been on town property and was not necessarily the TPUSA representative who encountered Kasab.