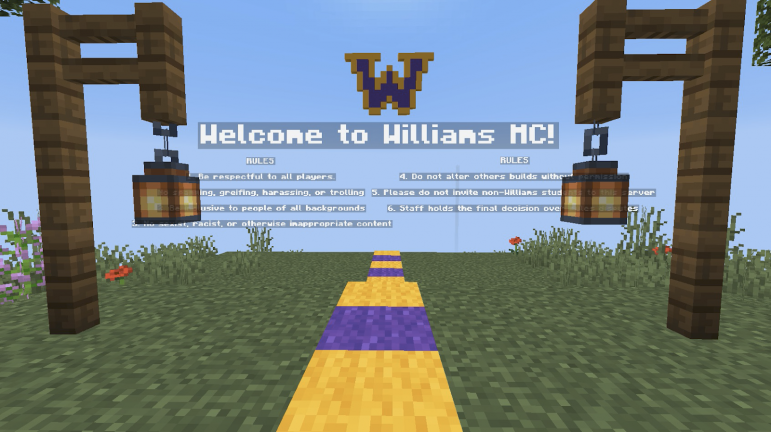 The coronavirus pandemic may have shut down the College mid-semester, cancelled NCAA Div. III championships and forced Ephs into socially distant training groups, but one competitive community has thrived even under isolating circumstances: the PC Gaming Club. 
Abraham Park '22, the president of the club — formerly known as the League of Legends Club — officially changed the name at the start of the 2020 school year. He hoped to accommodate both existing members, who primarily played League of Legends, and new students who played a variety of other games.
Markus Feng '21, a member of the club since his freshman year, strongly advocated for the club's expansion.
"Previously we had many people that were part of or adjacent to the club, using the same spaces, but playing other games such as Valorant, Apex Legends or Minecraft, and we wanted to be more inclusive to these people," Feng wrote. "Since we already have the experience of running a gaming community, I thought it was natural for us to expand our scope and accommodate a wider and more diverse group of students."
The diversification of the group led to a number of new channels on the club's official Discord, ranging from those devoted to the most popular games among first-years like Minecraft to games such as Valorant, Smite, Overwatch and even party games like Among Us.
Mohammad Faizaan '23 and Henry Urschel '23 had initially planned on starting their own club dedicated to Rocket League, another popular video game, at the start of this school year. However, they decided to join hands with the newly renamed PC Gaming Club instead, so as to introduce the game to existing gamers and expand their user base.
Rocket League now has its own channel on the club's Discord, through which all interested club members can freely interact with each other. The variety of channels on the Discord allows members to try new games with ease and make new friends, according to Faizaan.
"I had never played League … and at the time the club was only meant for League … so I wasn't part of the original club," Faizaan said. "Now that it's the PC Gaming Club, I feel like one, it will attract a lot more people who aren't just League [of Legends] players, but also [members] can make more friends, play more games, and people can try out games they've never played before… I personally tried out Hearthstone, because there's a Hearthstone channel now."
Because of the addition of more casual gaming options, the barriers to entry "aren't very high," according to Angela Gui '24. Returning members are there to help new members, such as herself, download games compatible with their respective devices. For Faizaan, Feng had helped him download the right software to play games normally meant for Windows on his Mac.
The PC Gaming Club's unique capacity to expand and diversify over the pandemic emphasizes the club's function as a social platform as well as a gaming hub. It's not unusual for alumni to stay on the club's Discord and continue gaming with current students, according to Park. Over the summer, he "spent a ton of time playing games with current members and many, many alumni who had graduated within the past three years"
Like Park, Feng used the club platform to stay connected with old friends and to meet new students at the start of the school year. "We had students and alumni ranging from the class of '14 to the class of '24 play games, hang out and share experiences, which made my COVID times a lot less isolating, as I interacted with very few of my friends in person after we were made to leave campus," Feng wrote.
For new students — on campus and remote — the club has connected them to members across the College community. Gui, who is enrolled in-person, said she met and befriended new students through the club. She echoed the sentiments on the inclusivity of the PC Gaming community for students across years and gender.
"There wasn't any [singling out], it was more like 'you're a person that enjoys games,'" she said. "So gender is not a boundary that creates a divide among us. … I feel very welcome."
For remote students, the club offers a valuable opportunity to engage with the College community while being physically away from campus. William Ding '24, enrolled remotely in Kentucky, reached out to the club a few weeks prior to the start of the fall semester to make new friends at the College.
"Being remote kind of sucks…and you can't really go outside and make friends," Ding said. "I emailed Derek and Abraham and asked them to add me to the Discord so I can play with [the club]."
Despite being the only freshman in the club until the start of the semester, Ding noted, positively, that the older members didn't treat him any differently — "everyone games with everyone," he said. "If you mention PC Gaming, people have a certain idea of who might be in that club, but there's a lot of [diversity] … it's very different from what people might think."