Fall sports are cancelled: what that means for athletic staff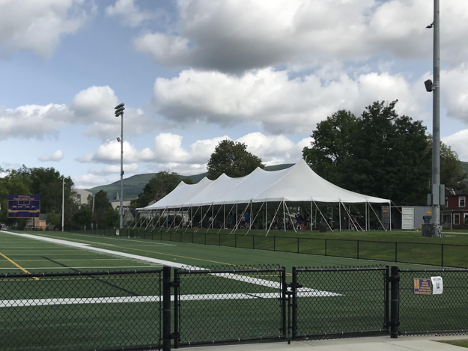 With all indoor sports facilities closed and teams' competition schedules scrapped, athletic department faculty and staff are navigating an unusual time for Eph athletics.
According to Athletic Director Lisa Melendy, no athletic department staff member has been furloughed or laid off following the cancellation of the fall season. The lack of competition has not translated to a lack of work, however. In fact, according to many, it has been just the opposite. While their employment status may not have been affected by the pandemic, their roles and daily work have changed dramatically.
"Life in athletics has been completely altered," Melendy said. "Our focus is very different currently. Rather than planning for competition, we are planning how to assist students, both athletes and the general student body, in remaining physically fit."
Public health guidelines have forced them to reconfigure every aspect of athletic training. They have been conducting all training sessions, small group practices and meetings in an outdoor, continuously sanitized setting. Although the activities of athletes on campus are far more limited than usual, they require far more complex planning.
As of Monday, teams are permitted to gather in small, socially distanced groups to practice with coaching staff. In order to accommodate attendance caps, most coaches are holding several smaller practice sessions, consisting of safe, guideline-compliant drills.
"They have had to be very creative," Melendy said. "Activities will be mostly conditioning and skill-based, as live scrimmaging in contact sports is prohibited."
On top of running practices, all coaches are teaching virtual and in-person Physical Education (PE) classes for the general student body. In-person PE classes have been especially popular this quarter, according to head coach of women's golf Tomas Adalsteinsson, who is currently teaching the Advanced Golf class at Taconic.
Adalsteinsson stressed that, because every aspect of fall athletics has to be carefully thought through and planned out, many involved find themselves working harder than ever.
"I think it's been an extra load … as it has been for the rest of the College, to think of creative ways that we can make this happen," he said.
To help athletes stay in shape while the gym is closed, Sports Performance staff members set up an equipment tent outside, which can be used for team lift sessions for those on campus. All equipment is spread out and routinely sanitized according to the College's guidelines. Head strength and conditioning coach Rob Livingstone also helps develop at-home training plans for remote student-athletes.
To account for this increase in sanitation and administrative work, many coaches have joined the Sports Performance team for the fall season, tripling the department's size, Livingstone said. "We are still going to be able to provide a robust training program and a great experience," he said.
Sports Medicine staff is operating in a similarly modified way. Staff conducted medical screenings of on-campus athletes and will continue to cover practices, but training room capacity has been decreased significantly to allow for social distancing and proper sanitation practices. There will be no walk-in appointments, except for those experiencing an acute sports-related injury that requires immediate care. Pre-practice services, such as injury wrapping and use of sports medicine equipment, are also being kept at a minimum.
The athletic department's equipment managers are limiting the issuance of general athletic equipment as well. All gear that is loaned out will be designated for a single user and cleaned upon return. Equipment staff has additionally taken on the role of laundering and sanitizing personal protective equipment (PPE) and towels used across the department.
Despite a lack of athletic news to cover the College's Sports Information team, which runs the EphSports website, is still releasing stories and social media posts on EphSports accounts, according to Sports Information Director Dick Quinn. The focus of their coverage, however, has gone from daily competition recaps and statistics to more feature-like looks at former Eph athletes and past seasons, as well as a series of infographics.
As the pandemic continues to evolve, it is not yet clear when, or if, Eph teams will resume competition this academic year. For Melendy and others in the Athletic Department, the process of reimagining athletics to adhere to public health guidelines is far from over.
"[M]oving all activity outside, creating a movement, equipment, and disinfection plan has been a massive undertaking," Melendy said. "The most important point of course is that we have all of the protocols in place to make sure all activity is done safely."