Nonner tests P.E. department's quarantine fitness videos; videos test her back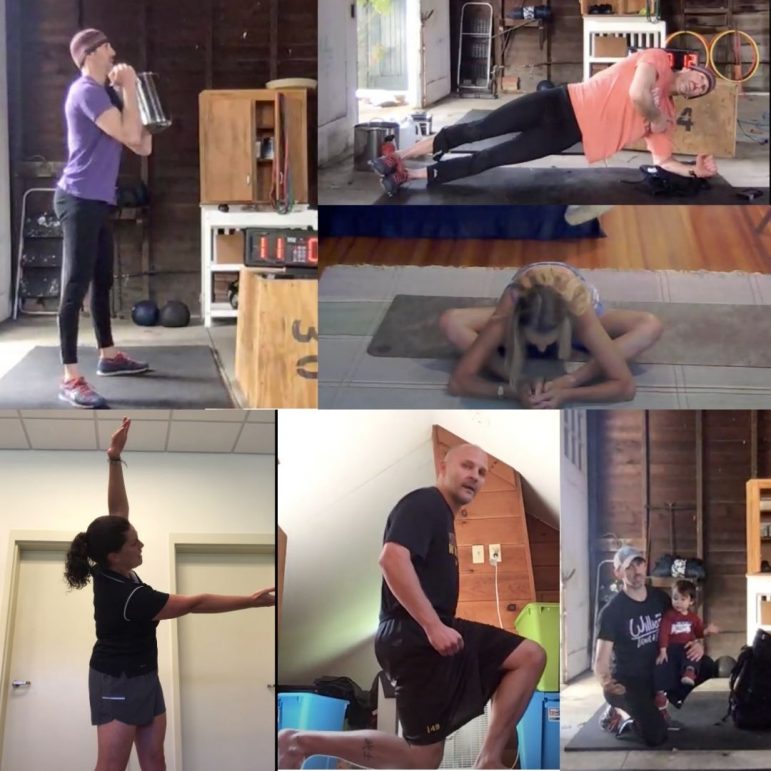 Persistence works, or at least it works on me.
The first I heard of the physical education department's fitness videos for quarantine was in the Aug. 28 edition of Associate Vice President for Finance and Administration Matthew Sheehy's weekly all-campus emails. Then I saw the videos mentioned in the ubiquitous Fall 2020 Guide on Returning to Campus: "Follow these videos by Williams' physical educttion [sic] team to keep loose and limber in you [sic] dorm room." I received a copy of a flyer advertising the videos when I checked in at the Cole Fieldhouse. I found another copy waiting for me when I entered my dorm room. Having seen references to these fitness videos everywhere I looked, and with little else to do in quarantine, I could not help but be intrigued.
The last time a non-athlete ("nonner") Record editor engaged in athletic activity for an article — when Executive Editor Sofie Jones '22 spent one trying day on the wrestling team — it yielded the immortal headline, "This nonner is a goner." I hoped, however, that these videos would be easier than practicing with a varsity sport, since the workouts were aimed at students in general. So I decided to put the videos to the test.
Or have the videos put me to the test.
Saturday: Moving in, yoga
Schlepping my belongings to the fourth floor of my dorm seemed to me to be more than enough physical activity for the day, so I decided to keep additional exertion to a minimum.
"Yoga – Floor Stretches," led by College yoga instructor Mary Edgerton, proved just the thing. The 20-minute routine was not too taxing. The stretches felt good on a back wearied by hauling boxes upstairs and made me feel, as advertised, "loose and limber."
Sunday: Yoga again, boot camp
I completed Edgerton's second video, "Yoga – Standing Stretches," in the morning. Like the previous routine, it was quick and relaxing.
But I was sure the rest of the fitness videos would not be so soothing. Doing these yoga videos felt like watching the first 15 minutes of a horror movie, when the sweet little family moves into a charming, definitely-not-haunted house in the suburbs: All was well for now, but I knew things would quickly get much worse.
Difficulty of the exercises aside, I also worried that the non-yoga videos would cause a ruckus. I emailed my downstairs neighbor to introduce myself and to warn him that I might be jumping on his ceiling over the next few days. (No response.)
This fear was well-founded, as I learned in "Boot Camp in your Room," a short video created by Scott Honecker, assistant professor of physical education and head wrestling coach. Honecker had viewers do, among other things, high knees, jumping jacks, burpees and a combination of high knees and "fast feet" (during which Honecker urged, "Pound the pavement as fast as you can!").
Honecker recommended doing the circuit three times if possible. I was surprised by how much I enjoyed myself, even on the second and third viewings of the video. Though a challenge, it was not as difficult as I had feared, and yet Honecker managed to create a boot-camp atmosphere. His insistent tone made me feel I had no choice but to do the exercises. And when he ended the video by welcoming students' questions about fitness and mental health, he spelled out his email address with an approximation of the NATO phonetic alphabet, usually used for military purposes: "That's Silo. Delta. Hotel…"
Monday: More planks than a hardwood floor
The next video, Assistant Professor of Physical Education and Head Men's Track & Field Coach Ethan Barron's 47-minute "Anywhere Fitness Workout #1," was less daunting than it appeared at first glance, largely because the workout started only 18 minutes in. In the meantime, Barron led a short warmup and talked viewers through the ensuing routine.
The first part involved 10 squats (with whatever weight was available — I used a backpack stuffed with a jumbo bag of walnuts) followed by eight pushups. It seemed pleasant enough until I realized I had to do it 12 times. To put that in perspective, 12 is the number of milk cartons that awaited me in my minifridge when I moved into my room.
Then came a lengthy break, and then a core circuit I had to repeat somewhere between five and 30 times — I couldn't tell you how many. I did more 20-second planks than I had done before in my two decades on this Earth.
"I'm incredibly bad at core, especially planks, so I will be playing some music to try to keep me relatively motivated," the indefatigable Barron said, prefacing a series of perfect planks.
Even without the boot-camp edge I so adored in Honecker's video, "Anywhere Fitness Workout #1" had its own charm. I appreciated Barron's unending energy, suggestions for how to make the workout work for us viewers and concern for how we felt about the routine: "Hopefully that's what you're looking for — if not, let me know." A highlight of the video was a cameo by Barron's dog, Mouse, who tried to wreak havoc during one of the planks.
Tuesday: 'Death by workout'
"Anywhere Fitness #2" got off to a less-than-reassuring start. Barron prefaced the routine with, "Technically, this workout is called 'Death by workout,' but don't be too intimidated by that. It more just means we are going to go to failure on the last set."
Great.
As it turned out, the workout was shorter and less demanding than the prior two days' exertions. It was made all the better by the appearance of Barron's adorable toddler, who waddled around turning off the countdown clock, turning on the music and causing other forms of mild chaos. The only problem was the squats. Wearied by two days of similar activity, my legs balked at the idea of bending even a little.
Wednesday: Finale
Barron felt like an old friend by the time I queued up Day Three of his videos, "Anywhere Fitness #3." Good thing, too: Sick of quarantine, checking my email constantly for notification of a second negative test and almost running out of bottled water, I needed a friendly face.
After several days of quarantine fitness, I also needed to be doing anything other than squats. I wasn't sure how much more my legs could take. But, Barron announced we would be doing, among other things, 150 squats.
It will take a little digression for me to explain how it felt to hear that. Last year, my tutorial partner appended to his first paper an Albert Camus essay on Sisyphus, the Greek mythic figure condemned to rolling a stone ceaselessly up a slope. Here is how it concludes: "The struggle itself toward the heights is enough to fill a man's heart. One must imagine Sisyphus happy."
One, I now knew, must imagine wrong. I now knew how Sisyphus felt the first time that, having sedulously rolled the boulder up the mountain, he watched it whiz back down to the plain. Struggling toward the heights is one thing. A third day of squats is quite another.
After I finished my daily portion of Anywhere Fitness, painful squats and all, I clicked on the final video, the four-minute "Upper Body Mobility," led by Associate Athletic Trainer Yasmin Wilkinson. With a wonderfully ruthless efficiency, Wilkinson taught viewers how to open up our backs and shoulders.
And then I was done. I felt grateful to my virtual instructors — for taking the time to film these videos, for giving me ways to keep moving even as I was confined to my dorm room.
I also felt grateful that I could now lie on my bed and do nothing.