College honors class of 2021, awards Bicentennial Medal in virtual convocation ceremony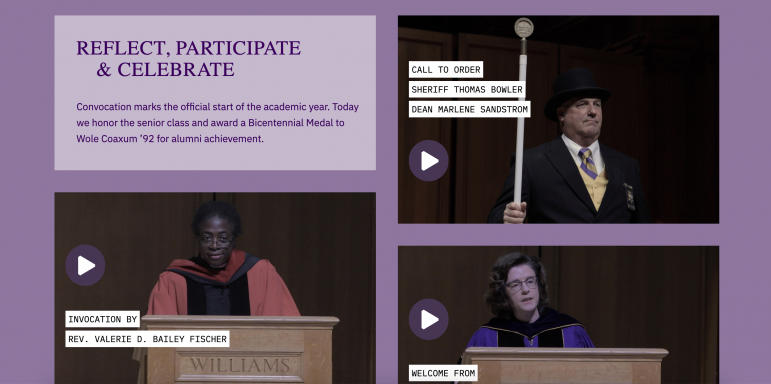 Last Saturday, the College inaugurated the 2020-2021 academic year with the annual convocation ceremony, albeit with a twist due to the ongoing effects of the COVID-19 pandemic. 
While in prior years convocation has typically been hosted in Chapin Hall, the 2020 ceremony was presented virtually and included a number of recorded speeches, a musical performance from Rebecca Jiang Christainsen '21 and the presentation of the Bicentennial Medal.
Chief Marshal and Dean of the College Marlene Sandstrom and the High Sheriff of Berkshire County Thomas Bowler began the ceremony with the traditional call to order, followed by Chaplain to the College Valerie Bailey Fischer's invocation speech and a welcome from President Maud S. Mandel.
In the virtual medium of the convocation website, the components could be viewed in any order. Each recorded speaker was filmed presenting their speech to an empty Chapin Hall, in stark contrast to the live bustle of previous years' events.
Mandel's speech began by remarking on the nature of these "unprecedented times" as she welcomed the class of 2021. She then addressed the cliche of "a new normal," urging the College community to resist normalizing the COVID-19 pandemic and the systemic racism that has dominated headlines for several months.
Each year's convocation ceremony also confers Bicentennial Medals to distinguished members of the Williams community. Bicentennial Medals have been awarded to between four and seven alums each year since 1993, the 200th anniversary of the College's founding. This year, however, the convocation ceremony honored only a single Bicentennial Medal recipient: Wole Coaxum '92, for his "distinguished achievement in promoting economic justice."
According to Director of Alumni Relations Brooks Foehl '88, the College plans to honor approximately five Bicentennial Medalists throughout this academic year. "Wole was named over the summer, and the College will be announcing more Medalists later this fall along with programming opportunities related to celebrating their achievements," Foehl said in an email to the Record.
As Mandel presented the Bicentennial Medal in a pre-recorded video in Chapin Hall, she noted how this year there would be no in-person bestowment, hand-shaking or photo-op. Instead, the video cut to a short clip from the 131st gathering of Class Day in 1992, where Coaxum gave a speech as the president of his senior class. Then, Coaxum began his convocation address in the present day.
Coaxum is a founder of Mobility Capital Finance (MoCaFi), a start-up that aims to provide more accessible financial services to lower-income communities. He left a managing director position at JPMorgan Chase to found MoCaFi after the 2014 fatal police shooting of Michael Brown, an unarmed Black man, which he referred to as his "George Floyd moment" in his convocation address.
The incident incited him to take action against the racial wealth gap and seek to empower Black households and businesses. "The communities that I cared about were increasingly moving to the margins of our society from a financial services perspective," Coaxum said.
While he saw social justice movements spring up in the wake of Brown's death, he did not see the development of similar economic justice movements, noting in his speech that "a social justice agenda without an economic justice agenda is like one hand clapping." He saw that the country did not seem to have a robust strategy to provide economic mobility to financially underserved communities, so he created his own.
MoCaFi now creates value and increases financial stability for the 50 million people that are unbanked or under-banked in the country.
The central theme of Coaxum's address revolved around a quote from Robert Frost: "Two roads diverged in a wood, and I — I took the one less traveled by, and that has made all the difference."
He urged this year's senior class: "Please keep running hard in your leg of life's relay race [to leave our society better than when I found it]."
Senior class marshals Delsa Lopez '21 and Mohammed Memfis '21 also addressed the class of 2021, as did President of the Society of Alumni Kate Boyle Ramsell '97. The video portion of the ceremony concluded with a Benediction by Chaplains Sharif Rosen and Seth M. Wax.
The 25 newest members elected to Phi Beta Kappa were introduced in a section of the website, as was this year's recipient of the Grosvenor Cup Award, Sonia Nyarko '21.
The Grosvenor Memorial Cup, awarded in memory of Alan Livingston Grosvenor '31, honors the graduating student who has "best demonstrated concern for the college community and beyond through extensive dedicated service, and who has served with the utmost integrity and reliability." On campus, Nyarko has served as a president of Sisterhood, a co-chair of OurSTEM, a junior advisor, a community engagement fellow for the Davis Center and a member of the Gospel Choir.
Mandel ultimately closed her address by emphasizing the potential of the graduating class. "I believe your generation can move us down a bright and promising road," she said, "and you, Williams seniors, whom I care about so very much, if you use your gifts wisely, you will lead the way."
About the Writer
Annie Lu, Executive Editor for News
Annie Lu '23 is a prospective political science and mathematics major from San Diego, Calif. She is the executive editor for news and previously served...