The following is the third part of a four-part series on how small businesses, cultural institutions and local government in the Purple Valley responded to the COVID-19 pandemic in spring and summer 2020. The first two parts are available here and here.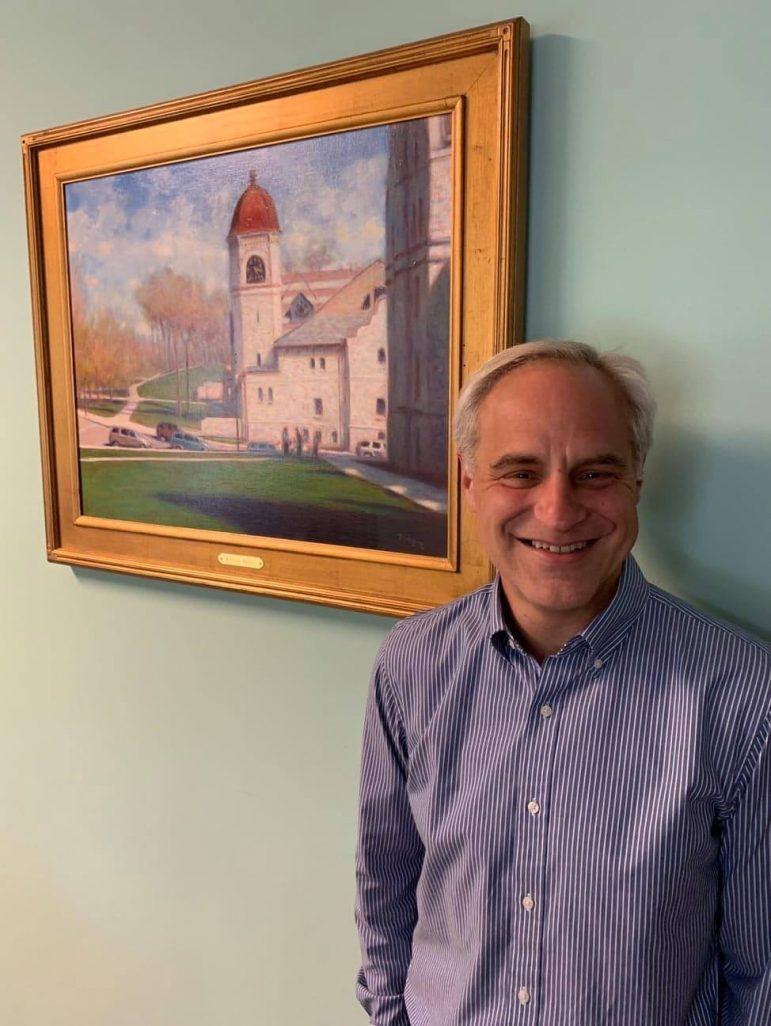 The struggles of the business community and local cultural institutions soon extended to the Williamstown municipal government, which relies on lodging and dining to generate tax revenue. Having completed the budget for fiscal year 2021 in February, town manager Jason Hoch '95 had to go back to the drawing board once the effects of the pandemic became clear.
With tourists who usually come to Williamstown staying home, the revenue drawn from hotel-motel taxes fell precipitously. Hoch said he anticipates the fall in tourism continuing into next spring, with hotel-motel tax revenue projected to fall $247,715 compared to fiscal year 2020, which runs from July 2019 through June 2020. He is counting on increased revenue from a new cannabis excise tax to compensate for some of the losses.
One area of continued uncertainty is aid from the state government. With the Massachusetts state legislature not yet having passed a budget for the year, local governments are unsure how much the aid they usually receive will change. Hoch, after consulting with town managers in similar positions, projected state aid decreasing by 12.5 percent, a loss of over $155,000.
Hoch is among many in Williamstown who do not know what recovery will look like. "The most dramatic impact will be fiscal [year] 2021," he said. "The others will likely be on a path to recovery, it just is what that recovery will be. How quickly tourism comes back is anybody's guess at this point."
After seeing what other towns throughout the state are going through, Hoch said he was grateful for the presence of the College, notwithstanding the unique challenges posed by a student population that comes and goes. "When I look longer term, it is so much more reassuring to be sitting in Williamstown," he said.
In the shorter term, the College will be contributing less to the town's economy than it normally does. As outlined by the Ad Hoc Committee on Financial Planning, capital projects have been frozen or reduced for the foreseeable future and a 10 percent budget cut has been instituted across all areas of the College. The physical aspects of marquee college events such as Homecoming and Family Days have been cancelled as well.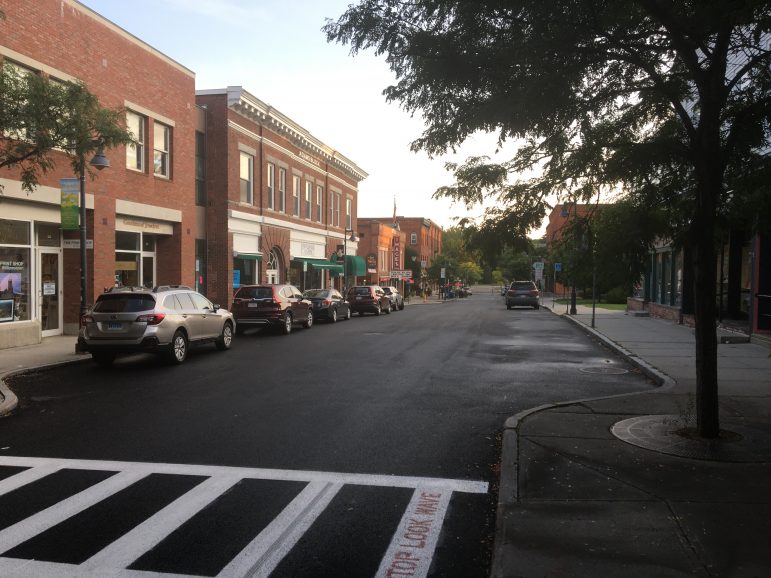 Most troublingly for Hoch, the College, and later the NESCAC, decided to cancel fall sports. He explained that visiting teams stayed in hotels and motels in Williamstown, and they often purchased copious amounts of food.
Local businesses and cultural institutions also started to see what help they could get from the government. Many local businesses took advantage of the Paycheck Protection Program (PPP), established in the Coronavirus Aid, Relief and Economic Security (CARES) Act, that gives small businesses forgivable loans in order to keep workers on their payroll.
The federal Small Business Administration (SBA), which disclosed the names of companies that took loans greater than $150,000 and the amount of estimated jobs that would be preserved because of the loan, listed that at least 17 businesses in Williamstown received funds. Many other small businesses, including Maple Terrace, took smaller sums but their names were not reported.
The larger loans — compiled into user-friendly databases by organizations like the Boston-based think tank the Pioneer Institute and the national nonprofit investigative journalism group ProPublica — were disclosed only within broad bands of possible loan amounts. Steinerfilm, an electronics parts manufacturer with production facilities in Williamstown and Germany, took out a loan between $350,000 and $1 million, for example, to save a reported 41 jobs. Mezze, a restaurant on Route 7, took out a loan between $150,000 and $350,000 to preserve a reported 22 jobs.
Other recipients included the Clip Shop, a hair salon on Spring Street which received a loan of between $350,000 and $1 million, and the Wild Oats Market, which preserved a reported 48 jobs thanks to a loan in the $150,000 to $350,000 range.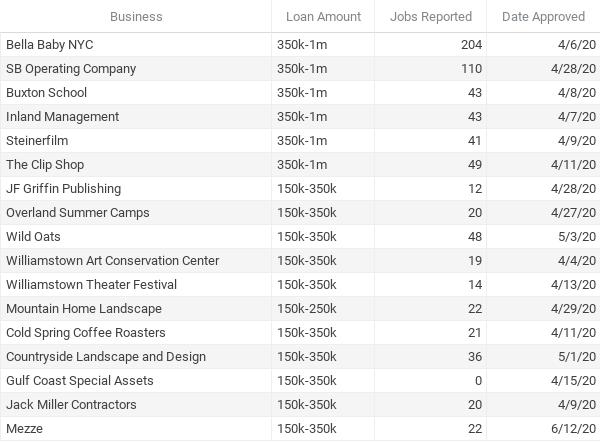 Beth McLean, the owner of Nature's Closet, was not eligible to apply for PPP money because she and her business partner had only bought the store in January, although she is now relieved that she did not take the forgivable loans. She would have needed to maintain her pre-COVID-19 staff and payroll in order to keep the money, but she doubted whether she would have been able to afford the salaries of her full staff long term, even with the assistance.
Cultural institutions in the area were split on whether to take PPP loans. MASS MoCA decided to take one while the Clark decided not to. As previously reported by the Record, the College itself accepted $1.5 million from a separate stream of CARES Act funding to distribute to students receiving financial aid.
The state government has also been allowing businesses to defer tax payments when possible. Some local businesses have also sought recourse with the town, but with mixed success. The Williamstown Lodging Group, a coalition of ten local hotels and motels, sent a letter to the town on June 1 asking for hotel-motel taxes to be waived.
"We put [together] a petition," Ashwan Malhotra, the Maple Terrace co-owner, said. "Ten of the small hotels or motels got together to ask to waive the property taxes or at least reduce them for this year."
The town replied eight days later when they explained that "that no Williamstown governing body, board or committee has the authority under Massachusetts General Law (MGL) to summarily dismiss or extinguish tax payments committed and due for fiscal year 2020 or beyond."
The response frustrated Malhotra. "They didn't even have a hearing on it, they didn't even listen to us, nothing," he said.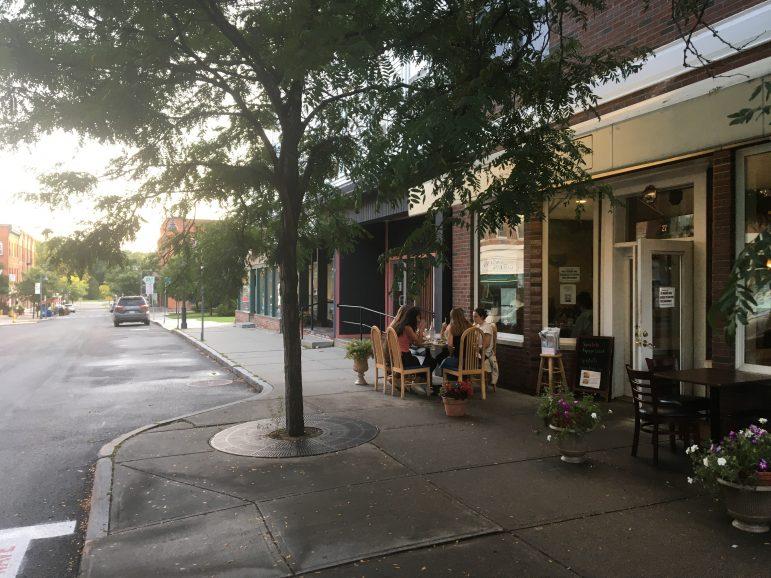 Hoch expressed optimism about avoiding future tax increases. "I want to do everything I can to not raise taxes," he said. "Williamstown by and large is a sort of community that has a history of responsibility funding school and town operations at a fair and comfortable level. We should be able to figure out how to recalibrate in a tough year."
Just like officials across the country, though, he said he would welcome any additional federal stimulus funding. He did have one request for Congress to consider when drafting its next stimulus package.
"One of the most insulting parts of the CARES Act as it exists now is the prohibition of using any of those funds to offset revenue losses, which of course is the most devastating part we all have in our budgets" he said, explaining that the onus of either raising taxes or cutting services ultimately falls to him, being at the bottom of the government food chain "… When you push it all downhill, I don't have another level of government I can push it to."
The final part of the four-part series will be published the morning of Sunday, September 13.