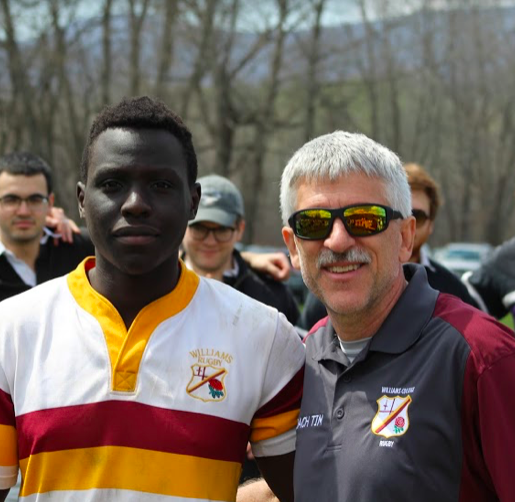 The Williams Rugby Football Club (WRFC) hired new head coaches for the 2018-2019 school year: Matt Willey and Tim Reisler. They graciously accepted the club's invitation to take over the leadership and work jointly as co-head coaches to replace outgoing coach Jeremiah "Jerm" Madison. Together, Willey and Reisler possess over 35 years of rugby playing and coaching experience.
Willey joined the team from the Bennington "Battle" Rugby Football Club, a men's team he founded with Madison 11 years ago. Although his playing days were cut short due to injuries, Willey is a certified rugby referee who brings a detailed knowledge of the laws of the game and various playing strategies. A true rugger at heart,   he said, "I joined this club because I love this sport so much and always dreamed of my two girls growing up around this sport."
Willey is a businessman by trade, opening his third Ramunto's Brick Oven Pizza franchise in Williamstown earlier this summer.
As a forward's specialist with 16 years of overseas playing experience, Willey's primary responsibilities are to coach the WRFC's scrum and manage the club's professional relationships with other teams and organizations on campus, within the New England Rubgby Football Union (NERFU) and beyond. "I would love to grow this club into something that [the College] can stand behind and be proud of," Willey said.
85 percent of the current WRFC athletes never touched a rugby ball before coming to the College, and Willey's ability to grow and promote an organization will be invaluable over the next few seasons as the club looks to grow beyond the 40 student-athletes it currently draws to the pitch every semester.
So far, Willey has been blending in well with the team and bringing them to new heights. "Leaning off the help of a particularly skilled and knowledgeable senior class, Willey has helped continue the success of WRFC through the introduction of new drills and an emphasis on mastering fundamentals," Jason Mazique '21 said. "This has been demonstrated through a 52-0 win over Union College that was predominantly led by underclassmen early in the season. Willey has already [shown] through his commitment and involvement that he is more than ready to step up to the job." 
While Willey handles the forwards, Reisler will share his wisdom and talents with the backs. For the last seven seasons, Reisler has proven to be an invaluable member of the WRFC, serving as the club's primary backs coach. This year, Reisler will take on an expanded role with the team. "While I did not feel comfortable to coach the team on my own, working with Matt Willey will be a lot of fun, and we can fill in the gaps that exist," Reisler said.
As a facilities staffer at the College and long-time Williamstown resident, Reisler is intimately familiar with the inner workings of the College on an operational and financial level. Not only will this benefit the team as the club looks to expand and modernize its roster and equipment collection, but it will also allow team leadership to seek Reisler out on a more frequent basis when issues arise off the field.
"My favorite part of coaching the team is being involved in the sport, but more importantly, building relationships with the [players]," Resiler said. "In my job in Facilities, I have had minimal interactions with students over the years, and coaching this team has given me that opportunity."
Although he has taken great strides to build up the club's back-line over the last few years, Reisler is looking forward to taking the line to the next level as he prepares to lead what promises to be one of the club's most skilled backs groups in recent memory.
"Having made the playoffs last year for the first time in 20 years, I'm excited about how far we can and will go this year. I fully believe we have the skills to win our division and win a championship." Reisler is also looking forward to leading the team to an impressive eighth consecutive win against Amherst.
Like Willey, Reisler is a long-time member of the Bennington Battle RFC and has played all seven backs positions, specializing in fullback and flyhalf. Ever light on his feet, he, who is known affectionately by the team as "The Grey Squirrel," excels at kicking and has also been known to leave many WRFC ruggers' ankles quaking in dust.
Willey and Reisler provide the team with an immense wealth of knowledge about the game. The athletes believe the coaches work together well and allow for them to have a voice on the team. "Our coaches have been great at taking the reigns of the team and, with their mix of quiet and vocal leadership, Tim and Willey, respectively, have been pushing us towards winning playoffs, something that hasn't occurred in a few decades," Jason Adulley '19 said. "They've been phenomenal at allowing the players to take more ownership in the team."
While succeeding the beloved Madison will not be easy, Willey and Reisler are up for the challenge and will work diligently with the athletes to take the club to new heights. The ruggers are looking forward to this year and think it will be one of their best seasons yet. "The rugby club is lucky to have the knowledge and experience of Matt and Tim to help us develop and excel both on and off the pitch," Seth Goldstein '19 said. "Combining Tim's previous time with the WRFC, and Matt's extensive rugby acumen, the two have come together to form a very formidable coaching team. We are certainly very excited to see how this season develops."