Women's swimming captures sixth straight NESCAC title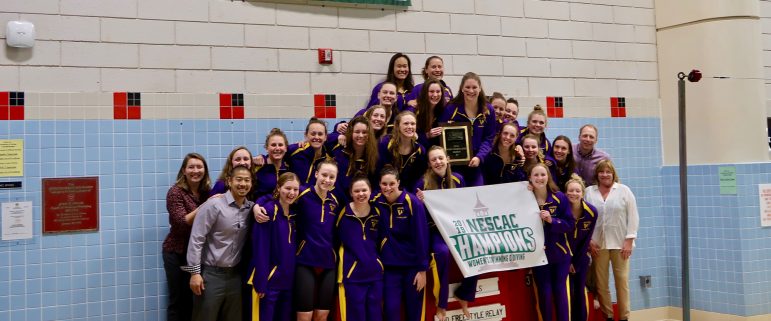 Three months ago, Caroline Conforti '20 could not imagine standing on the podium at the women's swimming and diving NESCAC Championship. In fact, she could not envision standing at all.
In mid-November, just after her second practice, the backstroker fell off of a bench while trying to reach her belongings in the team's locker room. She broke her wrist and snapped her fifth metatarsal in four places. But she resumed training in January following reconstructive foot surgery and rehabilitation, and last weekend, she helped the nation's fourth-ranked team to a sixth consecutive first-place finish at NESCACs. The women earned 1873 points, besting Tufts by 433.5 points, while Amherst took third.
Conforti swam on the winning 200 medley relay team with Caroline White '20, Maia Hare '19 and Gwyneth Maloy '21. Conforti also placed fifth in the 50 back, eighth in the 100 back and 17th in the 200 back. It was a remarkable return since she only began practicing in full on Jan. 12, and her first meet of the season was at MIT on Jan. 14.
Following surgery, she spent eight weeks off of her foot riding a scooter, then two weeks applying only minor pressure to the area. She also wore a cast on her wrist for five weeks. "I thought my season was over," she said regarding the injuries. "It was really disappointing because last season we had such a great year as a team, the strongest year we had ever had. And I had seen myself coming up as a leader and was excited to help lead the team as a junior … so I was pretty devastated."
Throughout the recovery process, however, Conforti appreciated her teammates' support. "They always came to check up on me and made sure I was involved," she said. She was also able to attend the annual Florida training trip over winter break and practice with a modified routine.
Her dedication culminated in a meaningful performance at NESCACs. "Although it wasn't my fastest meet, it was by far my favorite," she said. "Our team has grown so much in terms of the community we have and the way that we support one another. We really just got out there and swam really fast and enjoyed the experience."
Head coach Steve Kuster commented on Conforti's commitment and optimism. "I think what helped Caroline get back so quickly was her sheer determination to be there competing with her team at the end of the season," he said. "She brings good energy all the time, and it was great to have her with us and swimming at the meet."
"It meant so much to be able to swim it with everyone," Conforti added. "It was particularly special to be on a relay, which is my favorite part of the sport, and pull through and win at the end."
The team had many such finishes as well as some record-breaking victories.
Kuster emphasized that he was pleased with the entire team's performance. "I think the thing I was most proud of was the way the women competed, improved at night and their general approach to the meet," he said. "They gave everything they had each session and made making the weekend a memorable experience a priority. They were in it together the whole way."
At the conclusion of the meet, Westphal was named Swimmer of the Meet, and McNamara received the Four-Year High Point Award.
"Ali [McNamara] has had an outstanding career, and her competitive nature has really come through at NESCACs every year," Kuster said.
"Laura [Westphal] had an excellent meet, both individually and on relays," he added. "Her 800 free relay split was outstanding. Caroline White also won three events and played a big role in our medley relay wins. I also thought Maia Hare had a great meet, along with several others."
The meet, the first with a four-day format, began on Thursday night at Wesleyan with the 800 freestyle relay. The relay team of Georgia Panitz '22, Maloy, Emily Lock '22 and Molly Craig '21 set a pool record of 7:28:04.
That record, however, lasted for only two heats until the next Eph team competed. Casey Delano '21, Alison McNamara '19, Abby Matheny '22 and Laura Westphal '21 clinched a pool and NESCAC record of 7:21:97 in the last race of the evening.
These wins brought the Ephs to a score of 98, 12 points ahead of the second-place Jumbos, going into Day Two of competition. On Friday, the women secured victories in five of nine events, beginning with the 200 freestyle relay.
The "A" team of Hare, Dana Chung '19, Maloy and Westphal won the event, with Maloy securing the lead and swimming a personal-best leg. The time of 1:34.16 put the group at sixth in the country.
Next up was the 50 breaststroke, in which White clinched a first-place finish with a time of 29.34. In the next race, the 50 fly, Hare secured the Ephs' third straight win of the day, setting a pool and personal best with a time of 24.57.
In the 500 freestyle, eight Eph swimmers competed and the team swept the event. Matheny, in a personal best swim, clinched a third-place finish with a time of 4:47 while McNamara locked in second place at 4:56.89. Westphal finished first at 4:53.95, securing the podium for the Ephs.
The final race of the night for the Ephs was the 400 medley relay. The "B" team of Conforti, Craig, Hare and Erin Kennedy '19 took first in the event's consolation final. The "A" relay team of Matheny, White, Peterson and Westphal came from behind to edge out Wesleyan for a competitive first-place finish, ending Day Two with a victory for the Ephs.
Day Three brought more success for the women, who won five of the session's seven events. Saturday began with the 200 medley relay that Conforti, White, Hare and Maloy won.
In the 1000 freestyle, the Ephs' distance-swimming strengths were on display once again, as McNamara took her first individual victory of the meet with a time of 10:11.11. She was followed by Delano in second.
In the 400 individual medley, Craig secured her first solo win of the meet with a time of 4:20.76, which ranks her second nationally. The 200 freestyle brought another win for the Ephs, with Westphal taking home her second individual NESCAC win of the meet at 1:48.54.
Sunday, the last day of competition, began with the 1650 freestyle. Westphal placed first, swimming the mile-long race in 16:50.89. She was followed by teammate McNamara in second. In the following 200 backstroke event, Maloy secured her first individual NESCAC title with a time of 2:01.91.
About the Contributors
Sofie Jones, Managing Editor
Sofie Jones '22 is an English major from Belmont, Mass. She is a managing editor and was previously an executive editor and section editor for sports.

Email:...