Winter Carnival moves to Mount Prospect
RB Smith
February 20, 2019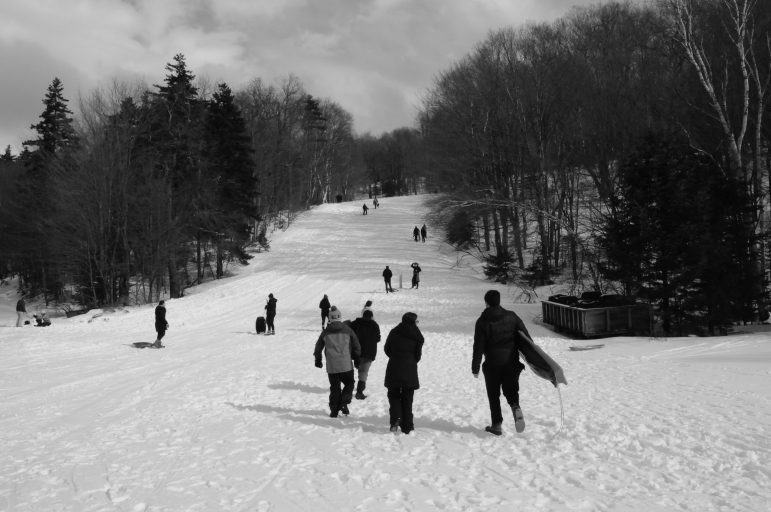 WOC hosts skiing, sledding, barbecue at College-owned mountain in Vermont
Last weekend saw the arrival of Winter Carnival, an annual celebration run by the Williams Outing Club (WOC) that offers a myriad of wintry outdoor activities. This year's Winter Carnival involved the usual mix of events, both outdoor and indoor. The themed dinners, dance parties and other assorted activities that WOC organized (centered around this year's ocean theme "Great Barrier Eph") were for the most part the same as in previous years, with one major exception: The main Friday event, which usually takes place at Greylock Ski Club, was moved to Mount Prospect in Woodford, Vt.
Eileen Russell '19, member of WOC board and lead organizer of Winter Carnival this year, described the calculus behind that decision. "There were a couple days of really warm weather, and all the snow in Williamstown melted," she said. "Where we usually go, [Mount] Greylock Ski Club, usually has about the same amount of snow as we do on campus, and so if there isn't a really deep base of snow it's not really skiable." Mount Prospect, on the other hand, is about 1000 feet higher than Williamstown in elevation, so Russell and the WOC organizers suspected they might have better luck finding snow up there. After discovering that Mount Prospect had a solid two-foot base, they decided to make the move.
This decision came with some challenges, though. "It's probably not quite as efficient as the space at Greylock," Russell said. "Greylock is a lot smaller, and you basically sled right down into where the barbecue is, and you're skiing and sledding all together… Prospect is a little more spread out." At Mount Prospect, the sledding hill, skiing area, cabin and barbecue are farther apart from each other, so people spending time in one place do not necessarily feel as integrated with people spending time in another.
Mount Prospect did, however, have advantages, according to Scott Lewis, the director of WOC. "Williams is now a part owner of the property," he said ["Alums purchase Prospect Mountain for nordic ski team," Oct. 31, 2018]. "[That] makes it a good fit trying to get the College community more exposed to the beautiful wonderland Prospect tends to be – the ski trails are outstanding for all ability levels and the sledding hill can't be beat!" Indeed, Mount Prospect is renowned for Nordic skiing, and Russell remarked that the location's ski-friendliness got so many students out on trails for the very first time that WOC ran out of its own equipment and started borrowing from Mount Prospect's rental stores.
Emily Elder '20, one of the many students to participate in the entire day-long event, said she was excited by the move. "I went to Greylock Ski Club two years ago, but Mount Prospect had always been kind of a mystery to me," she said. "So I'm glad we got to go. It was definitely snowier up there."
Jared Bathen '20 was another pleased participant, specifically commending WOC's efforts to open up the event to different kinds of activities. "Contrary to popular belief, a kayak is useful on water in states other than liquid," he said.
According to Russell, the move seemed a success on the whole with a turnout of roughly 120 students. The event's location will depend heavily on the weather in future years, as it always has, but the Vermont mountain remains an exciting new prospect for Winter Carnivals to come, and Lewis hopes more changes may help revitalize the holiday. "It's got great potential to be a Mountain Day, Homecoming and Claiming Williams Day all wrapped into one," he said. "We just need to imagine it – bringing a lot of warmth to campus on cold winter days."