A conversation with Winter Carnival performers OSHUN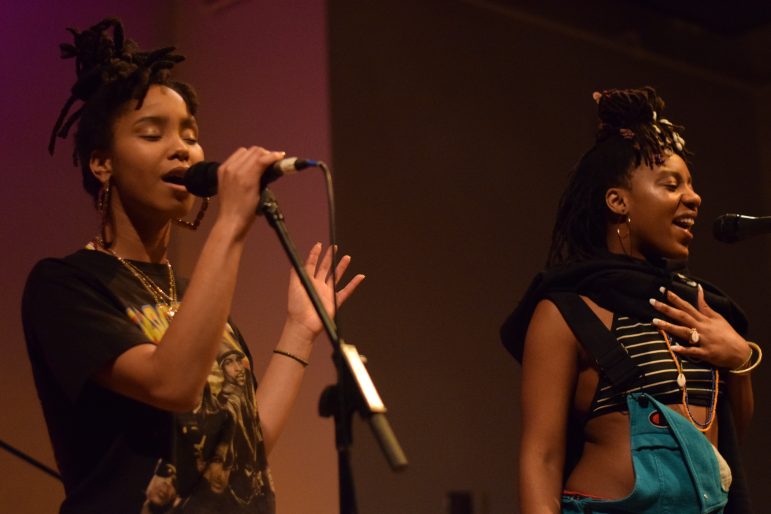 OSHUN – a hip-hop and Neo-R&B duo comprised of recent NYU graduates, MLK Scholars, self-love activists and multidisciplinary artists Thandiwe and Niambi Sala – performed Saturday night at Goodrich Hall to close out this year's Winter Carnival. The group's first studio album, bittersweet vol. 1, has received critical acclaim and includes a feature from multiple-Grammy nominee Jorja Smith. OSHUN has toured Europe in the past year and has performed at multiple colleges while working on new music in the studio in their free time. Co-sponsored by ACE, WCFM, BSU, MinCo and WOC, the night included an opening performance by student jazz band Homebrew and closed out with a DJ set from OSHUN's DJ and producer Proda. Before the show, I had the chance to ask OSHUN some questions about their lives as activists, musicians and recent graduates.
Phillip Pyle (PP): What was the initial inspiration behind OSHUN? Did you two always have the music industry in mind?
OSHUN: We both have always had a passion for our music and our culture, and we felt that taking this path embodying the essence of the Yoruba goddess, Oshun, would amplify the power of our voices, thoughts and traditions. Our work creates space for healing and discovery in real time, placing the wisdom of our ancestors at the center of all that we do. We've both dreamt of working in this industry since we were little girls, of being radically disruptive in the mainstream. It's amazing that we're right on course, and it's been such an empowering journey learning how to run our own business as independent artists, college grads and black women.
PP: What were your daily schedules like at NYU?
OSHUN: Our daily schedule was pretty much waking up in either of our dorms, running to make it to class on time, linking up at Washington Square Park between classes, meeting up after class to get into some wild escapades in the city, creating until 4 a.m. and repeat.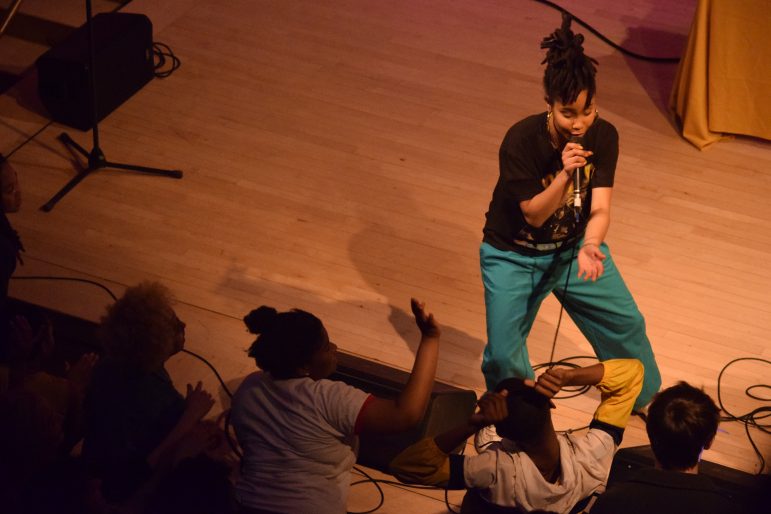 PP: How has the transition been since graduating? Does there seem to be more creative liberty outside the college atmosphere?
OSHUN: Postgrad life is a major transition. Freedom is great, but it can be hard to juggle when met with adult responsibilities. We've really had to learn how to create our own schedules and stick to them. Our entire life was scheduled around school, and now we have the freedom to do whatever we want, when we want. The greatest parts, though, are that we've been able to tour more in the 1.5 years out of school than ever before and we have more time to schedule sessions in the studio. However, we do miss the inspiration we got from being constantly immersed in an academic environment.
PP: Does performing at colleges bring back a nostalgic feeling?
OSHUN: We love performing at colleges! Being in academic spaces gives us that same inspirational feeling from our own college experience. We also enjoy showing our peers that we were them literally two years ago, and they can attain whatever their greatest dreams are and more.
PP: Are there any particular artists who inspire your work, whether it's songwriting or music videos?
OSHUN: Free 21 Savage, Missy Elliot, India Arie, IAMDDB, J. Cole, Rico Nasty, Highclass Hoodlums, just to name a few.
PP: What has been the most challenging aspect of the music industry? The most surprising?
OSHUN: The most challenging aspect of the music industry is realizing that nothing happens overnight. Even the biggest artists with hit singles that hit the radio out of nowhere had to grind and dedicate themselves to their vision. You can't give up in this industry if you want to make it. The most surprising aspect is that everyone knows everyone, and everyone is watching the underground. Even if you're a SoundCloud R&B singer, you may never know Rihanna is secretly your biggest fan.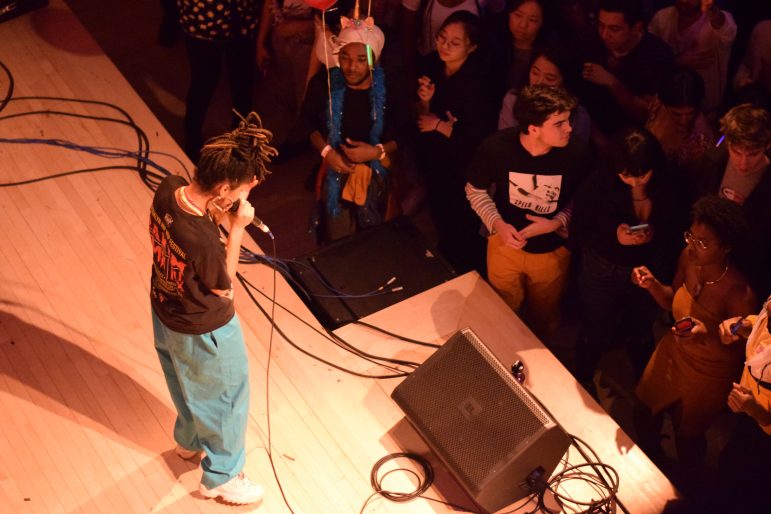 PP: Has there been a performance that was more memorable than others?
OSHUN: Our first show in Paris was crazy. It was completely packed, and the crowd was like 98 percent black women. It was the most beautiful embodiment of solidarity and support. We were not expecting to have that much impact and see so many sisters in a super European city.
PP: I noticed the Sunflower Squad (a fandom of sorts for OSHUN's listeners that promotes growth and love) application on your website. What inspired that?
OSHUN: We're working on creating a safe space for the whole Squad. We plan on launching a Sunflower Squad online forum where members (including ourselves) will share blog posts each month based on an agreed topic, geared toward self-Love and community healing. Stay tuned!
PP: How did the collaboration with Jorja Smith for "My World" come about?
OSHUN: Jorja came to perform in Brooklyn at the end of 2017 and asked us to support her on the show. We accepted and had a great show. Afterwards we spoke about getting in the studio. A few days later she came to the "stu," we got some snacks from the grocery store and then we made magic!
PP: What do you two see as being the future of OSHUN?
OSHUN: The future of OSHUN includes healing, liberation and more divine femininity! Definitely stay tuned for a new album, "vol. 2," more music videos and maybe even a special academic workshop at Williams College!