Spotlight on Research: José Constantine balances academia, advocacy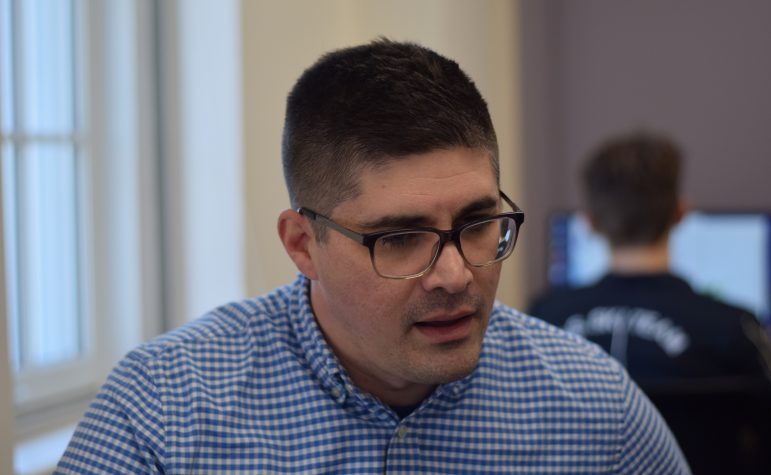 Students at the College hear plenty about their professors' courses and research. But beyond their focus in academic circles, some faculty also apply their expertise to social issues. One such professor is José Constantine, assistant professor of geosciences, whose research intersects with his own environmental advocacy.
Constantine's research explores how rivers shape their surrounding landscapes, examining the forces that make natural environments dynamic.
"I study rivers and river landscapes, why rivers do what they do, how they move and flood and push things around," said Constantine, who describes himself as a fluvial geomorphologist. "Recently, we've made some discoveries about how a particular kind of river behaves: these meandering rivers [that] effectively migrate across valley floors."
Because these rivers play a critical role in nearby ecosystems, understanding them is essential to environmental stability, Constantine said. One of the goals of his work is to investigate how human influences affect rivers. In a study of a river in Malaysia, Constantine and his team found evidence suggesting a link between erosion of riverbanks and deforestation.
His conclusions highlighted the integral role of sediment in the ecosystem. "In the Amazon, it's all about the sediment. The sediment comes off of the mountains and helps keep these rivers dynamic," he said. "Shut those [influxes of] sediments off, and these rivers will stop doing those things."
As his career has evolved, Constantine has become deeply involved in environmental justice initiatives. While his study of rivers continues, he also works to educate the public about environmental issues and to empower marginalized groups affected by them. He sees this work as a natural outgrowth of his scientific research, but he also believes that coming to the College was an important step toward pursuing environmental activism. "It feels strange to admit it, but only because I came to Williams have I started to get involved in work in environmental justice," he said.
Though his activism takes place far from the College, Constantine seeks to benefit marginalized communities through his work. "We're starting a project in a small community in Illinois called Centerville, one of the poorest places in the country," he said. "The infrastructure in this community is no longer working… After a little bit of rain, there's widespread flooding in this very poor community. So we're working with a couple of lawyers there in hopes that we can build data to demonstrate that what these folks are suffering is completely unnatural and a result of neglect."
Constantine also brings his enthusiasm for environmental justice to campus. He teaches GEOS 103: "Global Warming and Environmental Change," which he sees as an opportunity to equip students with knowledge to protect the natural world. The course explores the science behind human-caused climate change, as well as its social implications.
"The first time I taught it, I wasn't ready for what I was going to experience in that class. I didn't know how to leverage it, to turn it into something," he said. "The problem is so real – the fact that people's lives are being affected now requires us to act now. I don't want it to be that course where you just take a tour of disaster… I want to think more carefully about equipping all of us, myself and my students, with ways we can actually make a difference."
Constantine frequently works with students on environmental research projects, their thesis topics ranging from "The Environmental History of the Mississippi River" to "GIS [Geographic Information System] and Environmental Change." Constantine sees this research as another extension of his work in advocacy.
"I'm proud of what we're doing," he said. "There are three thesis students working with me this year, and each one of them [is] working … on the intersection of society and natural spaces, thinking about ways of making these spaces better… I'm super excited to work with students who are interested in the environment."