Student veterans reflect on experiences at the College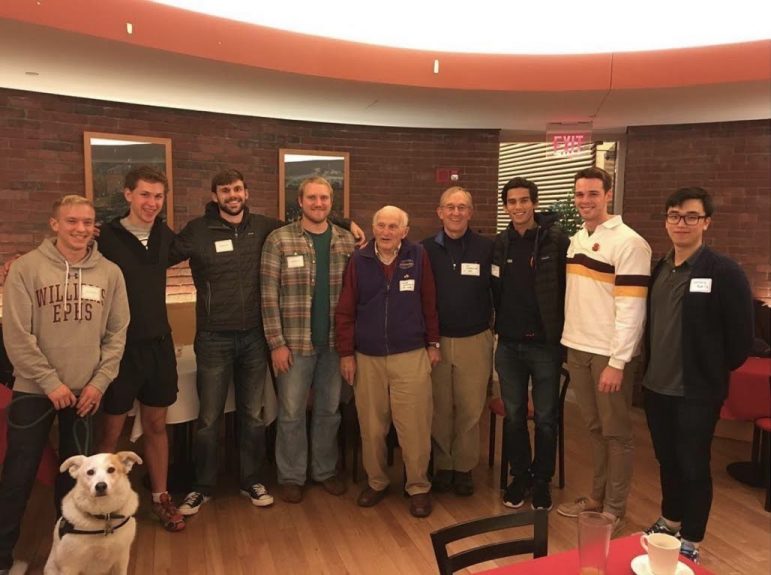 For the first time in recent history, there are enough U.S. veterans enrolled as undergraduates at the College and four of its elite peers – Amherst, Harvard, Princeton and Yale – to field two full football teams. This milestone was one of the more peculiar findings drawn from a November 2018 poll assessing veteran enrollment at highly selective colleges. Run by Inside Higher Education columnist Wick Sloane '76, the project made one thing clear: Though enrollment at liberal arts colleges is on the rise, the majority of student veterans choose very different settings for their college experience.
"A lot of veterans get out and go to large state schools – the University of Texas, UVA – and do quite well," said Adam Jones '21, who served for five years in the U.S. Marine Corps. "But for a variety of reasons, that path isn't right for everyone."
Those who do end up at the College, however, find a warm welcome in the Purple Valley. "Williams, unlike many of its peers, is incredibly supportive in making the student experience here whatever you want it to be," Jones said. "I think that's why the veterans here integrate so well."
Benton Leary '20, who spent six years in the U.S. Navy, felt a similar sense of community upon arriving on campus. "What struck me about Williams was the fact that the students and professors here were genuinely welcoming," he said. "When they asked you, 'How's it going?' they seemed to genuinely care about the answer. That's not something I had seen anywhere else."
Leary, who is a junior advisor, was one of two veterans in the class of 2020 to arrive at the College through the help of VetLink, a platform that connects high-achieving veterans with selective colleges and universities.
The other, Landon Marchant '20, served in the U.S. Air Force as a welder-machinist working on B-52s and later apprenticed for three years as a plumber-welder. Marchant spoke highly of VetLink's usefulness in streamlining the college process for applicants with unconventional backgrounds. "VetLink turned both my military profile and my trades profile into something that colleges can understand," they said.
Though it took some time for Marchant to feel comfortable as a student at the College, a sense of exhilaration has since overshadowed the initial uneasiness. "To be getting an education from a place that's so grand – I mean, the 24-hour room looks like it came from Hogwarts – that's still kind of disconcerting," they said. "But at the same time, I'm just so incredibly excited for the fact that I need to learn how to be comfortable in those places… It's a privilege to be able to bitch about the amount of work I've put on myself."
Leary similarly said that his appreciation for what the College can offer is amplified by his radically different background. "Those veterans who do choose to come to places like Williams are people who have weighed many different options," he said. "We've come to Williams with a significant opportunity cost, which I think makes us think very intentionally about our time here and try to squeeze everything we can out of it."
Jake Bingaman '19, who served for nine years as a Navy SEAL, said his attitude now is significantly different from when he first started college, in 2004. "At first, I didn't know what I was doing, or why," he said. "This time around, I've been able to be much more focused."
Bingaman echoed Leary and Marchant in mentioning the pressure he feels to make the most of his remaining time at the College. "At this point, I feel like I have a kind of 'anti-senioritis,'" he said. "There is an incredible value in just being able to be here, to go to classes, do the readings, write your papers, engage with other people in their ideas. Just having the time and space to think deeply and broadly about various topics is a blessing that you don't really get outside of a place like this. I didn't understand the value in that the first time I tried school."
Many veterans found the College especially willing to adapt to the needs of applicants in unconventional circumstances. "Williams was one of the few colleges that was willing to defer my application for two years," said Calum Ferguson '19, who spent two years in the Singaporean Army before coming to the College. "I looked at Amherst, but they wouldn't let me do it. Williams just pushed back my application, and it was no problem."
Carolina Echenique, assistant director of admission, affirmed the office's committment to attracting veterans from a variety of backgrounds. "We welcome applications from students who have served in their home countries abroad and recognize that their experiences are unique and incredibly valuable, while maintaining our strong commitment to recruiting U.S. military veterans," Echenique said.
Meanwhile, support from the administration continues to grow. "Based on the feedback from veterans on campus, we've tried some new strategies and created a program for prospective student veterans to apply for funding to visit campus throughout the year," she said.
That supportive attitude extends beyond the admission office and plays a major role in affording both a comfortable and inviting place for those veterans who choose to come to the College. "It still makes my skin crawl how nice people are here," Marchant said. "I know experiences range across the board, but personally, I've never been in a place where I've been so supported in my life."