Williamstown protest calls attention to anti-Black racism, policing in Berkshires
As chants of "no justice, no peace" and "No Trump, no KKK, no fascist USA" erupted in Field Park, drivers passing by the roundabout honked their horns in support, many stopping to pump their fists or to shout words of affirmation.
Hundreds attended a Williamstown protest on Friday in solidarity with the Black Lives Matter movement, both drawing broad attention to police violence and anti-Black racism nationwide, and specifically highlighting policing in the Berkshires. Beyond Williamstown, protests continued across the Berkshires and the country in light of Minneapolis police officer Derek Chauvin's killing of George Floyd while in custody. 
Residents of Berkshire County, including students, faculty and staff at the College, gathered in Field Park for the rally, which began at 4:30 p.m. An hour into the rally, dozens of protesters participated in a die-in, lying down on the roundabout for eight minutes and 46 seconds — the amount of time that Chauvin pinned his knee against Floyd's neck, killing him by asphyxiation. Other protesters kneeled down in solidarity during the eight minutes of silence.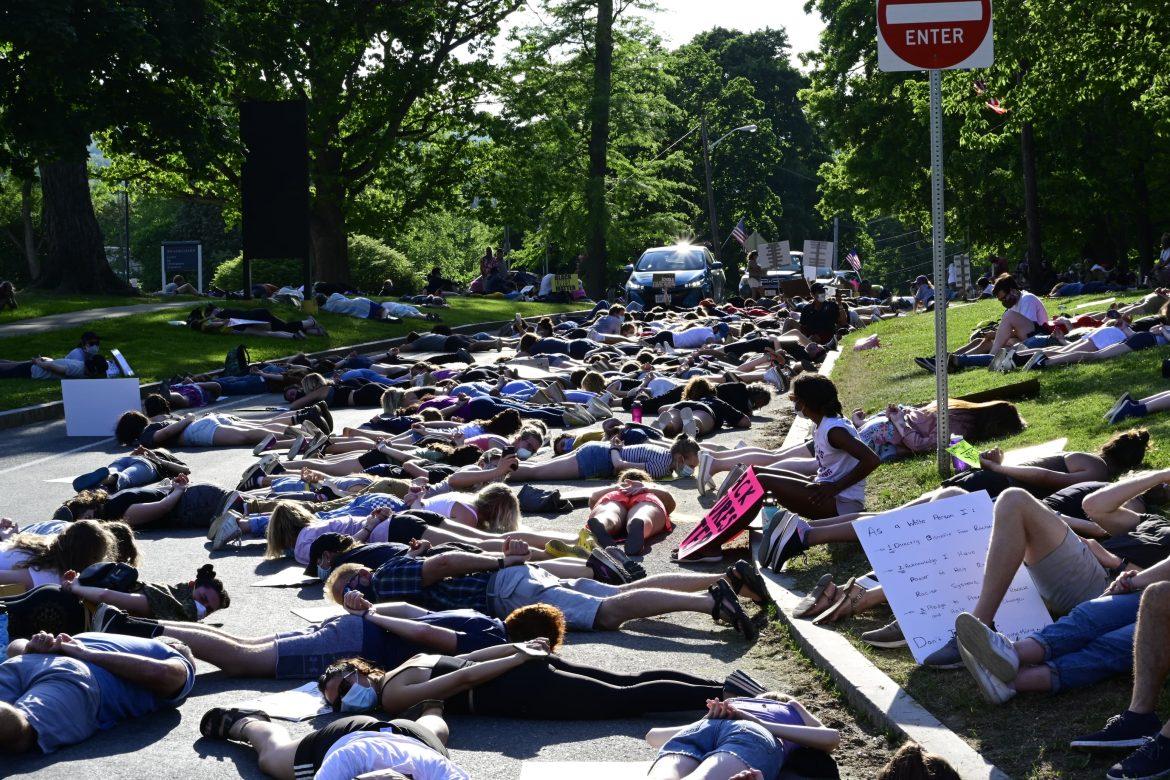 Margot Besnard, who graduated from Mt. Greylock High School in 2013, reflected on the conversation that prompted her to organize the event with Erin Ostheimer, who also grew up in Williamstown. "We were discussing 'what is white allyship right now? And what is our role in this movement?'" Besnard said.
"We didn't just want it to be something white people go to feel better about themselves, so we were struggling with that question of 'how [can this protest be] a productive space?'" she added. "And when I'm looking around [at the protest], I don't know why I ever doubted it."
"It does matter to show a physical presence for everyone here," Ostheimer said. "And for other people who are going to see that a small white majority town like Williamstown has so many people who care about this issue."
Despite the large outpouring of support at Friday's rally, faculty of color at the College, and Black faculty in particular, have previously raised concerns about the College's lack of support for faculty of color, and racism that they experienced both on campus and in Williamstown. A 2009 Faculty Staff Initiative (FSI) Report which resurfaced in 2019 outlined structural failures of the College in retaining faculty of color, including a sense of exclusion from the community, findings which the report's authors said were still relevant ten years later.
As cities across the country discuss defunding or dismantling police departments in response to police brutality, students have also criticized the College's choice to fund a new Williamstown police station with a $400,000 donation in 2018.
AbuBakr Sangare '23, who is currently living on campus at the College, reflected on the personal significance of coming to the rally. "[I'm here to] support the movement that's happening… particularly for me how relevant it is being a young Black man in America," he said. "I think that it's something that's very very personal and means a lot to me so I feel like that's why it was important for me to come out."
Like the organizers, Sangare acknowledged the context of the rally, where the vast majority of protesters were white. "I could probably count on both hands the amount of Black people, in particular, I've seen," he said. "But it shows allyship and solidarity, that despite there not being much diversity in the immediate surrounding area, how there's so many [people] that came out."
Jessica Dils, a longtime resident of Williamstown and a staff member at the Center for Learning in Action, also helped organize the event by mobilizing Greylock Together, a local progressive political organizing group. For Dils, white allyship meant taking responsibility for addressing a "400 year old problem."
"We need to be co-conspirators, not just allies, because this is our problem," Dils said. "We have to do the work."
Brittany Meché, a Bolin Fellow in environmental studies at the College, said that she initially didn't know what to expect of the rally as a Black woman in a small, overwhelmingly white community.
"Today I thought maybe it would be a handful of people, so in some ways it's really heartening to see how many people came out." Meché said. "It makes me feel like more of a member of this community, and it makes me feel a little bit safer walking around."
Meché said that her experience protesting in the Bay Area of California, where she lived before Williamstown, shaped her expectations of the rally on Friday. "The protest culture [in the Bay Area] is a lot more people of color… I was used to being in spaces where there are more people who look like me," she said. "So I think when I decided to show up today I wanted to see if people would actually come out, if people in Williamstown were actually paying attention to what was going on."
At the rally, Cécile Tresfels, an assistant professor of French at the College, held up a sign with Meché that read, "Outrage is not enough. During a genocide, donate, speak up, act," above the names of Black people who were killed by police in the United States and France.
"Because we're in a predominantly white institution and area, the sign is targeted at people, white people like me, to tell us that outrage is not enough," Tresfels said.
"We cannot center ourselves and we have to support Black organizers who have been doing that work for years, for decades," she added. "We need to be at their service and support them and help them in this revolution and be really mindful about how our activism is not harming them or centering us."
For organizers and protesters alike, reflecting on the context of the protest meant also reevaluating policing in the Berkshires.
At the rally, Dils expressed her support for police abolition. "I've joined teach-ins about police abolition, which really — I'm for that," she said.
"I would be thrilled to start looking at our public safety as a public health issue. And also to hold those accountable who are supposedly keeping us safe and defund all the places that don't need them," Dils said. "Put that [funding] towards mental health counseling and substance abuse counseling and services for people who need economic training and affordable housing."
Lilianna Wells '22, who is from Williamstown, called for more attention to police unions.
"I think it's important to look at what police unions your local police officers are part of. For instance, in Northampton, police officers are represented by a union that has twice endorsed Trump now," Wells said. "And also the UMass campus safety and security [police officers] are represented by a union that has [also endorsed Trump twice]."
Police unions nationwide have been influential and stalwart opponents to policing reforms that would address police brutality.
Besnard, who attended a "Coffee with a Cop" discussion between local community members and police officers held over Zoom last week, expressed the need for more attention to policing in Williamstown specifically.
"[The "Coffee with a Cop" community discussion] was the first [time] that I even thought about, what weapons does the Williamstown Police Department have, or what is their use of force policy." Besnard said. "I had never asked those questions or wondered about that and that's because of my privilege I never had to. I don't know the exact policies we need to change in Williamstown. I do know we can do better."
"It's naive to think that there's no bias in the policing that happens here or in a town like Williamstown, so there's always work to be done," Ostheimer said.
Other protesters called attention to anti-Black racism in Williamstown and at the College.
"I hope that this protest can carry into new policies at Williams. I would love to see more Black faculty hired," Meché said. "I would love to see more support for Black students."
Meché said that her experience teaching at the College informed her view of the change that still needed to take place.
"I had the chance to teach a great class in the fall of 2019, and Black students in that class talked to me about how alienating this place can be for them," Meché said. "So I hope, if anything, the administration uses this moment as an opportunity to express solidarity and send out a statement, which [President] Maud [S. Mandel] did, but I also hope that it translates into more support for students and faculty of color."