Remembering Gail Oullette
Oullette at the Tanglewood Music Center. (Photo courtesy of Leticia Guzman.)
Perhaps one of the most devastating impacts of the global pandemic is how challenging it has become to collectively mourn the deceased. It is easy to become mired in what seems to be an unending parade of loss, but it is more important now than ever not to let the surrounding chaos prevent us from remembering and honoring loved ones who are no longer with us.
On April 17, Gail Oullete died after a heart-wrenchingly brief battle with cancer. For those of you who didn't know her, Gail was the kind, spectacled, curly-haired cook at Whitmans' who knew everyone's breakfast orders. More importantly, Gail was a beloved grandmother, mother, sister, auntie, friend, co-worker, supervisor and many other things beyond the roles she embodied.
I had the special privilege of working under her at Whitmans' for four years. I was by no means the perfect employee, but she was absolutely the perfect supervisor. Her patience, tolerance and kindness seemed boundless. From gently informing me that flip-flops were not food-safety-appropriate to patiently re-rolling countless botched attempts at breakfast burritos and then subtly finding other tasks for me, Gail was nothing if not graceful. By my second year, every time I entered Whitmans', I was greeted by a chorus of shouts announcing my presence, a tradition Gail maintained even once I was an alum. For me and for many other students, whose testimonies follow in italics, Gail made Williams a home away from home: 
"I worked the breakfast shift at Whitmans' my freshman year…during which time I first met Gail and the rest of that wonderful staff. They clearly all looked up to her, and she was always unfailingly upbeat and friendly with the student workers. She never forgot my name, even long after I worked for her, and that meant more to me than she would've ever known. I'm very proud to say that I knew her in some way."
"She was always cheery even early in the morning, I can think of only one time I saw her angry and let me tell you it shocked me. It didn't take her long to start remembering my work schedule and having my breakfast ready before I went down to Grab 'n Go each day. Of course, I feel like I'm not adding much because I'm so sure she was like that with so many of us, and I have no idea how she kept track of all of us, but damn did she pull it off."

Gail's generosity extended beyond her interactions with student workers. Her best friend described her as a hard worker with a huge heart, "who would do anything for anybody." It wasn't unheard of for Gail to lend her car to students who needed to get somewhere or buy gloves for students during the winter. Last year a Williams student took in a community college student who didn't have a family to go home to for the holidays. Upon hearing this, without ever having met the student, Gail put together a "huge Christmas present — paints, canvases, two pairs of warm gloves and socks, and paper and cleaning supplies for their apartment."
"I met Gail when I started working at Whitmans' in freshman year, and in the three years since, she has been a guiding light in my life at Williams; I'll miss her tremendously. I know that it can be difficult as a student to fully appreciate everything people like Gail do, but when everyone is finally able to return to campus, I hope that they feel her absence and remember her joy. She gave me a pair of ridiculous socks this past winter, and I intend to continue wearing them until they get holes and beyond."
"Gail would always greet me with her smile as I walked into Paresky for breakfast. She knew my breakfast order by heart that all I needed was a nod to have her prepare it for me. She genuinely cared about the students and would often ask for comments on breakfast items that we would like to see. I have also worked in the breakfast shift with Gail, and her laughter and humor would cheer me up during my long shifts. She [was] a very warm-hearted person who would extend her kindness beyond the dining service."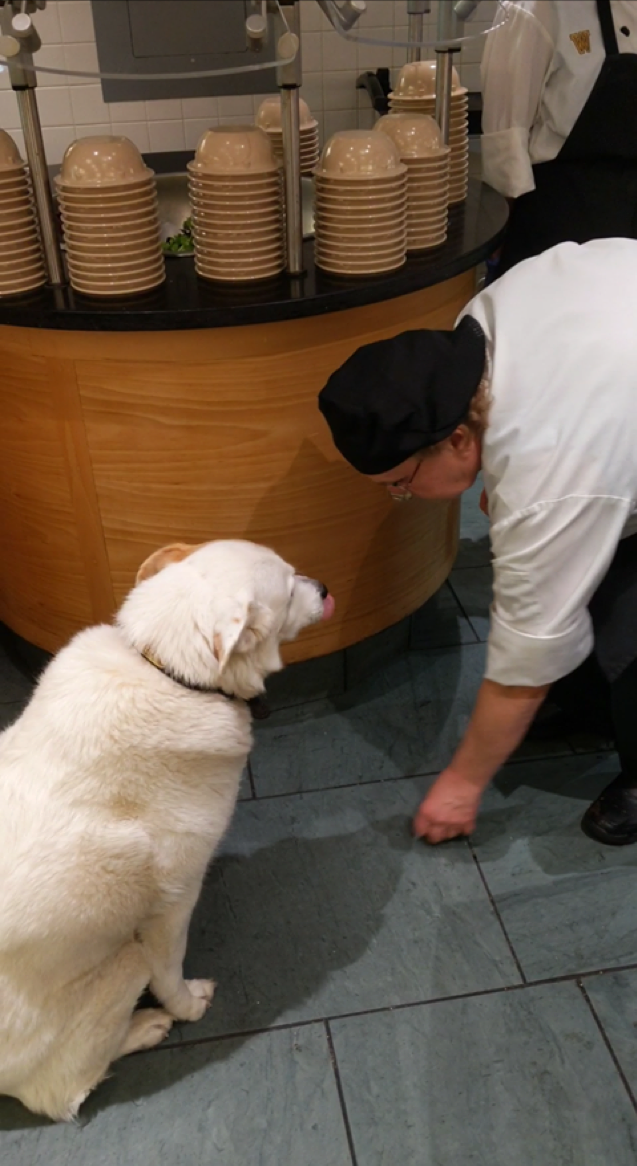 Gail was beloved by service dog Malibu '20. (Photo courtesy of Landon Marchant '20.)
Beyond the experience of those of us who worked with her, Gail was the backbone of the Whitmans' community for many of us during our time at Williams. Even the people who didn't speak to Gail very often noted that "she had a constant infectious smile" or "distinctly [remembered] the warmth of her smile."
"The little things Gail did for me must have felt like small, day-to-day things to her. But they showed that she paid attention and cared, and that made a world of difference to me. I hope to remember that and follow her example in an effort to spread a fraction of the love that she did. Being able to know Gail, even for such a brief amount of time, is a reminder to never underestimate the value in the little things. Including the beauty in two well-fried eggs."
Gail was a source of warmth and encouragement for many of us: "Gail was the light of Paresky. Talking to her every morning always made me start my day with a smile." Several students popped into Paresky just to interact with Gail. Some were even obliged to, or they risked a scolding for worrying her.
"I got a black eye during my first month of college. Despite my best efforts (baseball cap pulled low over my face), as I walked into Whitman's for breakfast, the woman taking my egg order demanded, "Well how in the world did you get that shiner?" I was mortified. Soon a greeting of "Black Eyed Ruby" from Gail every morning for months to come never failed to make me grin.
Gail gave me a little sense of being at home when this campus of strangers seldom felt like one. I know I'm not alone in my appreciation for Gail and deep sadness at her passing — sitting in Paresky, I would see her walk through the seating to chat with other students, with the same infectious laugh and loving smile she graced me with every time I saw her. Gail emanated love for the students and her colleagues."


She is survived by her daughter, Megan, and grand-daughter, Adalynn, as well as by her beloved dog and two cats, Tyson, Joey and Sofia. My heart goes out to all those who were fortunate enough to share a moment with her.
Katy Dix graduated from the College in 2018.
---