Eph athletes who missed out on their final season reflect on career highlights
When COVID-19 required the campus to close and classes were moved online in March, many senior student-athletes were just beginning to gear up for their final season in Eph uniform. For our senior issue, we asked some of them to share their favorite memory from their athletic career.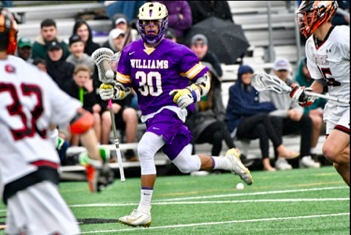 Noah McCoy '20, Men's Lacrosse:
During our historic 2019 campaign my junior year, we traveled to Rochester, N.Y. to face off against the No. 1 nationally ranked team, Rochester Institute of Technology (RIT), in the Elite Eight of the NCAA tournament. Sporting our all-purple kits with chrome gold lids, we came into the game dripping with confidence and embraced our underdog status. Down three goals late in the fourth quarter, we clawed our way back and tied the game at 11 with less than a minute left to play. After two long and suspenseful overtime periods, Kevin Stump '20 ripped a shot past their goalie from 15 yards out to seal the win. We were set to make our first Final Four appearance in school history. It was the most electrifying game I've ever been a part of and a feeling I will never forget. To put icing on the cake, I was awarded "dawg of the game" by our coaches.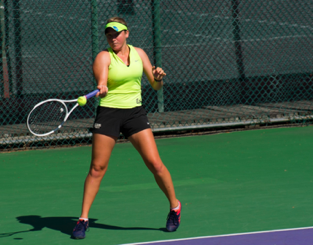 Chloe Henderson '20, Women's Tennis:
In the semi-finals of Nationals my freshman year, we played Middlebury in basically a barn in the middle of Tennessee (since it was raining and there were very few indoor courts). We were down 3-4 and needed to win the two final matches in order to get to the finals of Nationals. Linda Shin '16, my senior captain, made the most EPIC comeback in her match that I have ever witnessed — coming back from 0-5 to win the set and ultimately the match in more than three hours. The cheers from our team, parents and then-faculty advisor back then Brent Heeringa, and the amount of camaraderie, trust, support and fight we had for one another was definitely my top highlights of playing collegiate tennis. It was during that match that I truly learned what it was to be a team player and to be a member of the Williams women's tennis team!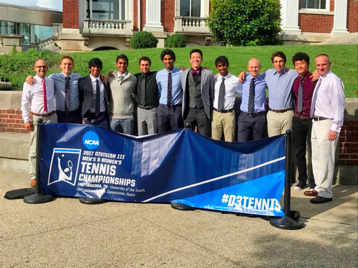 Alex Taylor '20, Men's Tennis:
My freshman year, our team was playing Amherst for a chance to go to the Elite Eight. We had lost to Amherst in the regular season but had beaten them at NESCACs a week or two before. This time, the boys were firing on all cylinders. My partner and I rattled off a quick victory at first-doubles and the team came out ahead 2-1 after all the doubles matches. I was on the sidelines for singles, screaming my absolute lungs off. The match was tied at 4-4, and Jordan Sadowsky '18 was our last man standing. With the grip strength of Alex Honnold, Jordan took his racquet, struck one final ball and sent my teammates and me into an elated fury, as well as the Elite Eight. What a time to be alive.