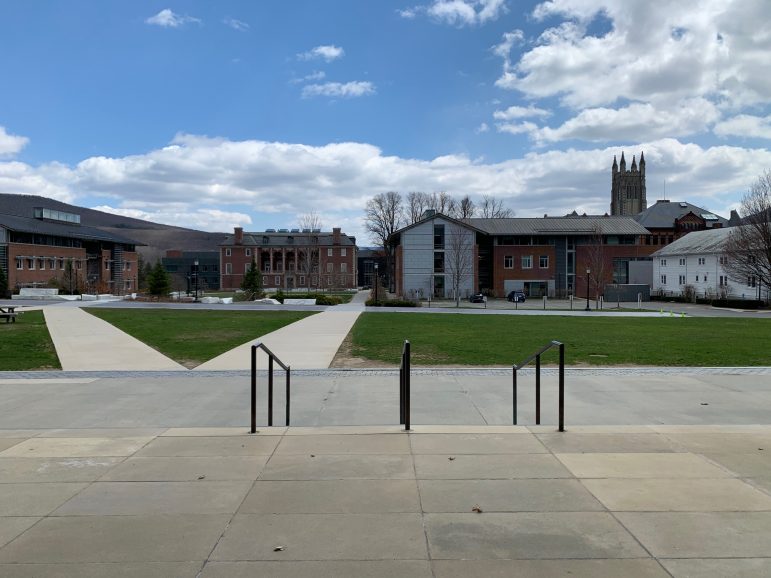 Since the College announced its decision to postpone commencement until summer 2021, seniors and their families have had time to reflect on what the lack of commencement this year means to them.
In response to an anonymous survey by the Record, several students expressed indifference to the cancellation of commencement, citing the loss of other events such as sports seasons and senior week as more significant.
Still, a majority of responses lamented the loss of a meaningful experience that symbolizes the culmination of years of hard work and includes celebration with family and community members.
Meklit Tesfaye '20 described how her years at the College have made her a stronger and more mature student, given the academically challenging nature of the school. "It hasn't been the easiest journey, four years," she said. "Commencement, even though it's ceremonial, kind of like a ritual, is a formal acknowledgement and recognition of all the hard work that Williams seniors have endured and overcome."
She said she recognized the reality of the pandemic situation, saying, "It's really important to acknowledge these public health measures, and I do appreciate how the College is making efforts to still recognize our accomplishments."
Even so, she said it is "disheartening" to lose that experience, particularly "for first-gen students and students who come from marginalized identities."
"We didn't go through college all by ourselves," she said. "Our families, in a way, indirectly also went to college with us, whether it's a late-night call complaining about a paper that we have or exams that we have, or just actually seeing us developing into more intellectually stimulated individuals."
Tesfaye emphasized that the commencement ceremony is also a tribute to the friends and family members who invested their love and support. "Our families and our close loved ones also are part of this journey," she said. "Commencement is a way to recognize these people. Even though they might not be decked in the gown and receive the diploma, seeing someone who is close to them be recognized for their accomplishments is a big thing."
The theme of appreciation for family and loved ones was present in other students' responses as well. Megan Siedman '20 described how, after going home, she realized just how much she had to overcome to be at the College. "My family sacrificed so much, and I am utterly devastated to not be able to share that moment with them," Siedman said.
She referenced the hardships she encountered during her education. "Oftentimes, picturing myself walking across the stage at graduation was the only thing that was able to get me through the most difficult moments at Williams," she said.
"A lot of hard work, tears, and sacrifice went into this, and it feels like for nothing," she added. Since she is the recipient of a Fulbright fellowship, she said she will most likely not be able to attend an in-person commencement next year either.
For Katie Brule '20, thinking about commencement this year as "not something that's been canceled, but something that's sort of just been postponed or delayed" has helped. She said it had not even crossed her mind to conduct her own makeshift graduation celebration at home, as some other students have done.
"I feel like I don't need to replace it because I'm sort of convinced that it will happen, just at not a normal time," she said. At the present moment, however, "It doesn't feel like the right situation to think about graduating."
Being away from campus has also affected Brule's outlook on the future. "It doesn't really feel like I'm graduating, which is a weird thing to think about," she said. "At times, thinking about entering into a career after this and feeling a little bit unqualified, or just like I didn't fully go through my Williams experience… It doesn't feel like as much of a triumph."
In contrast, Kevin Coakley '20 has adopted a more optimistic attitude toward commencement, whenever it does happen. "Williams has been really adamant to have some celebration for us, and I'm really glad that's the case," he said.
He also took note of the far-reaching effects of the pandemic. "This isn't only happening to us," he said. "This is obviously a worldwide pandemic that has affected a lot more people than us."
He expressed his appreciation for the College's decision to retain an in-person commencement later on rather than providing a virtual substitute, citing the agreement of a vast majority of seniors in an earlier survey sent out by the College. "It just felt very bittersweet to us," Coakley said, "and also seeing what some of the other universities' online commencements are, it's just really not a good substitute."
Though most seniors did not want a virtual ceremony, Tesfaye said she still appreciates some online initiatives that have sprung up. "It's been really inspiring to see how other students who were supposed to graduate this year have really united together," she said, citing a recent "Graduate Together" ceremony honoring the high school Class of 2020, and another ceremony for college graduates that will take place in June.
"It's a good reminder to know that we're not alone in experiencing a lack of commencement," she added. "We're finding ways to really be optimistic and be very creative and innovative with these circumstances."
Coakley remains hopeful that the eventual in-person ceremony will be worth the wait. "I think in the end, it might even be more meaningful because we'll have gone through this very trying time together," Coakley said. Though he acknowledged that not everyone in the senior class would realistically be able to attend, he said it would still be "a really special occasion that we'll remember even more."