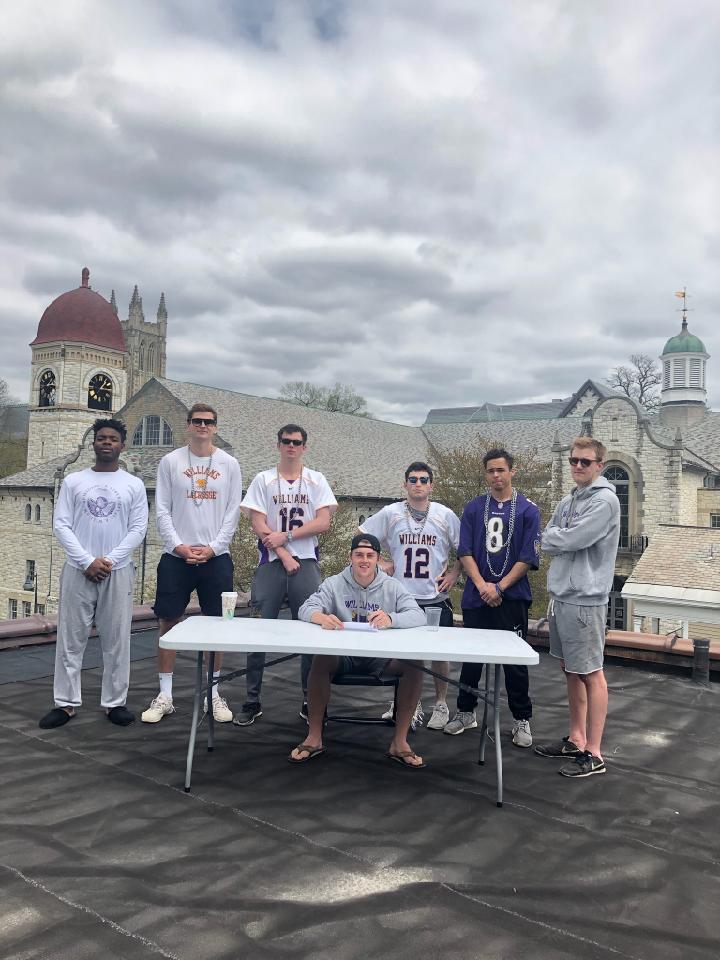 On May 4, senior men's lacrosse captains Brendan Hoffman '20 and Rock Stewart '20 became the first players in school history to be selected in the annual Major League Lacrosse Draft. Hoffman was drafted at 19th overall by the Philadelphia Barrage, and Stewart came off the board one round later, when he was taken by the New York Lizards with the 30th pick.
The pair helped transform a program that had previously hovered around .500 win rate into a national championship contender. After going 7-9 their first year, the team improved to 9-8 the following season and exploded onto the title scene with an 18-4 record last spring. The Ephs capped their record-setting season by knocking off No. 1 R.I.T. in double overtime of the NCAA quarterfinals and entered the 2020 preseason as the top-ranked team in Div. III.
Still, neither Hoffman nor Stewart expected to be drafted into Major League Lacrosse, which is one of two professional lacrosse leagues in the United States and is mostly composed of former Div. I standouts. They filled out paperwork in order to be considered by the six teams in the league, but the news that they were selected in the eight-round draft came as a welcome surprise.
"I knew there was maybe a chance that Rock or me or whoever else on our team could be drafted, but I would say I definitely was surprised," Hoffman said. "Given that I was injured for the first part of the season, I am just really excited and grateful for this potential opportunity and for all my teammates and coaches."
While Hoffman got a phone call on the morning of the draft from a former club coach to inform him that he would be picked, Stewart did not hear from any of the coaches that he had been in touch with that day. He only found out when the league, which conducted the draft remotely through Twitter, tweeted that New York had taken him at 30th overall.
"Most of the day I thought I actually wasn't selected," Stewart said. "Turns out the Lizards were just waiting until they officially announced it, and right after they tweeted it out, I then got a call."
Stewart signed with the Lizards on Tuesday.
During their college careers, Hoffman and Stewart starred at their respective positions and set a host of individual records despite having only three full seasons to add to their statistics.
Hoffman, a high-scoring midfielder, is fifth all-time on the school leaderboard for single-season goals and tied for seventh in career goals. He was named US Lacrosse Magazine Div. III Men's Preseason Player of the Year. Stewart, meanwhile, anchored the defense. He is first all-time in caused turnovers in a single season and second in the category over his career.
They viewed their selections as a sign of good things to come for the program.
"I would say we are some of the first Williams players drafted but certainly will not be the last," Hoffman said. "I think we have a lot of great talent in our program now, and I am excited to watch Williams lacrosse continue to grow over these next few years."
"I think it goes to show you where this program is heading," Stewart said. He touted the recruiting class for the upcoming year and noted that many players in his grade turned down Div. I offers to come to the College.
Stewart himself once considered playing Div. I, but when he sat down to talk to his parents, Williams was "by far" his first choice. Hoffman also knew that he wanted a more balanced college experience and valued the academics and social life offered at a Div. III liberal arts school.
They both lauded the level of play in the NESCAC, which also sent their former club teammate Colin Minicus, an Amherst attackman, to the professional league. Minicus was drafted 33rd overall by Philadelphia and signed with the team on May 12. The three, along with a Penn defender named Mark Evanchick who was also selected by the Barrage, all grew up in Darien, Conn. and played youth lacrosse together.
Stewart said he is excited to play for the Lizards, if and when the season begins. Training camps are planned for June and the season is scheduled to kick off the first week of July. He has accepted a job offer in Boston that was "too good to pass up," but he said the league pays for travel and most players work other jobs.
Hoffman is more uncertain about his future. He is weighing whether to apply for a graduate program at a Div. I school and use a fifth year of NCAA eligibility to continue his college career at the highest level.
"I'm pretty undecided," Hoffman said. "I'm definitely passionate about lacrosse and grateful for the opportunities I've been given, but I need some time to let it sink in and make the best decision for next year."
He would have loved to keep playing for the Ephs, but only an art history graduate program is available to graduates of the College. Stewart would have considered playing a fifth year at Brown, where his brother is a midfielder on the men's lacrosse team, but the Ivy League has remained firm in not allowing graduate students to play, even with the relaxation of eligibility requirements by the NCAA in light of the COVID-19 pandemic.
In a way, Hoffman and Stewart have made the most of the difficult circumstances brought on by the unexpected turn of events. They said that the uncertainty surrounding college sports might have helped them get a closer look from the league.
"I think we got kinda lucky, if you can use the term 'lucky' right now," Stewart said. "Us Div. III guys who go to colleges can't do a fifth year here so they know that we're all moving forward."
Both Hoffman and Stewart said they were especially grateful for all the support from their teammates and friends. Stewart, who is living off-campus in Williamstown, celebrated with his roommates the night after the draft. Hoffman, who has been home, plans to travel up to the Purple Valley soon to see his classmates before they graduate.
"I know that some of my co-seniors probably wish that they had this opportunity, yet they're so happy for us," Stewart said. "I'm here with a bunch of them in Williamstown and they are so happy for us. That's probably the greatest thing about it."