"You're more than enough, you're worthy, and you belong": First Gen students reflect on graduating amidst the pandemic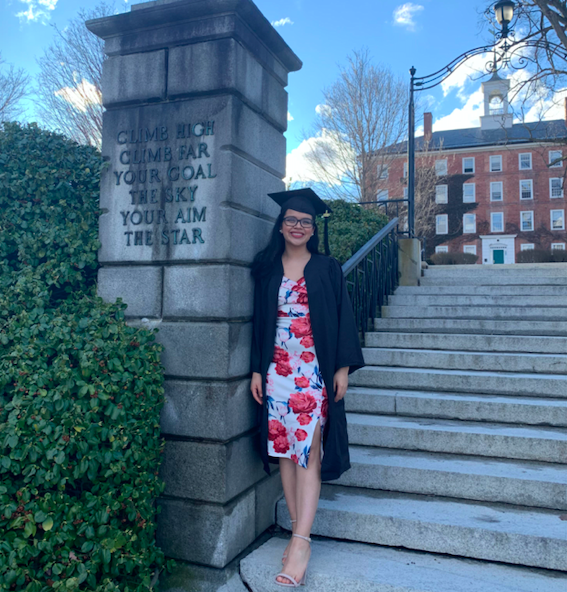 It is again the time of year when seniors are normally preparing to receive their diplomas from the College, with their family and friends crowded on Paresky Lawn to cheer for them. The coronavirus pandemic, however, has forced schools across the country to dramatically alter their graduation ceremonies, drastically altering seniors' plans. For the Class of 2020, their chance to walk across the stage has been taken away. But for some, it isn't just the seniors who have lost their chance to see themselves on stage: First-Generation students and their families lost the chance to see generations of hard work culminate in the reception of a college diploma. For some First-Generation students, the question lingers: They've beaten the odds, but now what?
Over the last week, I spoke to some First Gen students about their time at the College and their feelings towards graduation and its marker as the end of their Williams journey.
Being First Gen "feels like you are walking in a dark tunnel," according to Nohely Peraza '20. "Everything is new and unknown territory, and sometimes you have to carry additional weights while you walk. You don't know where it is leading."
Associate Dean April Ruiz emphasized the weight first-generation students carry and the importance graduation can have for many of their families. "First Gen graduates are trailblazers," she said. "For our first gen students, college graduation carries an extra special meaning as the culmination of a multi-generational journey. For some, it means reaching a milestone their families began sacrificing for long before the student was born. For others, it means forging a path of their own, marching forward toward a dream they envisioned for themselves before they could see the exact shape of it." For many on campus, Ruiz helped solidify the First Gen community at the College, regularly sending emails, organizing events and constantly reaching out to First Gen community members to make sure they remembered that they are never alone.
For many first gen seniors, the cancelation of an in-person commencement ceremony has started a kind of grieving process.
"The culmination of my college experience and my entire academic journey thus far is nothing like I had ever envisioned," Yaznairy Cabrera '20 said. "I intended to walk across a Williams stage to receive my college diploma for myself and everyone else who hadn't before me. It's the event that I often would reflect on and would try to imagine when I needed the motivation to push just that much harder. Now, my degree will be mailed, celebrations delayed, and time with friends on-campus cut far too short and that reality was certainly a devastating blow."
For Carlos Cabrera-Lomelí '20, a political economy major and a Latino/a studies concentrator, he doesn't think he will ever feel that satisfying kick of graduating college. Cabrera-Lomelí was excited to dress up and walk across that stage and then to celebrate with his friends and family – to have that moment that signifies that college is over and the rest of your life is just beginning. "Without graduation, many of my friends and I feel like we are in an extended summer break, where we have to figure out jobs and housing through an economic crisis," he said. "The fear of possibly being laid off without a plan has overshadowed any feelings of not having graduation."
Peraza doesn't think she will ever fully process the last couple of months. "We are still in the midst of the unexpected and alarming circumstances that caused our year to end early," she said. "My mother works at Whole Foods and risks her health every day to ensure she can still put food on the table. I don't know how I feel about the use of the term 'essential worker' because to me, she has always been essential. This crisis has only highlighted the racial and socioeconomic disparities that I've seen my mother navigate her entire life."
Even in these turbulent times, however, First Gen students are still finding ways to celebrate their accomplishments.
Many are still dressing in their cap and gowns so that their families can take pictures and conduct their own celebrations. Peraza said her mother wants to make pupusas, a traditional Salvadoran dish, and blast music in their backyard. Cabrera-Lomelí said that his co-workers at Univision surprised him with a cake to celebrate his graduation. At the College, Ruiz and the College's Firsts Students Board are still discussing their plans to celebrate the seniors.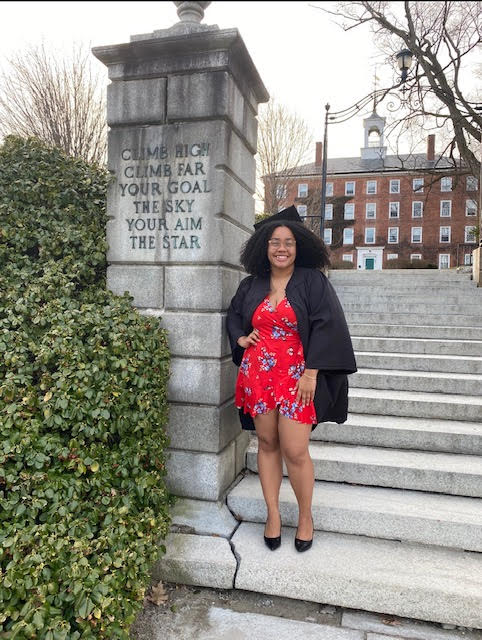 Even without formal school celebrations, First Gen students are still proud of their years of hard work and dedication. It may not be the graduation they wanted, but they are taking the change in stride.
"There is a special value for this graduation to change and shift," Cabrera-Lomelí acknowledged. "The years of work and dedication my mom and I invested into my education, that's all there, regardless of a ceremony." He jokingly added, "You can just look at the bags under my eyes for proof!" Cabrera-Lomelí has already started working at Univision as a news writer for the evening and nightly newscast, while also freelancing at other publications and working on an independent project documenting the effects of immigration policies and inequality in San Francisco and California.
Cabrera agreed. "I try to remind myself that I'm blessed to have had this journey, no matter it's ending," she said. "I am so fortunate to have experienced Williams, to have traveled, to have completed my studies, and now to be surrounded by those I love, at home, in good health, and safe. Those are privileges I hold, recognize, and value dearly. In many ways, it seems almost serendipitous to end my Williams career at home, in Lawrence, the place where it all started." When the school year ends, Cabrera will be working at an investment management firm in Boston, Mass. In the meantime, she's looking forward to giving back to her community in Lawrence by mentoring youth members as well as volunteering at non-profits.
Peraza is excited to also go back to where it all started, her alma mater, Eastside College Preparatory School, where she will teach ninth grade World Literature next year. "Eastside is the reason I am at Williams. I'm really excited to be able to come back home and bring with me all that I learned from being at Williams."
Ruiz wants to remind First Gen seniors that this journey, as strange and frustrating as it was, was finished. "You did this. You've dedicated your energy to reaching this milestone, and you deserve to treasure this moment. In whatever way makes sense for you, carve out space for reflection and gratitude and pride. Remember that you have a community of Ephs across the globe who are cheering you on."
When these seniors began their college journey they described feeling alone, overwhelmed, stupid and scared. They told me the feelings of self-doubt they felt. Describing her first impressions of college, Cabrera said, "I was entering a place of privilege and wealth which was completely foreign to me."
Similarly, Peraza said that coming to college racked her with guilt and a strong feeling of "Imposter Syndrome," something that many First Gen students experience when they first come to College. She also recounted a feeling of added duty. "Being First Gen for me also meant having to balance emotional ties and additional responsibilities at home. I have filled out every job application and resume for my mom for as long as I can remember. Throughout my four years I also had to assist my mom with filling out other paperwork, translating, making calls, etc."
Now, these students feel stronger and grateful, far from those feelings from First Days. It wasn't easy overcoming their challenges, but they did it all the same.
Peraza cautioned against "Imposter Syndrome." "Don't trap yourself into a cycle of feeling like you can't or aren't doing what you need to do. It is never too late to learn and you are never alone in feeling or having felt this way."
Cabrera-Lomelí struggled with the question of why he was here. "Here' not being Williams College, but college itself," he said. "I had to learn that what got me to college was not what was going to get me through. In high school, what motivated me was my desire to make my family proud and bring success to the sacrifices they had made for me. Then you go to college, and overnight, you're miles away from this source of motivation, with very little supervision. I could no longer count on home being the central reason for me wanting to graduate and be successful."
His advice to other students was simple. "Every single First Gen student should go through this process where you check in on these values that hold you together. Your own success should not be wholly based on the approval of others! Only you will get to truly wear that cap and gown!"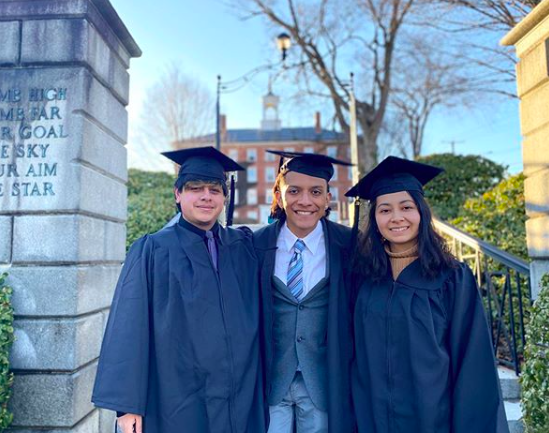 Cabrera's advice was simple yet poignant. "You're more than enough, you're worthy, and you belong. Williams is a great place, that's only made better by your presence. Engage in old traditions, while making new ones, find and nurture your communities on and off-campus, and enact change if and when necessary. Live, be free, and act boldly. Cherish each and every moment!"
Despite trials and tribulations, tears and smiles, First Gen seniors fought against the odds and finished something that was generations in the making. They are role models to not only their community but for Ephs everywhere.