Family first: Students take unconventional measures to protect vulnerable loved ones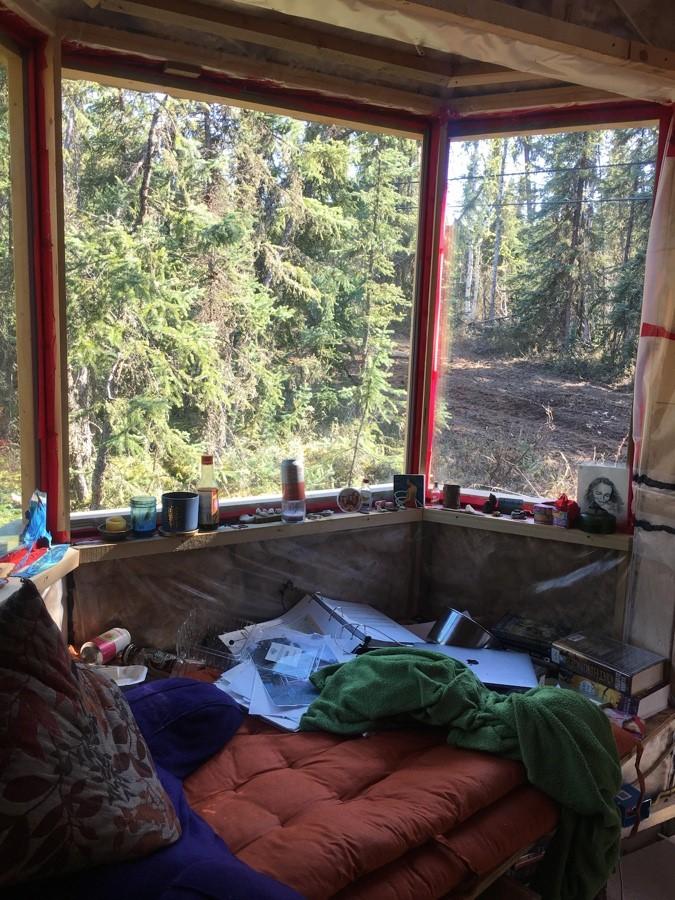 Robin Eagleton '22 is living in the woods. Alone. In a 400 sq. ft. cabin. Without indoor plumbing.
"I've been holding a jug of water in between my thighs and pouring it over my hands into a bucket to wash them," she wrote in an email to the Record. "My actual two weeks of quarantine involved lots of baby wipes and washing my hair in a bucket of snowmelt, but I have access to a shower now!"
Living in the cozy cabin has some "quirks," she said: unfinished walls, exposed wiring and jerry-rigged lighting, with spare pieces of plywood laying over the beams — sometimes, caulk, a waterproof filler and sealant, falls from the ceiling into her hair.
Eagleton said she enjoys living in the cabin — quirks and all. "Despite my semi-improvised living situation, I'm really happy to be here," she said. "I've actually only lived in dry cabins before coming to Williams, so the cabin life feels pretty normal to me.… And my mom was driving me literally insane by spouting nonstop facts about [COVID-19] and giving me constant updates about the number of cases in Alaska."
Technically, she's not completely alone. She's a 10-minute walk away from her parents' cabin home, where they live as part of a Quaker community with 14 people total in a secluded area of Fairbanks, Alaska.
But she's decided to stay in the smaller cabin, given that her 73-year-old father has lung problems, and another 90-year-old community member would become especially vulnerable should they contract the virus. 
The pandemic has forced students at the College with vulnerable family members to find often unorthodox ways of keeping their loved ones safe. At the same time, they must reckon with the emotional reality of the danger the virus poses. Over the course of remote learning, tensions have surfaced, and relationships have come under pressure.
For Liza Jacoby '22, moving back to her L.A. home where her dad and stepmother live brought back to the surface family conflicts that she thought had been left "behind in a previous life."
Jacoby's stepmother had pneumonia at the beginning of the year, and her dad has asthma, putting them at higher risk of serious complications if they were to contract COVID-19. 
Her parents are worried that by living in such close quarters, Jacoby and her boyfriend will expose the two to the virus, so the family has taken extensive measures to avoid the illness — including wiping down all surfaces, such as the keypad to the house. Jacoby cannot even hug her family. But for Jacoby and her boyfriend, a fellow student at the College who decided to quarantine with Jacoby, living in the house under the new quarantine rules feels stifling. 
"I think both of them are going a little crazy about everything being clean," Jacoby said.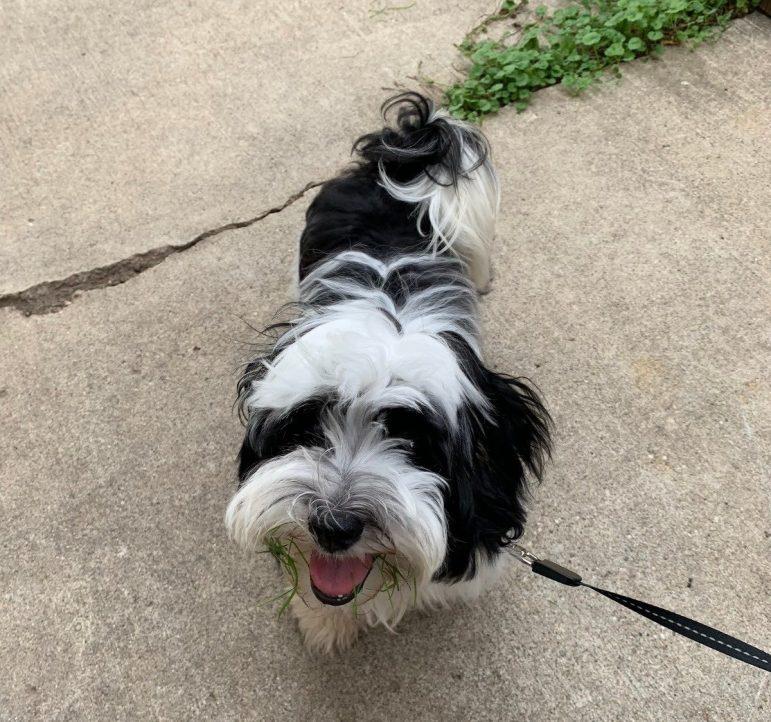 Because Maximilian Peters '23 is worried his grandmother could potentially contract COVID-19 from him or his parents, they are trying to stay in the house, aside from dog walks and trips to the grocery store. 
When they do go shopping, "it reminds me of a bank robbery," he said. 
Peters and his family have perfected their shopping routine down to a T. 
"We usually have one person who goes inside, and one person who actually drives the car because that way two people get to be out of the house, and also someone who has been touching outside stuff [doesn't] touch the steering [wheel]," said Peters, who lives in Sioux Falls, S.D. "Usually both people wear masks. The person who goes into the store usually wears gloves, as well." 
"If we don't go out, and if we don't get it, hopefully nothing will happen," he said. "That's my hope." In fact, he has the option to go out if he wants to because South Dakota is one of the few states to have not implemented any stay-at-home restrictions to prevent the spread of the virus.
"But whenever I've thought, 'Oh, what if I go to a friend's house or whatever, or do something?' I think what would happen if, and then I do not go outside," he said.
Aliya Klein '22 also said she and her family don't leave the house much because her sister is immunocompromised. 
Her sister has a circulation disorder called Postural Orthostatic Tachycardia Syndrome. Her mother also has it but in a much milder form.
"Basically, your blood doesn't flow properly, and it's caused by a lot of the systems in your body — your nervous system, your respiratory system, your digestive system — they just don't work quite right, and so your cells don't do their job properly," Klein said. "It's an auto-immune disease. [My sister] also has pretty bad asthma. Those two things combined would make her pretty not OK if she got this."
Klein had already been hesitant to bring people into the house, especially if they were sick — but COVID-19 is more dangerous than most common sicknesses.
"When she gets a virus, she's just sick for longer, usually," she said. "But most illnesses also don't have a high mortality rate."
She and her sister also grew up with severe food allergies, and her whole family has seasonal allergies.
"We wipe our dog's paws before she comes back in the house because … tracking pollen in is probably not a good decision," she said.
Now, among pre-existing safeguards, Klein and her family members leave all outerwear, including coats and shoes, in the garage when they come home, and then wash their hands. But Klein only goes outside to walk her dog, so she doesn't wash her hands much more than usual.
"We're chill, we're a family that doesn't freak out about much, but at the same time, none of us have really left except to go grocery shopping because we know that [my sister is] basically like an 85-year-old if she got the disease," she said.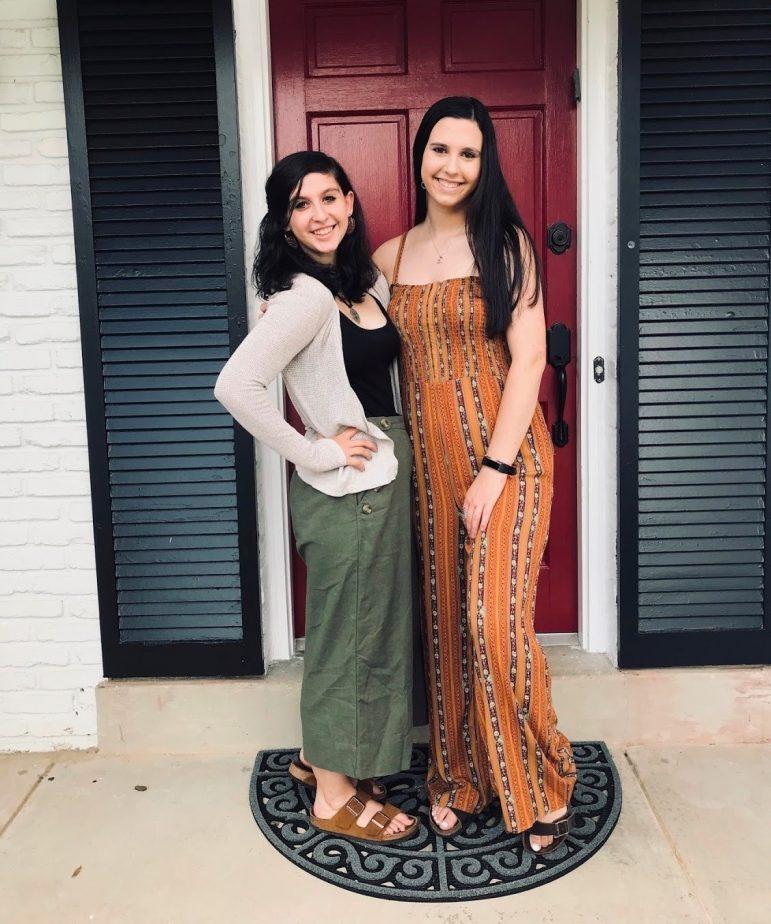 Klein said her sister does not seem particularly stressed about the virus right now because she is not doing anything that would put her at risk of contracting it. 
"But she's also expressed worry for what it will be like going back into the world once it's deemed safe… The potential danger of getting sick will linger with her for a much longer time," Klein said.
Before the pandemic, Klein said that her sister spent most of her time at home anyway because school and extracurriculars were so tiring. Plus, most of her sister's friends are from rehabilitation centers, so they live in other parts of the country.
But not leaving the house has had unintended consequences. For some, this has meant initiating conversations and arrangements that they hadn't anticipated. Klein and her boyfriend broke up because they had never expected to do long distance – he lives 20 miles south of her. Their parting was amicable, she said, but still extremely difficult.
After they broke up, Klein left the house – one of two times she has during the whole pandemic.
"We decided to go and park in a parking lot, sit six feet apart and just talk through it," she said.
Peters' grandmother is making plans of her own: she's getting her affairs in order a couple years before her anticipated death – a Scandinavian practice that Peters thinks she inherited from her Norwegian parents.
Peters said witnessing this process has made it difficult to be around his grandmother.
"It's a little unnerving, but I kind of understand it … I know that she's updated her will during this," he said. "I know that she commented a while back that, if she gets this virus, she probably won't make it."
"I think either she has a more positive outlook on the prospect of death, or else she's trying to project a more positive image. She's done a lot in her life," Peters said. "She's lived a pretty good and full life. I think that probably helps her, but it's still not ideal."
Meanwhile, Jacoby being constantly on edge around her parents has strained their familial relationship to the point that Jacoby and her boyfriend have decided to move to her boyfriend's home in San Francisco.
"We couldn't really coexist that easily with how scared they were," Jacoby said. "A lot of the issues that we're having are more disagreements on how one should live one's life, and … being back home and in a situation shrouded by so much fear, it's just brought back a lot of those old feelings. And so we ended up just being like, this either needs to change or we need to leave. And that ended up being that we had to leave."
Despite having had different ideas of how to maintain a safe lifestyle during quarantine, Jacoby said she respects her parents' measures — whatever it takes to make them feel safe during these uncertain times. 
"I think I underestimated what the virus was actually going to be like," she said. "I'd rather be subjected to my parents' craziness and at least know that I'm not part of the problem and know that we're going to be safe."
This article is part of a four-story series, "Miles Apart: Stories of the Pandemic."
About the Contributors
Jeongyoon Han, Senior Writer
Jeongyoon Han '21 (she.her.hers) is a political science and Chinese major from Syracuse, N.Y. She is a senior writer and a video producer. Previously,...