Eph teams juggle, run, do pushups for Williams for Williamstown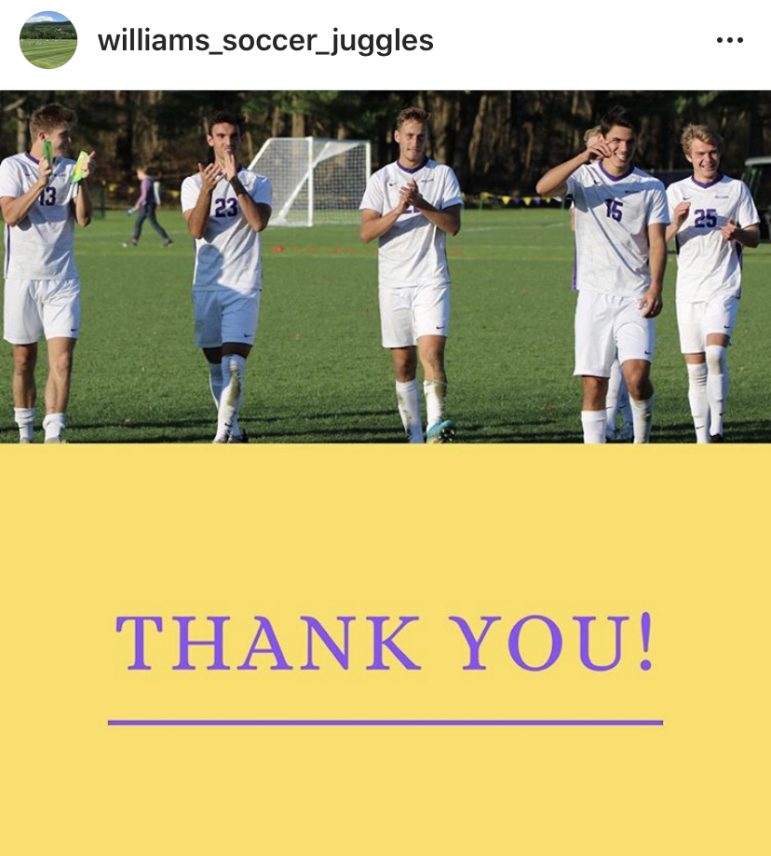 "I heard out there that there's a juggle-a-thon that's pitting the men's soccer team against the women's soccer team," President Maud S. Mandel said into the camera. "I hope this is a fun, hardy competition, and may the best team win."
Posted on Instagram, Mandel's message was a voice of support to the juggle-a-thon, a challenge in which members of the men's and women's soccer teams came together to juggle a soccer ball for 24 hours non-stop. Starting from 6 p.m. EDT on May 8, each player juggled live in 30-minute increments on Instagram, with each team combining to juggle for 24 consecutive hours.
The purpose of the challenge is to raise awareness and funds for Williams for Williamstown (W4W), a student-led initiative to donate meals from local businesses to Berkshire healthcare workers. According to Claire Tolliver '23, a member of the women's soccer team, the soccer players have been raising money by posting Venmo bingo boards on Instagram. By the juggle-a-thon's conclusion on May 9, they had received $4,550 in donations.
The juggle-a-thon is by no means the only charity effort by the Ephs. Following the Sweat 2 Support fun run, which took place the weekend of May 2, many teams announced unique challenges in support of the initiative.
The men's rugby team, for instance, organized and completed a challenge called "Push 10,000." "For every 20 pushups a player did, they donated $1 to Williams for [Williamstown] and nominated a few other teammates and alumni to do the same," wrote Alex Szrol '21, president of the Williams Rugby Football Club, in an email to the Record. "We raised money from family, friends and especially alumni. We ended up raising around $600 in about a week."
Almost the entire rugby team participated in the pushup challenge. According to Szrol, the team has a strong culture of community service, both at the College and in the larger Berkshire community. "We are perennially involved with Winter Blitz, fundraising for the Brien Center and other local community initiatives," Szrol wrote. "We're always more than happy to support our classmates' community initiatives as a team."
In a similar spirit, athletes from the cross country and track and field teams came together to host their own fundraiser for the initiative. Emily Tibbetts '20, a participant in the challenge and an organizer of W4W, plans to run her first half-marathon on May 30.
"It has been great to see our different teams taking initiative and rallying around the W4W effort," Tibbetts wrote in an email to the Record. "Besides the fact that it helps to raise money, the different fundraising events that teams are sponsoring helps to raise awareness for W4W in the broader Williams Community."
Sam Schraver '22, a member of the men's cross country team, found out about the initiative from his teammates and used it as an opportunity to train for and complete his first marathon on May 7. He received a total of $761 in donations, exceeding his original $500 goal.
He found it rewarding to combine his sport with fundraising. "This skill that I had spent so long building up and working on could now be used to give back and do some good in the world, instead of just achieving athletic success for myself and my teammates," he said.
Along with eight other teammates, Tibbetts and Schraver have created a joint GoFundMe page that describes each runner's individual challenge and sets a $5,000 goal. They have received over $4,200 as of Monday.
The men's crew team was one of the earliest teams to give W4W a boost with their team effort. Their challenge began in early April, when they decided as a team to raise awareness about the fundraiser.
"Peter Fousek ['21] had the 'Million Meter' project idea where we'd collectively run, erg, hike or bike 1 million meters in 2 weeks," said Piper Higgins '21, who was involved in the team challenge. "So we did that and kept people up to date via Instagram — lots of people (friends and family of the program) who hadn't heard of the fundraiser donated."
Fousek, the organizer of the challenge, started off the project with an email to his entire team, introducing his fundraiser idea and inviting those interested to contribute to the team's total meters count. He also included an email template of fundraiser requests for people to send out to friends and family, directing donors to the W4W GoFundMe.
The rowers ended up completing 1 million meters in 1 week; they then raised the goal to 2 million.
 "The idea was to raise funds through reaching out to individuals and through using the team Instagram page to publicize our effort and request donations, with a link to the WFW GoFundMe," Fousek said.  He estimated that the crew team had raised more than $2,500 in total.
The strong showing from the College's athlete community did not come without effort on behalf of the initiative organizers, who actively sought to bring training, challenges and fundraising efforts of individual athletes together.
Former women's volleyball captain and Communications Director of the Student Athlete Advisory Committee Daiana Takashima '20 now serves as head of athletic engagement on the W4W board. "I thought that [W4W] would be a great way to get our student athletes involved," she said.
To spread the message, Takashima and other board members reached out not only to the student athletes themselves but also to the College administration and the coaching staff. "We got [Associate Director for Student Athlete Services] Carolyn Miles involved in it, reached out to coaches and tried to figure out if there's a way to incorporate the fundraiser as a way to connect with the bigger Williams community, because we thought it would be for a great cause," Takashima said.
Eliza Bower '20,  founder and president of the W4W initiative, noted that the College community has been highly and creatively responsive to W4W's appeal. "One of our initial goals was to try and connect and engage the community, but it's been amazing watching all these teams and different organizations bring people together with such creativity," she said.
The passion and spontaneity with which the Ephs devised their projects was a pleasant surprise for Bower.
"I initially thought that we would [have] to do more to try and get different teams or groups to coordinate and to bring the Williams community with current students and alums together, but people have really taken that upon themselves," she said. "It has been awesome to watch, and everyone's gotten so creative. I couldn't have thought of any of these things. It's been fantastic."
Much of the W4W board consists of student-athletes, but Nina McGowan '20, a former member of the women's field hockey team, pointed out that the movement has expanded beyond the athletic sphere.
"At first, we really used athletics as an avenue to spread the word," she said. "But what's been so encouraging with the fun run and the rest of the fundraiser is that we had a lot of individual effort from people who are not student-athletes, and it doesn't really matter if you play a sport or not."
Like W4W, individual teams have used the College's athletic culture as a platform to broadcast the message beyond their team members. "From alumni to current students, our challenge was noticed and helped give even more publicity to Williams for Williamstown," Szrol said. "For our next few efforts, we really hope to engage with more people both outside of and within the Williams community."