Hayden Gillooly '21 checks in on her elderly neighbors
Hayden Gillooly '21, who lives in North Adams, grew up steeped in small-town life. Every day after school, she would walk to her grandmother's house.
"She taught me how to cook, and she and I would just talk," she said. "Once my cousin started having kids, she and I would babysit them, so I learned how to raise kids with her and do art projects and gardening."
She was surrounded by her parents' friends, too.
"I'm very used to spending time with older people. Both my parents are older. They had me when they were 42 and 49, and I'm an only child, so a lot of my really close friends are my mom's friends," she said. "They feel like family to me."
When Gillooly was born, her mother had decided that their neighborhood, which is full of elderly people, would be her family. Now, since COVID-19 spread through the U.S., Gillooly and her mother have been checking in on their neighbors more than ever.
Gillooly and her mother take their Collie, Blue, out for a walk every day and often stop to chat in their neighbors' yards. What would normally just be a greeting has turned into 10-minute long conversations.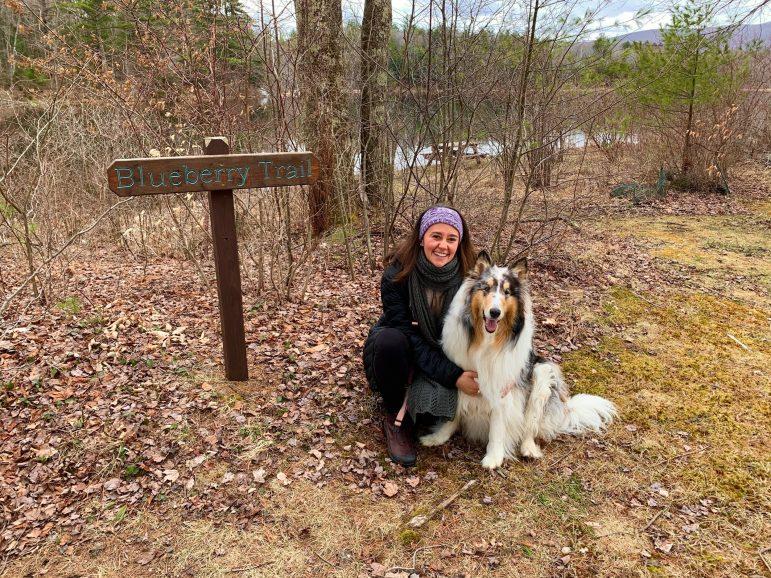 "Of course, we don't go into their house, but just talk in their front yard from six feet away," she said. "And we kind of use our dog as a reason why we have to go check in. We're like, 'Oh, Blue wanted to see you,' when really we want to make sure they're ok and let them know that we're here."
"The older people I'm around definitely are not interacting with other people," she said. "Going to the store can be scary [for them] and is kind of a battleground."
Despite being part of a low-risk group because of her age, the higher mortality rate for older people is personal for her. Going outside, seeing people and coming back home carries a greater danger when her dad is 71 years old.
After coming home from her semester abroad in Spain, where she had coincidentally stayed with two elderly women through her study abroad program's host family system, she self-quarantined for two weeks in a family friend's apartment. The time passed surprisingly quickly, she said. She slept a lot and watched a lot of "Grace and Frankie," which is (not so surprisingly) about two older women.
She said she worries about her parents and her Spanish host mothers.
"We're playing it really safe," she said. "My dad goes to the grocery store once every two weeks and comes home and disinfects everything."
To bring her neighbors some joy, Gillooly decided to bring back a childhood tradition. When she was younger, Gillooly used to make construction-paper baskets for May Day, fill them with candy or flowers and distribute them throughout the neighborhood.
"It felt extra sweet this year knowing that everyone's having a really hard time and this stupid little construction paper cone could bring so many people smiles," she said.
She wants to do whatever she can to break up their days, and, for many of them, disrupt the monotony of living alone.
Plus, she's quite extroverted, "so it's been hard lately not being able to have lots of interactions with friends," she said. "My mom and I go out to dinner and have drinks with her friends during the week usually, so we do that and now we can't."
One day, she saw on Facebook that a neighbor's birthday was coming up, so she jokingly said to her mother, "Oh, we should wrap up a roll of toilet paper." 
"And so, we grabbed a birthday bag we had in our house and put a roll of toilet paper in with tissue paper and I made a birthday card for him." It said, "Happy birthday from six feet away."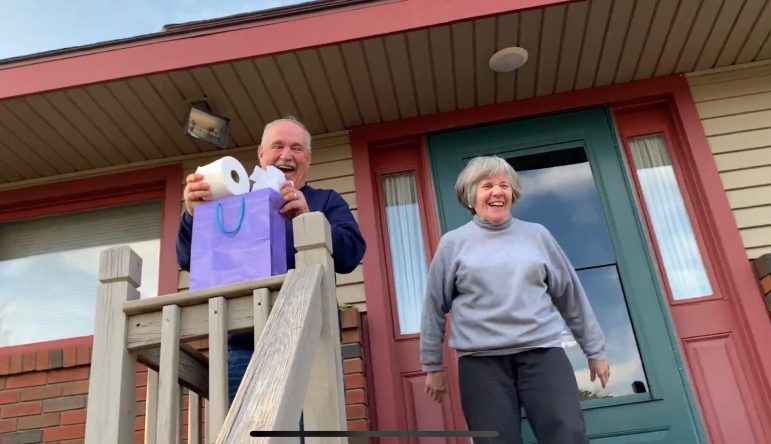 Under normal circumstances, she said she never would have done something like this.
While she doesn't personally know anyone in her neighborhood who has passed away due to COVID-19, she's heard about one who did.
"Someone my parents sort of knew passed away, but I didn't really know him, but a lot of people I know knew him," she said. "I guess he and his wife were pretty inseparable, and she couldn't even go to the hospital to say bye to him."
Gillooly knows what it's like to lose a close family member after losing her grandmother last summer, and she said she couldn't imagine how lonely an experience it was for the man, and how difficult it must have been for his wife. Gillooly and her mother and great aunt were with her grandmother when she passed away.
"As hard as it was, and as sad as it was, it was so sweet to be able to spend those last moments with her, and I can't imagine not being able to do that with family members," Gillooly said.