Not at home but not on campus: Students make do while quarantining together
Kristen Bayrakdarian
May 13, 2020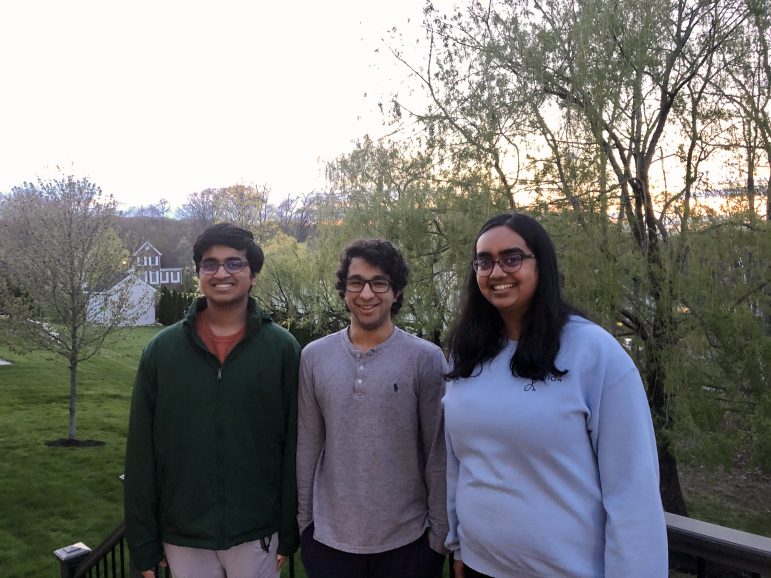 Students at the College scrambled to secure on-campus housing or transportation home when President Maud S. Mandel announced the decision on March 11 to close campus and transition to remote learning for the rest of the spring semester. But for some students, neither staying on-campus nor going home was an attractive or feasible option. These students, who are quarantining elsewhere, have found housing support from fellow students and extended family during this time.
A number of students living in dorms petitioned and were approved by the administration to stay on-campus. And while some students in off-campus houses have chosen to stay in Williamstown, others took off for their hometowns, leaving housing opportunities behind for others. Aanya Kapur '20, an international student from London, took another route. "When the news came out about coronavirus, I petitioned to stay on campus because I grew up in London, but my parents live in Australia," Kapur said. Two days after Kapur submitted her petition, the United Kingdom had tightened its borders, and Australia instituted a mandatory two-week quarantine period shortly after. "[When my petition did not] get accepted, instead of appealing I started looking for off-campus options," she said. "I had a friend who was moving out of the Rectory to go home, so I'm subleasing her room from her." Kapur is currently living there with five other students from the College.
Other international students also had to find alternative housing quickly. For Shreyas Rajesh '22, an international student from India, the closing of the Indian border only two days after the campus closure meant that his temporary quarantine plans to stay with Nandini Seetharaman '22 and her family in Shrewsbury, MA quickly became more permanent. "The government of India closed the country down to people of my visa status … so going home just wasn't an option" Rajesh said. "India has recently started evacuation flights, so I'm optimistic that people with my visa status will be able to get home soon. I'm really grateful to Nandini and her family for taking me in and taking really, really good care of me – I feel so lucky that I'm at a place with good food, great company [and] reliable internet."
Coco Rhum '23, who as of Friday has returned to her home in Brooklyn, N.Y., spent the past several weeks with Mila Nazarali '23 and Lauren Lynch '23 in Green Pond, N.J. "How I came to stay at Mila's is quite a wild story," Rhum said. Originally, she was supposed to be picked up from the College by her mother, but those plans unexpectedly fell through. "My mom couldn't pick me up because she was working and a part from our car had been stolen that day… So, knowing that Mila and Lauren were going to Green Pond and that I had previously discussed staying with them, I arranged to join them." What was supposed to be temporary turned into almost a two-month stay. "I consider myself incredibly lucky and privileged to have had my quarantine experience be one with friends," she said.
Others who are quarantining with fellow students have also shared a resounding sense of gratitude. Jessica Thompson '21 is currently in Mississippi with two other students. "Because of my home and financial situation, I think I've thought about the virus a lot in terms of positionality and privilege," Thompson said. "I'm really grateful that my friend offered to let me stay with her. I know I have a safe and steady living arrangement at Williams during the school year, [but] that got uprooted suddenly. And especially if we're looking at a remote fall semester, that's a long time for people with unstable home lives and/or financial insecurity… And so the normal stress that comes from those types of concerns just gets compounded by the virus."
Shreyam Misra '21, an international student from India currently quarantining with extended family in Houston, TX, expressed a similar sentiment of stress coming from the uncertainty of the virus. "Stress levels are very high," he said. "People are worried about things like losing their jobs and getting groceries. Being confined indoors can also be quite frustrating." Misra added that different attitudes toward going outside can also become a potential source of conflict when it comes to certain people in a home situation getting exposed to the virus and risking spreading it to others at home. "I try to avoid thinking about the virus as much as possible, but doing so is a lot harder than I expected," Misra said.
But students have managed to find support and comfort among friends, whether it be through group activities or motivation to complete schoolwork. Katrina Wheelan '21 is currently quarantining outside Bozeman, Mont. with Sarah Dean '23 and Tad Montesano '23 at Dean's uncle's house. "On schooldays, we mostly take our Zoom calls and do schoolwork in our separate corners of the house and then reconvene to cook and eat dinner together," Wheelan said. "It's been really nice socially and academically to have other Williams students on the same academic schedule."
Despite the hard times, quarantining away from home has led to new and unique experiences for some students. "Part of why staying at Green Pond was so amazing is that it felt like there was a lot of room for growth and new experiences despite the confined and isolated nature of our lives" Rhum said. "We fostered a dog who was an absolute delight and a wonderful companion. I started running much more seriously and learned how to drive. We also all became deeply engrossed in bread-making and other cooking and baking experiments and adventures."
Rajesh also reflected on his appreciation for the College community. "Quarantine has really made me grateful to be a Williams student and to have the friends that I have made at college," he said. "Everyone is sort of looking out for each other."
---