Ninja Sex Party's Brian Wecht '97 talks rings, physics and musical comedy
When Brian Wecht '97 lost his high school class ring while living in Gladden his junior year, he didn't think much of it. The ring was bulky and ornately carved, with a hefty green gemstone embedded in the center — "definitely not my vibe," Wecht said — and he was content to forget about it.
That was until a little over two months ago, when he received an email from Assistant Director of Alumni Relations Juan Baena '07 with the subject line: "Your high school ring?"
A forgotten class ring had been recovered from Room 46 in Gladden, Baena explained, back in May of 1996. The ring spent the following 24 years in a custodian's drawer, forgotten again, until it ended up on Baena's desk just days before campus closed this March. Tracking down the owner was a matter of a simple search in the records database, as Wecht's initials and the name of his high school are engraved on the ring.
Wecht shared the exchange on Twitter, and the post quickly gained traction, receiving more than 40,000 likes. He was nonchalant about the response.
"I'm kind of a public figure because of this band I'm in," he said. "I don't mean this to come across in a jerk-y way, but it's not the strangest thing in the world for my tweets to get a couple thousand likes."
Actually, Wecht was being modest: His Twitter account has almost half a million followers, and as a founding member of the musical comedy duo Ninja Sex Party, he's no stranger to public attention. In the band, Wecht's stage persona is Ninja Brian, a "supernatural psychopath" whose silent demeanor and shadowy image contrast sharply with the colorful spandex of his flamboyant bandmate Dan Avidan, known on stage as Danny Sexbang.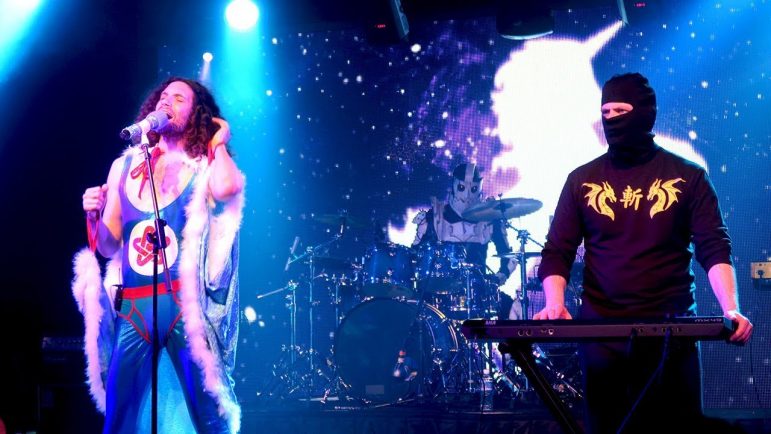 Their work ranges from raucous comedy-rock, with lyrics that are raunchy but good-natured, to cover albums that display their affinity for '70s and '80s hair metal and prog rock. Avidan performs the vocals, and Wecht focuses on keyboards; for their first few albums, Wecht handled all of the instruments, but the duo now works with a backing band.
On Ninja Sex Party's first international trip, to a sketch comedy festival in Toronto, Wecht almost lost the only other ring he's ever owned: his wedding ring.
"I try to stay in character in the sense that I take my wedding ring off when I'm in costume, and when I got back to the green room to put back on my normal clothes, it was gone," Wecht said. A group of other performers helped him scour the green room (luckily, "comedians are generally good people," he said) and Avidan eventually retrieved the ring. "I've had some close calls a couple of other times with it," Wecht said, "but I haven't lost it yet."
But before he'd donned Ninja Brian's black balaclava and perfected his steely glare — before he'd dreamed of starring opposite Danny Sexbang in over-the-top music videos that regularly get millions of views — Wecht was a theoretical physicist.
And before that, he was a long-haired, spectacled kid from northern New Jersey who was trying to figure out what courses to take. His first-year advisor, Professor Emeritus of Mathematics Edward Burger, persuaded Wecht to try an advanced math class, and Wecht ended up carving out a path at the College as a music and math double major.
In his free time, Wecht participated in almost every instrumental ensemble in the music department: He conducted the student symphony, was in the jazz ensemble and Symphonic Winds and occasionally played saxophone in the Berkshire Symphony or joined small jazz groups. He was also in the band for Frosh Revue — the only comedy group he was at all involved with — and conducted and played in the pit for several Cap & Bells musicals.
Math and music were Wecht's passions in the classroom, but he also found space for the first two years of the core physics curriculum, leading him to take quantum mechanics as an elective in his senior year. That class, with Professor of Physics Tiku Majumder, inspired Wecht to consider pursuing physics after graduation, setting him down what he described as a "very curvy path" to graduate school.
Though he was initially set to enroll in a doctoral program in music composition at Duke, Wecht canceled his plans, got a short-term job teaching in Connecticut and spent the summer studying for the physics GREs. After getting "essentially a zero" on his first try, he managed to eke out an adequate score, and he soon began working toward his doctorate at the University of California, San Diego, which he completed in 2004.
Following graduate school, where he concentrated on theoretical particle physics, Wecht took a series of postdoctoral positions at Harvard, MIT, the Institute for Advanced Study and the University of Michigan. While he was at MIT, he indulged his passions for music and comedy as the musical director for the Boston sketch club Improv Asylum.
"My main improv gig for a while was coaching 'Create an hour-long musical from a title suggestion' kind of stuff," he said. "It's like all improv: When it's done well, you're like, 'Oh my god, this is literal magic.' And when it's bad, you're like, 'Oh, kill me.'"
When he was at the Institute for Advanced Study in Princeton, N.J., Wecht took advantage of the relatively close proximity to New York City to get involved with the musical comedy scene there. He was introduced to Avidan by a mutual friend at the Upright Citizens Brigade Theatre in 2009.
"We met because Dan sent me an email and was like, 'I have this idea for a band. It's called "Ninja Sex Party." That's everything I know about this idea so far. So, like, let's talk about it,'" Wecht recalled. "I was like, 'That's a cool name. Let's discuss.'"
And so Ninja Brian was born. While Wecht differs from his character in that he is not a "homicidal maniac," his natural deadpan and knack for intense stares complement Danny Sexbang's rakish exuberance.
Not long after the pair began collaborating, Wecht secured a position at the Centre for Research in String Theory at Queen Mary University in London. He and his wife, Rachel Wecht, hoped it would be their final move after years of traveling for work. Around the same time, Avidan moved to Los Angeles, on the opposite end of the globe, and ended up joining the YouTube channel Game Grumps, a popular comedic gaming web series.
Suddenly, Ninja Sex Party had a "soapbox" — YouTube provided an ideal platform for connecting with the kind of audience who would appreciate what they were trying to do, and a video-game-oriented side project, Starbomb, soon cropped up.
After a year, a baby, and "a lot of soul searching," the group's popularity continued to grow, and Wecht began to sense that the band was on "a trajectory where maybe it wouldn't be the dumbest idea to do this full-time."
He was faced with an agonizing decision — choosing between a stable job in physics after years of drifting through academia, and the unpredictable life of a full-time comedy musician — and having recently turned 40, Wecht said he was aware that the situation carried the whiff of midlife crisis.
But when he received a formal job offer from Game Grumps, he knew that he would never have such a chance again. "I thought, 'If I don't do this now, this is going to be the thing I regret forever,'" he said.
When it came to quitting his job at the university, Wecht said he made one "huge tactical mistake" — he broke the news to his colleagues on April Fools' Day. After explaining to some of the older faculty what a YouTube channel was, and making clear that he was serious, he still had to admit, "On paper, that's pretty damning. It really doesn't look good."
With his wife's reluctant approval, Wecht and his family moved to Los Angeles in the summer of 2015, and Ninja Sex Party's third album came out a few weeks later, peaking at No. 1 on Billboard's U.S. Comedy Albums chart.
Ninja Sex Party has since released eight albums and toured around the world. In addition to live shows — in which Ninja Brian often acts on stage as "an agent of chaos" and "an arrogant jerk" in order to rile up the audience — the band maintains a massive YouTube presence, with 1.32 million subscribers.
"Every song we write, we think about what the video is going to be," Wecht said, noting that the music videos, which have starred guests such as Stranger Things actor Finn Wolfhard, are a major way that their work gets attention.
Last summer, Wecht teamed up with songwriter and producer Jim Roach to form a children's music group called Go Banana Go! The band was profiled last week on NPR and released their debut album, "Hi-YA!," earlier this month.
"It's going well, and I'm grateful every day that I get to actually do this," Wecht said. "It's an unusual, fun career that's easy to explain, even to little kids. I can explain to my five-year-old that I get to play music for a living… and it even seems cool to her."
His daughter (known by fans as Ninja Audrey) contributed lyrics and conceptual inspiration for "Pizza Feet," which is accompanied by an animated music video, and Rachel Wecht is featured on "Queen of No Share."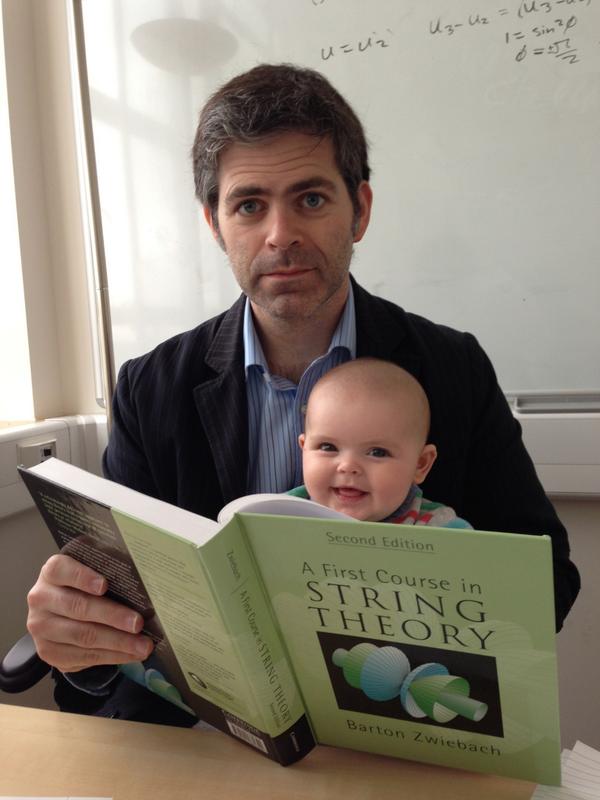 Although he tries to stay up to date on the world of physics through contact with friends and former colleagues on social media ("half of my Facebook feed is theoretical physicists") and attends the occasional lecture, Wecht said the fast-paced nature of physics research means it would be very difficult for him to jump back in. "I remember taking time off when my wife had a baby… and after just a few months, I was like, 'Wait, I don't understand what's happening in physics,'" he said.
Though he doesn't plan to return to the world of academia, physics will always be a part of Wecht's identity. "I say I'm a musician and YouTuber — sometimes throw comedian in there because that's a big part of it — and then also a former theoretical physicist," he said. "Some people will say 'retired theoretical physicist,' which is accurate, but also makes me sound like I'm 70."
He said he would be open to the idea of teaching in a more relaxed capacity, either on comedic songwriting or topics in science. In 2010, he co-founded The Story Collider, a nonprofit podcast organization aimed at blending science and storytelling, which hosted an event at the College in 2016. "I would absolutely love to do something else academic," he said, "but I think it would probably be a one-off, one semester, weird-topic class."
What about a Winter Study course, on comedy songwriting or storytelling in science?
"I would love to come teach something at Williams," he said. "The idea of spending January in Williamstown is very appealing to me."
Whether or not he'll ever return to the College in a professional role, Wecht's enduring appreciation for his time here shone through in his reaction to receiving the class ring, which arrived in the mail last week.
"To me, it's a testament to what kind of people Williams associates with, more than the actual object itself," he said, adding to his original tweet about the incident, where he wrote, "What a wonderful, considerate gesture, and so typical of the kind of people I knew at @WilliamsCollege."