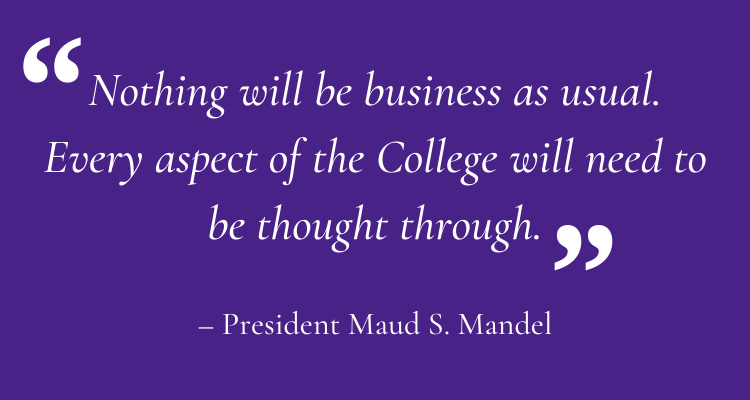 As institutions of higher education across the world are grappling with the question of reopening in the fall, the College has developed a plan to work toward a decision.
Last Thursday, President Maud S. Mandel sent an email to the campus community outlining the decision-making process for what form the fall semester of 2020 will take in light of the COVID-19 crisis. She announced that she would come to a decision by July 1 on whether or not students could return to campus and take in-person classes. Mandel introduced the formation of two working groups to assess the feasibility and logistics of two different outcomes: students return to campus on schedule, or they don't. "Nothing will be business as usual," Mandel said. "Every aspect of the College will need to be thought through."
The working group charged with planning for opening in the fall will begin immediately, as it is tasked with logistical details and operational issues. Mandel, in an all campus email yesterday, announced the membership and responsibility of the committee. The group is chaired by Professor of Philosophy Bojana Mladenovic and Vice President of Finance and Administration and Treasurer Fred Puddester and includes group representatives of the on-campus community, including faculty, staff, students and senior administrators.
In her email, Mandel linked to a website which includes a feedback link, though the group will also be conducting outreach in the coming weeks. Focusing on the logistical elements of keeping students, staff and the larger Williamstown community healthy, the group will also consider how best to support international students who may be unable to obtain visas to return, relying on information and ideas generated within the campus community, but also on information from the local healthcare system and public health experts.
The second group, which is charged with assessing remote learning, will begin weighing options after this afternoon's virtual meeting and further conversations with faculty and student-facing staff. Mandel plans to announce the members of this committee and their charge in early May, according to last Thursday's all-campus email. "It's only when I have a better sense of what direction we're headed that I'll narrow down that committee," Mandel said.
Lastly, Professor of Psychology Safa Zaki, incoming dean of the faculty, is the chair of the ad hoc Academic Continuity Planning Group, a separate group which was tasked early in the spring semester with planning for an unconventional fall and considering the ways in which the College might adjust "timing, offerings or modes of instruction," according to the group's website.
In a memo to the faculty, Zaki's working group laid out eight potential fall semester options in a spreadsheet detailing the specifics of each scenario and weighing each option against a set of factors. These included equity for students, staff and faculty, first year experience and effect on enrollment, among others. The committee prefers structures that are adapted to specificities of virtual learning, rather than models that simply try to mold a class designed to be conducted in person into an online format. Mandel felt confident, however, that the College was capable of producing quality remote learning for students if the need arises.
The group has also been receiving feedback over recent weeks through a portal on the committee's website. "From that we have received many comments, from faculty, from staff, from students, from parents," Zaki said. "I think the largest number of responses have come from students." She added, "We've been really heartened by the kinds of thoughtful scenarios that students have put forth."
A common thread amidst the input that Zaki has received is that, unsurprisingly, students want to return to campus in the fall. "Aside from that, what we've seen is a wide range of scenarios that people have put forward," Zaki said. "Things like pushing forward the semester so we're starting later, doing a different kind of online experience, other kinds of calendar shifts or ways to use winter study in interesting ways."
The planning group is also working on a broader survey to be sent out to the campus community about the experience of remote learning, according to Mandel. "We want to have a sense of what remote learning has been like and what the challenges and opportunities have been," she said.
The College is taking the decisions of other academic institutions into account, discussing options with other NESCAC schools, Massachusetts institutions and the Consortium on Financing Higher Education (COFHE).
However, as Mandel noted, due to the fact that the College is a small, rural, and isolated campus it's unlikely that it will pursue the exact same plan as a peer institution. Much of the discussion between institutions has centered on sharing the most important questions to ask more than deciding on any cohesive path going forward. "What are the things you need to know if you want to open your campus, for example?" Mandel said, "And how are you getting that information?"
Important in such considerations is that the College relies on a different local healthcare system than many other institutions with closer hospitals or their own affiliated hospitals. "One can think of lots of ways in which our particular realities of location are both an asset in certain ways and a liability in certain ways," Mandel said.
Mandel and the Academic Continuity Planning Group are considering multiple scenarios for the fall, but with so many uncertainties surrounding the outbreak and timing on social distancing guidelines, it is impossible to make concrete decisions yet, Mandel noted.
She provided a purely hypothetical example to illustrate the complexities of the decision-making process. "Let's say, one of the things we decided to do was to move the calendar in such a way that we were going to start a month later or two months later, and in order to do that let's say we had to move into a quarter system or trimester system," Mandel said. "That affects every single course because all courses are designed to be a certain length of time. You don't just lop off two weeks. You really have to rethink or even redevelop and design a course if you do it that way."
Changing the academic calendar for the fall is just one example of a potential scenario, but the hypothetical scenario highlights the complexity of the planning process. "Every decision has cascading impact," Mandel added.
Matters including tuition costs, study abroad, students taking time off and how best to support international students are just a few of the many operational questions up in the air right now, and have led to many proposed outcomes,
"We really have been trying to explore every reasonable idea and every possible idea, and not shut doors too early," Zaki said. "There are no versions of the fall where we're not all together that this committee loves …. It's only as we work together that we realize [that] as a smart collaborative community we can get through this together."
Who makes the ultimate decision is a somewhat complicated question, as it is too large for Mandel alone to decide. Many of the decisions on the table involve both academic and operational considerations. "This is a collaborative conversation between faculty members, senior administrators and the board," Mandel said.
The College will rely on incoming information in the coming months to make the decision but cannot come to any conclusion at the present moment due to the plenitude of uncertainties surrounding the outbreak.
"We all have a lot of anxiety right now around what our future is going to be, not just at Williams but also in the world," Mandel said. "This is a difficult moment, and we will all feel better when we know what our future holds. But if we precipitously make decisions, we will shut doors."
---