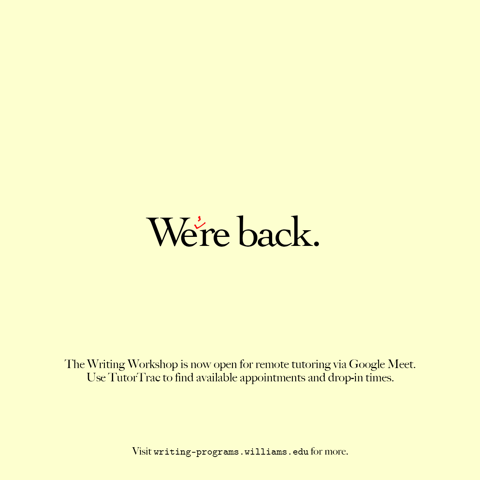 Coordinating remote classes between professors and students can be difficult, and so can coordinating remote sessions between student tutors and students. As remote education poses unforeseen challenges to the Peer Support Programs, coordinators and tutors have sought to adapt their services.
When COVID-19 forced the College to move to remote learning, the College's peer tutoring programs temporarily closed down. On April 8, however, the College reopened its peer assistance system virtually through TutorTrac. The website, which had been in use before campus closed in March, will continue to facilitate online meetings between tutors and students for the rest of the semester.
Prior to the campus closure, in-person peer tutoring had been an important source of academic assistance for many, providing an easily accessible way to get a trustworthy second opinion on schoolwork.
"It was really nice to get someone else's perspective, because I feel like I'd been struggling with [a paper] for so long I had no idea if it was good or bad," Madeline Ohl '23 said about her prior experience with the Writing Workshop.
Tutors provided encouragement as well as guidance. "The students who work there are very professional and really make an effort to offer constructive feedback," Eleonora Grenfell '23 said. "Whenever I went, they always started by asking me what specific things I wanted help with, which allowed me to guide the session and for them to address my particular concerns."
During remote learning, the responsibilities of tutors have increased; in addition to guiding and encouraging students, they must now also reach students in different time zones or with varying internet access.
For this purpose, the programs made a notable change: Regular hours for the Economics Resource Center, the Math & Science Resource Center (MSRC) and the Writing Workshop have been suspended. Instead, most tutors are now available by individual appointment.
Peer Tutor Coordinator Ivy Krofta and Director of Quantitative Skills Programs and Peer Support Laura Muller explains this decision. "The logistics of having a virtual MSRC or ERC would be quite complicated." Krofta wrote in an email to the Record.
"[We] talked about was what it would be like for these tutors, who have not tutored online before, to tutor groups online as they did at the MSRC/ERC (especially on the nights before Chem 156 problem sets were due). We also talked about the fact that there are many time zone and other scheduling issues that might make running a virtual MSRC/ERC more complicated."
Muller, who talked with talked with colleagues who run Quantitative Skills Centers at other small liberal arts colleges, found that other institutions have "made the same move … to individual appointments."
A unique feature of online peer tutoring is that students can drop into unscheduled appointments if tutors are available for the time slot. "Students who want to drop in can look at TutorTrac to see who is working and can click on that tutor's Google Meet link," Interim Director of the Writing Workshop Julia Munemo said. "If the tutor isn't working with someone already, they welcome the student into the 'room' and get down to work."
Even with individual appointments, studying as a group is still possible, according to Krofta. "Some tutors will accept working with groups of students, so if a group of students wants to work with a tutor they worked with in the MSRC or ERC, they should reach out and ask if one can make the appointment but that 4 are going to show up.
With custom appointments, program coordinators hope to extend availability to those around the world. " According to Krofta, the MSRC and ERC are offering a comparable number of tutoring hours as we did before spring break with a bigger variety of appointment times.We have tutors working in all time zones, so our hope is that everyone, everywhere can find time to work with someone," Munemo said, although she did mention that TutorTrac displays all appointment slots in Eastern Standard Time.
TutorTrac uses Google Meet as its primary platform for all programs. According to Munemo, the Writing Workshop expects students to share their paper with the tutor over Google Docs prior to discussion. Once the session is finished, the student will remove the sharing feature so as to restrict the viewership of their essay.
The programs are also seeking to extend service to those who have limited or unstable internet access. "Google Meet automatically provides a phone number, so in situations where the student's internet connection really isn't working, they can always call the tutor directly," Munemo said.
Aside from the Peer Support Programs, teaching assistants (TAs) were also a valuable source of learning outside the classroom. Assigned to specific classes, TAs would accompany students for the entirety of the course, building more personal connections.
Williams Johnson '21 worked as a TA for Professor Leo Goldmakher's course on Real Analysis. Along with two other TAs, he would grade problem sets and take turn hosting weekly 2-hour problem solving sessions.
"[Back then] I typically had 8-10 students every week." He said. "Now that we have gone home, I have pretty much the same responsibilities as before although [the way] I perform them has changed. I still host weekly problem sessions, but I have only had 1 student come over the last 2 sessions."
Before campus closed, Katherine Hatfield '22 worked in the MSRC, where she helped tutor fellow students in mathematics. Hatfield also offered individual peer tutoring for Latin, for which students could ask to meet with her on a one-on-one basis.
For Hatfield and other MSRC tutors, the changes to the programs mean that, instead of the two-hour group session that she and other math tutors had organized in the past, she now hosts one-on-one sessions, each 30-minutes in length.
"There is definitely a decrease in attendance," Hatfield said. "But that might get better next week, as we get more tutors and more appointment slots back online."
The Writing Workshop has faced similar problems. "We have seen a little less traffic than normal, but we're offering the same — or maybe a few more — tutoring hours as we're confident that participation will increase as students get used to this new format," Munemo said. The week before the program reopened, Writing Workshop tutors had been encouraged to use Facebook and other social media outlets to spread the word that they would once again be available.
The Peer Support Program has been actively trying to increase attendance as well, according to Hatfield. "We had a meeting on Friday to get the word out," she said, "We are going to try some different methods like daily messages and sending emails to previous students, or talking to [professors] and getting them to make a Glow post. It's still in discussion, but we are coming up with various ways to let people know our availability."