Franklin Reilly '21 runs 100 miles for food bank fundraiser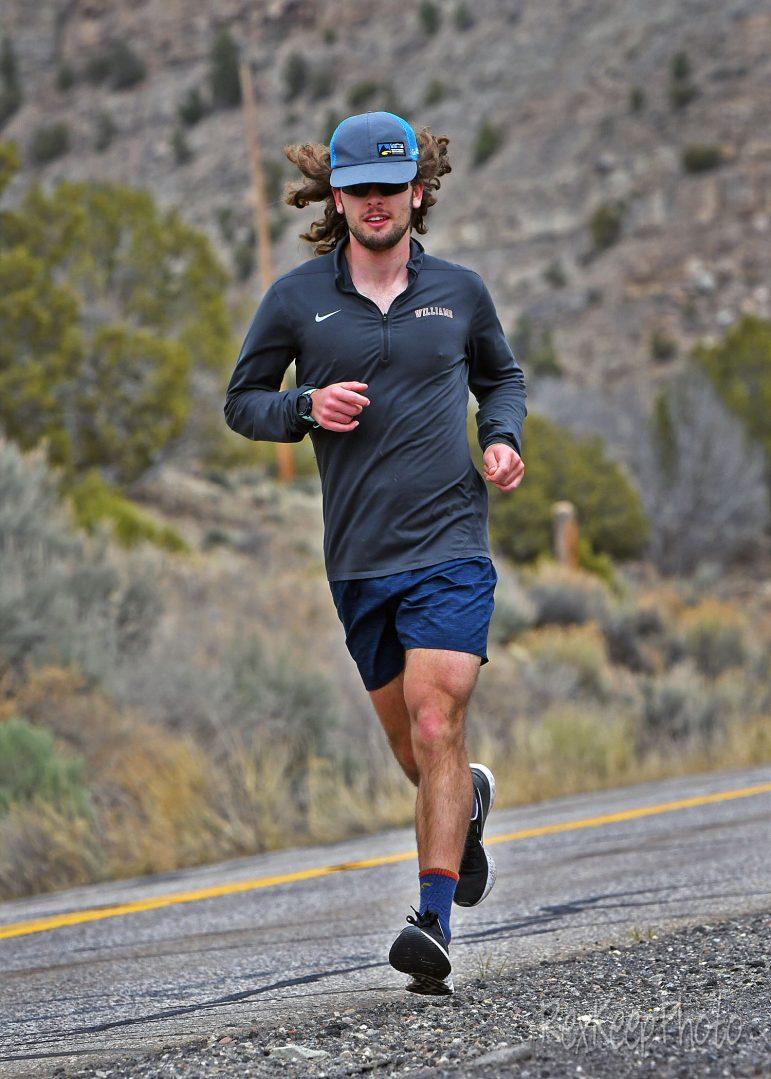 It was the beginning of April, just a few weeks after Franklin Reilly '21 returned home to Edwards, Colo. He had recently finished his winter season on the Nordic ski team and had been gearing up for a spring season running track that was ultimately cut short due to the COVID-19 pandemic. Determined not to let the past few months of difficult physical training go to waste, Reilly set his sights on a new challenge: For his milestone 21st birthday on April 19, he would endeavor to run 100 miles on his own route.
"Why not try to run as far as I possibly can?" he remembered asking himself, only a week and a half before the run. From there, he decided to run 100 miles, and ultimately completed the run with laps in his yard when his planned route ended just shy of the 100-mile mark. To train, he completed a few 20-mile runs back-to-back and two consecutive marathons. "I definitely should have trained for it more thoroughly," Reilly said. He had rushed the training to be able to do the run on his birthday.
 The idea to run began selfishly, he explained, but evolved into a charitable fundraiser when he realized that he could use it as an opportunity to raise money for the local food bank, whose supplies had dwindled significantly during the pandemic. He and his mother had been working with local organizations, including The Food Rescue Express and Our Community Foundation, so the fundraiser seemed like a natural extension of their efforts. Reilly set up a GoFundMe page and had friends share it across social media. In the end, the fundraiser would raise $9,477, as of Monday, and would provide over 15,000 meals to county residents in need, according to the food bank. Reilly knew none of that, however, when he set out on his run at 4 a.m. on his 21st birthday.
Starting from his front door, Reilly had planned a route and enlisted experienced distance runners to help pace him through the different sections. His dad followed in a truck, bringing food and water to the designated aid stations, where Reilly would take a break to eat and drink. The end was difficult, he said, because the performance level at the end of the run relies on "how much you consumed early on. When you're running, you don't want to eat… It's a tricky thing," he said. He had hoped to run faster, but around mile 75 his pace slowed down as he transitioned to running on a paved surface. He arrived home at 1:30 a.m. the next day, finishing the run in a total of 21 hours and 50 minutes.
Reilly was touched by the strong support from his local community. "I was so surprised to see how many people came out to cheer, wrote in chalk on the road, and honked their horns… Someone even played the trumpet out of their car," Reilly said. "Every couple of miles, I'd see someone I hadn't seen in years, and they'd be waving for me or they'd made a sign or something like that."
Reilly also received an outpouring of support from the College community. Everyone from students to professors donated to the GoFundMe and Reilly woke up the next morning with over 300 texts on his phone, many from college friends showing their support remotely. "Everyone's been really, really positive," Reilly said. Donations to Reilly's GoFundMe have continued to pile up as the word spreads more than a week after the run itself. Even now, Reilly is doing all he can to continue to share the fundraiser widely, taking full advantage of this opportunity to do good in his local community and to get involved in something bigger than himself during a time of social isolation.