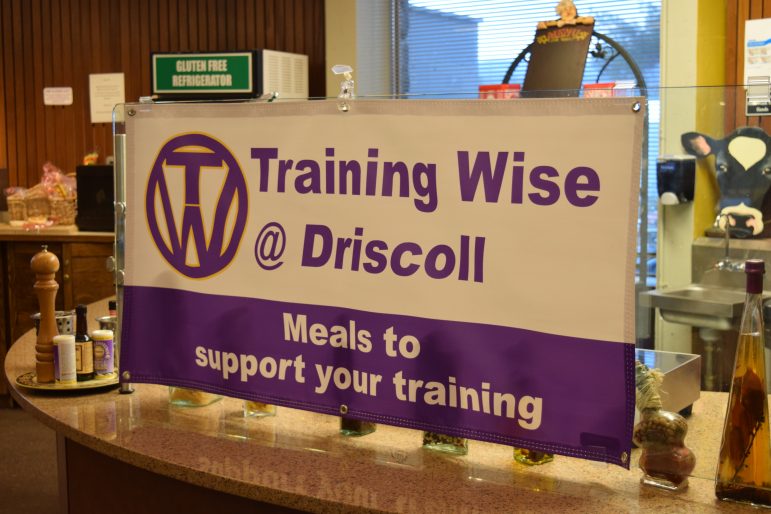 A new initiative at Driscoll, "Training Wise," is designed to help active students eat nutritionally-balanced and well-portioned meals. Launched on Feb. 5, Training Wise meals will be available at Driscoll dinners Monday through Friday and at lunches on Tuesdays, Wednesdays and Thursdays.
The program is geared toward students who want to be healthy but do not want to fret about it, said the College's dietetic intern, Michelle Juneau. Juneau, who worked with Driscoll's unit manager, Molly O'Brien, to curate the program's menu.
Each meal is 60 percent carbohydrates, no more than 20 percent fat and about 25 percent protein, Juneau said. Unlike typical dining hall options, Training Wise meals will be pre-plated to ensure optimal portions. The program brings 40-50 new meals to the Driscoll menu, which will be served on the side serving area at lunch and on the main serving line at dinner. Options that are part of the program will have the Training Wise seal on their label to alert students.
Juneau stressed that this is not meant to delineate between "good" and "bad" foods but rather to mark meal options that have a variety of nutritious benefits. "There really are no good or bad foods," she said. "Good nutrition relies on variety. We've kind of taken the thinking out of that for people."
The idea for the program came to Associate Director for Student Athlete Services Carolyn Miles and Head Strength and Conditioning Coach Rob Livingstone as a way to help busy students access the healthy options that the dining hall already had in an easier way. "The components were there," Miles said. "This just simplifies it."
The usual dining options at Driscoll will not change, and Training Wise meals will be tailored to fit into pre-established traditions, such as Meatless Mondays, O'Brien said.
While Driscoll is the dining hall closest to the College's athletic facilities and is known to be a popular spot for student-athletes, Miles emphasized that the program is designed to cater to a wide range of students. "It's not just for athletes," she said. "It's for anyone involved with some sort of activity."
For Morgan Dauk '21, who competes on the women's basketball and track and field teams, the new program has taken some of the work out of finding meals that meet her in-season needs. "I have been trying all year to go to meals in the dining halls that would help me in my training," Dauk said. "Now I know that Driscoll will almost always have a healthy option, so it makes it super convenient. I can just grab a plate and know that it was already portioned out for me."
Juneau noted that this program is especially important in an environment like that of the College. Factors such as a lack of sleep, living in close quarters and stress can weaken the immune system, making nutrition especially crucial, according to Juneau. "It is the first time, for some people, that they get to make their own choices," she explained. "It is an opportunity to establish healthy habits, or for unhealthy habits to start."
Livingstone expressed similar sentiments. "Nutritional habits are long-term actions that play a valuable role in our students' lives on campus as well as when they leave for the next phase of their lives," he said. "If we can provide them tools to navigate and understand healthy choices as they move in to adulthood then that is a win for me."