Student tributes honor Kai Green '07 and Kimberly Love, who cited institutional violence in their decisions to take leave from the College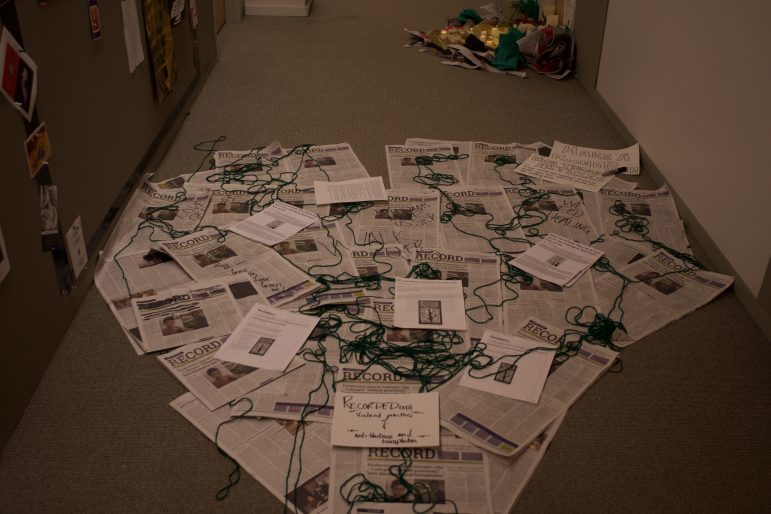 Following the green string that wraps around the first floor of Hollander is a student-organized visual remembrance outside the offices of Assistant Professor of Women's, Gender and Sexuality studies Kai Green '07 and Assistant Professor of English Kimberly Love, showing support for the professors and extending their commitment to, with and for The Damned, a black feminist collective.
Students said that their ongoing commemorative effort seeks to convey respect, gratitude and appreciation for Green and Love, who have taken leave for what they characterized as the College's institutional violence toward black and trans individuals. The hallways are decorated with notes, flowers, poems, artworks and bouquets made of Record copies – some partially torn – and Feminist Wire articles written by The Damned Collective as well as Green and Love.  
As cited in Green and Love's Feminist Wire article, the installation in solidarity drew on the works and writings of The Damned and The Damned Collective, which works to "combat the isolationists tactics of the University structure that prevents people who believe in transformation and freedom from getting to know themselves and each other differently, al(l)ways."  
Additionally, students have also used Facebook and other platforms on social media to draw attention to a petition where individuals can pledge their commitment to, with and for The Damned, under the hashtags #doitfortheDAMNED and #doitfortheDAMMM. There are cards, pens and other art supplies available in Hollander for more members of the College community to continue to show their support and solidarity for Green and Love.  
Students characterized the effort as a collective one, declining to give specific names or quotes attributed to individual participants.