Boots Riley delivers Black History Month keynote
Award-winning director speaks on film career, racism, political education and activism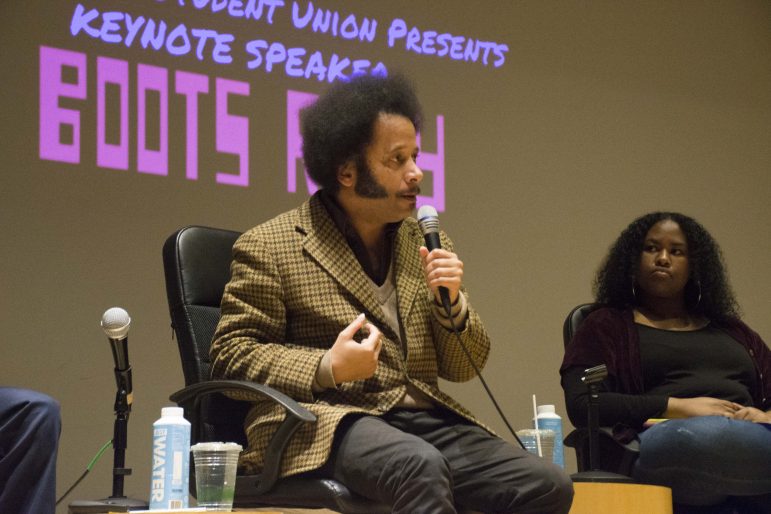 The Black Student Union hosted a panel discussion with Boots Riley last Wednesday in Paresky Auditorium. The conversation with Riley, an activist, director, rapper and screenwriter, centered around the theme for this year's Black History Month, which Isaiah Blake '21 encapsulated in the following statement: "We belong where we are, not only that but we deserve to be there."
Shanti Singham, professor of history and Africana studies, facilitated the conversation with Riley and asked the questions collected from the student body. Singham started by praising Riley's debut film Sorry to Bother You, an Afrofuturistic satire that critiques our current economic system and its social implications. It follows Cassius "Cash" Green as he climbs the corporate ladder of telemarketing in an attempt to survive in gentrified Oakland. "It is a brilliant, witty, clever, funny, insightful, maddening, energizing, right-on critique of the irrational, dehumanizing, racist, capitalist, sexist system that we are living under today," she said. She introduced Riley by highlighting some of the key influences that have led to his work as an artist and activist, such as his roots in Oakland, home to the Black Panther Party, and the 1968 San Francisco State strike that brought Black studies, Latinx studies, and Asian American studies into American universities.
Singham emphasized the importance of Sorry to Bother You at this specific moment. "Thank you for being in the right place and at the right time, for bringing this movie out in this moment," she said. "It's a moment of a new, important strike wave across the United States, especially with teachers but also all over the world, a movement that your movie helps inspire and educate."
She moved on to the questions collected from students, asking Riley for his thoughts on electoralism. "To explain my thoughts on that, I have to explain where I think actual power is in this system," Riley said. "I think that everyone agrees on the right and on the left, that those with the money have the power."
He explained that those with power have come to it due to the labor provided by the working class. "That's our direct connection to power, our ability to halt it, if we're organized," Riley stated, critiquing electoralism for misdirecting political energies. "It confuses where the seat of power is, and it stops us from building a movement that actually has the chance to demand whatever we want from power." Riley referred to the New Deal, the Civil Rights Bill of 1964 and affirmative action as the three biggest moments for social justice reform in U.S. history and pointed out, especially in the case of Richard Nixon and the success of affirmative action, that these moments of reform were not products of presidential progressivism but were instead fueled by large social movements. "You can make any politician do what you want if you can shut down industry," he said.
Riley's journey in political education and activism began at 14 years old, when he met a youth organizer for the International Committee Against Racism. As Riley recounted, the organizer invited him on a trip to the beach with other 14-year-olds, on the condition that he would first join them in support for the Watsonville Cannery Worker strike. "One thing that I do remember, even just about that van ride, is, it was a van full of 14-year-old girls, and they knew about everything going on in the world," he said. "Not only were they talking about these things that were happening, they were talking about them from the context of the possibility of changing these things." Riley would then go on to join the "summer project" for the Committee.
"Any great texts you remember that changed your life that you think these young people should read?" Singham asked. Riley cautioned against reading too many theoretical works, stating, "The things that really connected me more … were stories of organizers, stories of people who were trying to do things. It became clear to me that when you're in struggle learning is much different."
The conversation then moved to Sorry to Bother You and Riley's goals in creating the film.
"One, I want to make art," Riley said. "Two, if I'm making art I want to be honest, because otherwise it's not going to feel good. My goal is to get everyone that watches it to have a feeling that they can be part of changing the world… I'm not only interested in engaging people that already agree with me, I also want to engage people that don't already agree with me."
Riley also shared his views on the intersection between race and class, a focal point of his work.
"Race and class are inextricably connected," he said. "You're not going to be able to get rid of racism without getting rid of capitalism. You're not going to be able to create a movement that gets rid of capitalism without dealing with racism."
Riley explained that he sees racism as a function of capitalism, an arrangement that keeps the working class from seeing poverty as a result of this economic system but rather as something that can be prevented by rejecting customs attributed to black communities and communities of color. In the film, he addresses this idea through Cassius' "white voice" which he learns to use as he becomes more successful in telemarketing. "The opposite of that idea of blackness is the white voice, which says, 'I have no problems; everything is taken care of,'" Riley said. "It's not a real sense of what whiteness is, but the idea that black and white people perform in a way that says, 'I'm safe, I'm not like them.'"