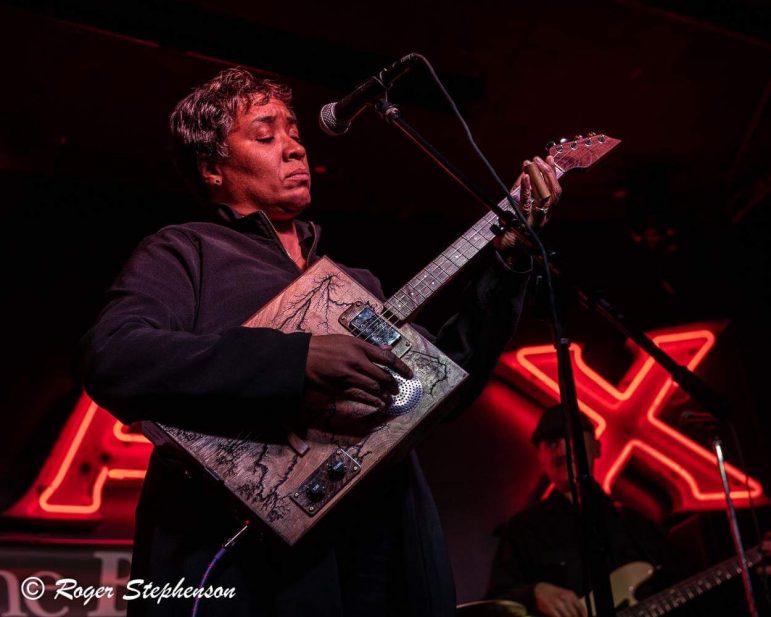 "The last time I was here was for my grandmother's funeral service," remarks Gina Coleman '90, looking up dazedly into the rafters. We are in a quaint New England roadside chapel, just across the street from Aubuchon Hardware. Along with the grey light outside, I feel as if I've stepped off Route 2 into rural Ireland. Coleman turns the volume knob on the chapel's speakers, and the chapel is filled with the rumbling of Coleman's low, mournful voice. Then, saxophones, pipe organ and drums – the stuff of the blues.
Coleman is a rugby coach, an alum, an educator and a mother. But today, she is here to film a music video – her first. "I've been wanting to do one forever," Coleman confesses.  Coleman fronts the band Misty Blues, which she founded in 1999 to remedy the deficit of blues music in the Berkshires. Misty Blues, which intersperses traditional blues music with hints of funk, gospel and classic rock, is a breath of soulful air in the folk-singer scene of the Berkshires, which tends to promote James Taylor over James Brown. 
Though Coleman grew up surrounded by music (hailing from the South Bronx, she cites salsa and '80s rap as early soundscapes), she did not herself perform until after she graduated from the College.
"I was living in Williamstown at the time, and my friends wanted to show me 'real Berkshire culture.' They took me to Wednesday open mic night at a bar in Pittsfield," Coleman said. "I thought, 'If I stink up the place, I'll never have to see anyone here again.' So I sang 'Mercedes Benz' by Janis Joplin, a cappella. And I ended up winning that night."
Coleman found her way to the blues in particular after she performed as a gospel singer in the Williamstown Theatre Festival's 1999 production of A Raisin in the Sun. "Towards the end of the run, the lead actor in that production, Ruben Santiago-Hudson, pulled me aside and said, 'You have got to quit this folk nonsense. You've got a voice for the blues,'" Coleman said. "He gave me a CD collection called 'Men Are Like Street Cars,' which compiled blues singers from Bessie Smith all the way to Tracy Chapman. I had appreciated them individually before, but now I saw how they were connected."
The church becomes saturated with a brilliant, strong light. Dave Simonds, a documentary filmmaker from Williamstown who is directing the music video, is testing out studio lighting. The music video is for the song "Hear My Call," which Coleman describes as a "prayer." Coleman wrote "Hear My Call," the first track on Misty Blues' latest album, Call and Response, after a friend gifted her a three-stringed cigar box guitar.
"It's just a simple progression," says Coleman, "but now I rarely play a set without that cigar box nearby." It appears the prayer has worked: Just three weeks ago, Misty Blues made it to the finals of the International Blues Challenge, a competition that brings more than 250 blues bands from around the world to Memphis, Tenn.; "Hear My Call" opened their set.
"The semifinals were like the pie in the sky," Coleman laughs. "We had a killer performance Friday night, but we hadn't heard anything by midnight, so we assumed it was over. We were driving back to our rental home when the president of the Blues Foundation made the announcement, but the video kept skipping, and we just didn't think anything of it. When we got back, I had a Facebook message from a musician I'm friendly with that said, 'Congratulations!' I replied, 'Thank you, the semi-finals were a blast!' She typed back, 'Am I the first person to tell you? Misty Blues is in the finals!' And that's how we found out."
A special part of the trip was that Coleman got to take it with her son, whose band, Born IV Blues, performed in the youth division. "You're not supposed to say this about kids," Coleman says mischievously, "but they smoked the other bands." Family is important to Coleman, who was raised by her grandmother. "My proudest accomplishment," Coleman said, "is moving my grandmother to the Berkshires so she could spend her last few years in this special place." Coleman's extended "family" includes the women's rugby team, which she's coached since 1996. When I asked whether the rugby team knew about her secret identity as a blues superstar, Coleman laughed, "They know. They come to my CD release parties, which is always great."
Coleman expressed her interest in showcasing her work on campus. "Doing a Winter Study course would be really fun," she said. "Misty Blues has also developed a show called 'Queens of the Blues,' which honors four blues pioneers – Bessie Smith, Big Mama Thornton, Coco Taylor and Ruth Brown. Doing that show at Williams would be great." In the meantime, fans of the blues can catch them in Pittsfield on March 2 at Mission Bar + Tapas or at the Dream Away Lodge in Becket on March 17.