Ephs self-advertise for romance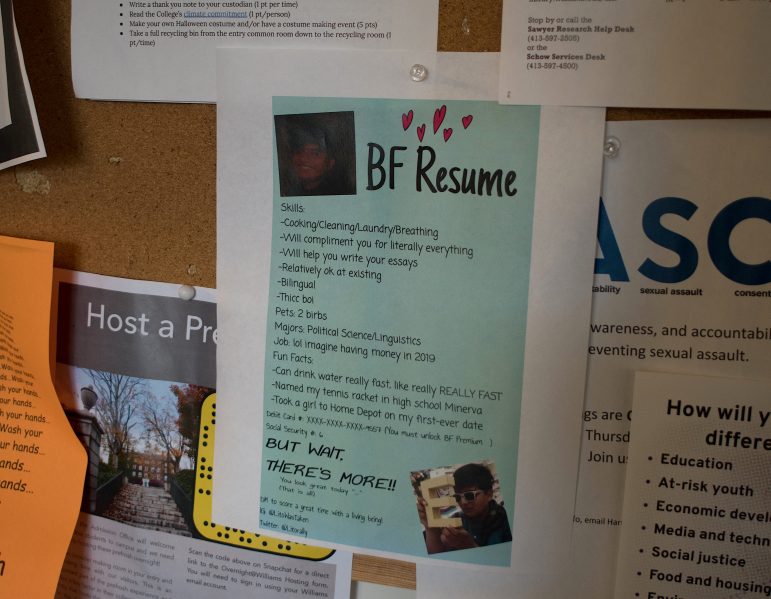 Roughly one in five alums from the class of 1972 is married or partnered to another alum, according to an article in the Summer 2018 edition of Williams Magazine. And yet the dating scene at the College can often feel limited to Tinder, sweaty parties on Hoxsey Street and empty promises to "grab a meal sometime."
A new Instagram account, @romanteph, offers a different path to finding love. "Tired of swiping on people's shallow profiles?" its first post, from Jan. 9, reads. "Feeling like the pool at Williams is exponentially shrinking each day? Romant-EPH is here to switch up romance on campus."
Students submit facts about themselves – gender preference, interest and type of relationship sought – and the account posts the information as an anonymous personal ad. Those hoping to follow up on a post can direct message or email the account, which would then put the two singles in touch. As of press, the account has posted three ads.
According to the two students running the account, several users have asked them for the advertisers' contact information, but the pair declined to give specifics. The two running the account asked to remain anonymous to avoid making the account about themselves and allow those submitting ads to feel comfortable being vulnerable.
One woman looking for a man "to make cookies with" wrote in an ad posted on Jan. 9, "My dad won a Grammy and I've [been] fighting him for affection ever since." In an ad from the same day, a "Frosh Quad babe" sought "anything under the sun as long as you're respectful."
The ads contain no photos, just short, quirky blurbs on a purple background. "The idea is to be the opposite of Tinder," one of the students running the account explained. "Rather than focusing on someone's face and your immediate gut reaction to someone, it's focusing on how people describe themselves and what they put forward as some of the things they're interested in doing, some of the things they're passionate about."
The two students behind the account emphasized that Romant-EPH is not just for finding romantic or sexual partners; people can also use it to find new friends. "We are a small campus, but we all have that phantom 500 – the people that we don't really interact with and don't really know but maybe would like to know better," one of the account runners said.
"We have the most wholesome intentions," the other said. "We just want people to meet, you know?"
While some students advertise themselves on social media, others self-promote in a more old-fashioned way: on paper. Last semester, fliers with the header "Williams College Dating Opportunity" appeared on bulletin boards around campus.
"Do you like to go on adventures?" they began. "Find yourself wanting someone to cuddle with? Enjoy watching a good movie? Like to eat food and drink beverages? Ever considered going on a blind date? If so… email: [email protected]." Per Williams Students Online, there is no Theo or Theodore Hansen at the College.
In a section entitled "What do I have to offer?" the mysterious advertiser lists 13 adjectives, in alphabetical order, including "Cleanly," "Economic," "Functional" and "Zesty." The advertiser did not respond to a request for comment.
Hipolito Vazquez '22 also created fliers, which he headed "BF resume" and posted in every Mission entry during Winter Study. The fliers, decorated with hearts, display a bulleted list with facts about Vazquez. These include "Took a girl to Home Depot on my first-ever date," "Social Security #: 6" and "Can drink water really fast, like really REALLY FAST."
Vazquez made clear that the resume was "just a joke." Links to Vazquez's Instagram and Twitter accounts are on the fliers, and his bios note that the resume was not serious. "Everything on it is true, though," he said.
This included the item about water, as Vazquez offered to demonstrate. Lifting a bottle of water to his lips and pouring the water directly down his throat, he consumed a half-liter of water in 3.33 seconds. "I have to establish dominance subtly," he joked.
Over the last few weeks, Vazquez's friends posted the fliers on social media, and Vazquez soon received messages from friends of friends. One woman from Boston jokingly asked him to follow up on his application by sending an actual resume and a cover letter. All told, he received five or six responses.
"My info is still there on the paper," he said. "I'm still open to talking with people. And, you know, I say it's just a joke, but –" he paused – "it be like that."