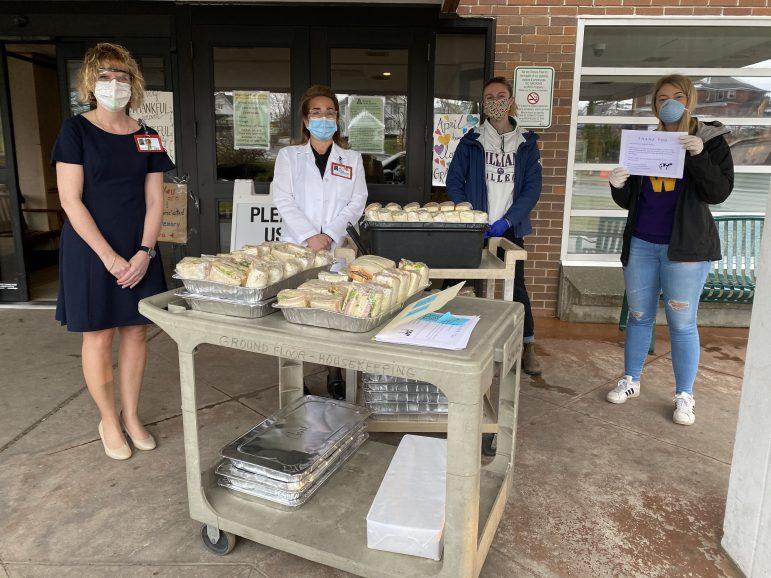 While many students spent their spring break adjusting to life during the COVID-19 pandemic and preparing for the transition to remote learning, Eliza Bower '20 was also thinking of a way to help the local Williamstown community. About three weeks ago, Bower reached out to medical centers and restaurants in Berkshire County and began organizing a campaign that would connect the two, providing medical workers with free meals and giving restaurants much-needed business.
On April 3, Bower and fellow team members launched a GoFundMe campaign called "Williams for Williamstown: Feeding BMC," with all proceeds going towards buying meals for frontline healthcare workers at Berkshire Medical Center (BMC).
Bower and fellow member Emily Tibbetts '20, who are both still located in Berkshire County, pick up and deliver from each location. They made their first delivery, meals from Angelina's Sandwich Shop, on April 6, and have since provided over 250 meals to hospital staff, ranging from health workers that serve critical care patients to the engineering department.
The individually wrapped items they have delivered so far include sandwiches, sliders and burgers, salads, chicken wings, mac and cheese, other food items and flowers. For Easter, the organization delivered chocolates and bouquets from Bella Flora Berkshires to be placed in the hospital's critical care and recovery units.
The GoFundMe page for Williams for Williamstown has received $10,562 from 160 donors as of Wednesday morning, with more donations via Venmo.
Bower describes the concept of the organization as a "win-win-win."
"It's a win in terms of the fact that we help engage the Williams community and connect the Williams community," she said, as well as "that we help support local businesses and restaurants, and also help feed the frontline workers at BMC."
Bower's responsibilities in managing Williams for Williamstown include communicating with restaurant and medical center contacts, reaching out to alumni, monitoring the GoFundMe page and making deliveries herself. Last Thursday, Bower and Tibbetts delivered chocolate bars from Chocolate Springs Café and 75 meals from the Purple Pub to BMC.
Tibbetts grew up in Lenox, Mass. and is living there now. "A lot of my family and family friends work up at BMC," she said, "Which is why I was super excited and wanted to get involved when Eliza reached out to me and asked me to send along [the fundraiser] to the cross-country and track teams."
They began by reaching out to students and have since expanded their reach to faculty, staff and local community members, with donations from President of the College Maud S. Mandel and Professor of Economics Sara LaLumia, among others.
Emily Peckham '20 has been working on the social media and branding for Williams for Williamstown after joining the team about a week ago. "Brynne [Blaugrund '20] and Eliza asked me to work on the logo for the initiative," Peckham said, "and I had some fun with that and offered to be more involved with the Instagram page and doing social media."
Clare Diaz '20 is in charge of figuring out the logistics of registering Williams for Williamstown as a non-profit, especially now that they have received a large amount of money through donations and must be sure to comply with funding laws.
As for future plans, they are considering recruiting younger students from other classes to continue operations beyond next year. "I think it would be a great idea to continue this as an on-campus organization for future generations of Williams students," Peckham said. "This is the most I've been involved with the surrounding Berkshire community in my four years," she added, "and the situation is not ideal, but it's also given me the opportunity to become involved in a way I never really thought about and that I've really enjoyed."
Blaugrund expressed similar sentiments. "I think for a lot of us, having been taken out of Williams so abruptly, we wanted to give back to the place that gave us so much," she said. "It's an opportunity to just continue our feeling of connection for the place that we spent the last four years."
"I think what this organization has reminded me of is the gravity of the situation and this world that we're living in right now," said Nina McGowan '20, another member of the organization. "I think that it's really helpful exercising looking beyond yourself and thinking about the community and the world more broadly, and how this pandemic is affecting people in so many different ways."
Peckham emphasized the value of engaging people in the act of giving. "A lot of people are looking for ways to ground themselves, or be able to help and feel useful and feel empowered," she said. "I think this initiative is also our way of allowing people to feel better in any way that they can."
Bower talked about her motivation to do something that would "leave an impact" during her last semester at the College. "We've gotten to spend four years in the Williamstown community and feel really connected to it," she said. "It really is a huge part of who we are."
---