After a long flight home, an even longer quarantine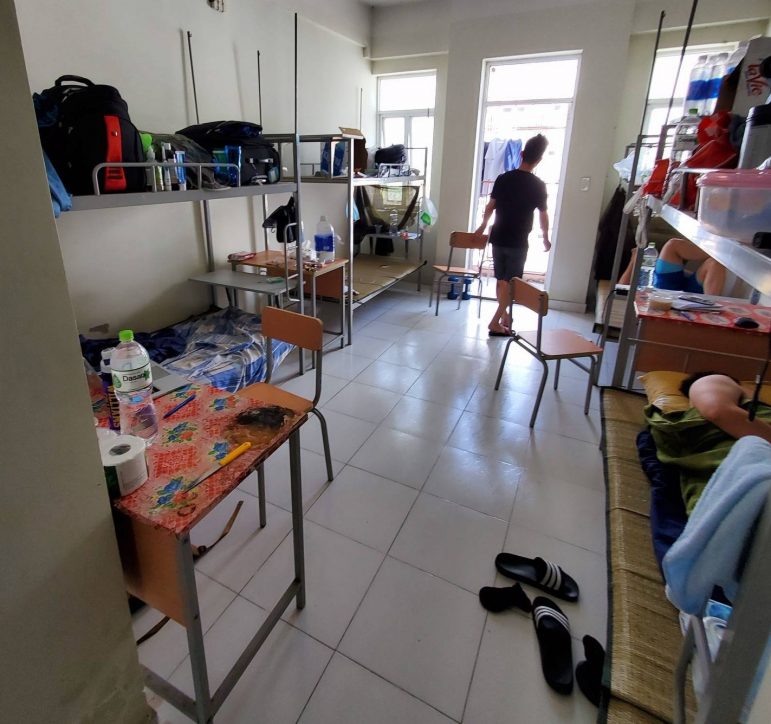 Each morning began early with two volunteers in full protective gear knocking on his door for a temperature check. The hazmatted figures, who only returned to his room to drop meals off, made Peter Le '21 feel like he was in a movie.
"In a lot of ways, it's becoming routine to me," Le said after being under quarantine for around two weeks. "Once in a while I step out of my shoes. I'm like, 'Wow, I've never gone through anything like this in my life.'"
After traveling home on international flights, Williams students across the globe were put under quarantine. Their experiences have in common frantic departures and endless waits.
Le was quarantined in a dormitory at Vietnam National University in Ho Chi Minh City for a little over two weeks, and is now self-isolating at home. Most days in quarantine were a monotonous blur of news-checking, napping and attempts to get some work done, interrupted only by meals, long walks circling the courtyard near his dorm and workouts consisting of running up and down an emergency staircase.
"In the middle of the day, I just kind of fall in and out of sleep," he said. "It's really hot here."
Vera Cao '23, who was in centralized quarantine at a hotel in Chengdu, China, also had food delivered to her door, and had her temperature checked twice a day.
The rest of the time, she would try to keep busy playing Animal Crossing or a fitness boxing game on her Nintendo Switch. She would also work out, watch TV shows, read and talk to friends. While this sounds relaxing, the journey home for international students like Cao was anything but.
On that Wednesday when President of the College Maud S. Mandel announced the campus' imminent closure, Angela Chen '23 quickly made preparations to leave. She was gone by Friday night.
"I remember I'm just finishing up [BIOL 102: The Organism], and we're standing in the lecture hall and everybody was looking at their phone," she said. "And then there was like this wave of panic going around science quad. I was sitting at Eco Cafe, I remember, when I booked my flight. And I think my thought at the moment was, 'it's probably better for me to get out early as the outbreak is probably going to be worse by the day.'"
A friend's family agreed to drive her to the airport.
"I started wearing a mask when I got to [John F. Kennedy International Airport], but I realized that [in] the entire terminal one, I didn't see anybody wearing a mask," Chen said. "And that was interesting. For me, growing up in Taiwan, wearing a mask was super common — any sign of a cold or anything like that people would put on a mask."
Cao wore an N95 mask, glasses and a beanie during her trip home to China. It took 24 hours to get to Chengdu with a layover in Hong Kong.
"After we landed, they kept us [on] the flight and then there were some staff coming up to the plane," who called out passengers' names in alphabetical order, Cao said. The passengers were then directed onto a shuttle and asked to fill out several forms, which included questions about their travel history and symptoms. Cao reported a headache.
She said they took her outside the airport, where they measured her temperature multiple times and took a blood sample and a throat swab. Six hours later, Cao was taken to a hospital in an ambulance for further testing. 
"I think I landed around 2 p.m. and by the time I arrived at the hospital, it was already 8," Cao said. 
Then there was more waiting at the hospital, and more blood samples and throat swabs, and then a lung scan.
"Afterwards, they just put us outside of the hospital to wait for the results because they said they had to wait for the results to come out," she said. 
The passengers at the hospital waited until 2 a.m. 
"And they finally told us like, 'Oh, we're gonna ask the ambulance to come over and drive you guys to the hotel and you have to be quarantined for 14 days,'" she said. "So by the time we arrived at the first hotel, it was already 3 a.m. and then we checked in, but we still [hadn't] got our luggage yet."
Fortunately, a friend's mother collected her luggage from the airport. Cao stayed at that hotel for two days.
"The first hotel was pretty bad, but the second hotel was pretty decent," she said. "And then I started my centralized quarantine."
Le left campus on Tuesday, six days after Mandel's announcement. He said he had initially petitioned to remain on campus because he wasn't sure if he would be able to get home, and worried that he would be quarantined on arrival. Another Williams student from Vietnam who had left two days before him texted him during his layover in Japan to confirm that Le would be quarantined.
"Traveling was kind of surreal because you're going straight to where people are taking the most precautions — in airports and stuff like that. It was weird seeing people in full-on medical gear," he said. "I remember being very nervous the whole time."
The flight from Japan to Vietnam, which completed his over 20-hour journey, had more flight attendants than passengers. But Le could only grasp the reality of his situation when a health official told him that he would be quarantined for two weeks after he arrived in Vietnam at midnight. The next five hours passed in a blur of check-ins and long lines. He finally got to sleep at 5 or 6 a.m. in a dorm room with three strangers, one of whom had been studying in the U.S. like him. The other two had been vacationing in nearby Cambodia.
Describing this experience from self-quarantine in his home, Le said it's hard to remember and makes him feel like he's in denial that it ever happened.
"All of it was so crazy that I don't recall it as a normal part of my memory," he said.
His father, who had taped a clear piece of plastic between the back and front seat of his car, brought him home from the dormitory.
"By this point because I'm home and everything is very familiar to me, it's weird thinking back about it," he said.
He said that he is "fundamentally an introvert," so he's fine with staying indoors alone by himself for long periods of time. It's been much better for his mental health to have more agency now, he said. But it's still boring, and he sometimes does house chores to pass the time. He said he hopes his parents will notice when they get home.
Kevin Zhang Yang, Executive Editor, contributed reporting for this article.