On a week when many students would have otherwise returned to campus after a two-week break and strolled down Spring Street for a bite of comfort food at their favorite local eatery, restaurants and cafes faced difficult choices about whether and how to stay open in light of the COVID-19 pandemic.
As Massachusetts Governor Charlie Baker last week extended the state's stay-at-home advisory through May 4, Spring Street businesses have responded to the crisis in a variety of ways. Some shuttered their doors soon after most students departed, concerned about the rising number of coronavirus cases in Berkshire County and the safety of their staff. Others have debuted curbside pickup and contact-free delivery options while continuing to serve their customers, many of whom are busier than ever with increased work and childcare responsibilities.
No decision has been easy. Karen Gosselin, owner of the Spring Street Market and Café, told the Record that the decision to close on March 20 was the most stressful of her career.
"I could not sleep at night, going back and forth between closing and trying to stay open to do take out," she said. "What was best for the staff? What about our customers?"
Gosselin said the departure of all but approximately 100 students from campus by March 17 affected her decision, but that she would have stayed open for Williamstown residents if the virus had not continued to spread. In the days after the majority of students left, Spring Street Market advertised itself on Facebook as an alternative to grocery stores for essentials, such as milk, bread, eggs, fresh vegetables and soap.
"It was not a lack of business that caused us to close," Gosselin said. She thanked the community for its support on social media before closing.
While Spring Street Market could supply locals with sought-after goods in a time of need from the remainder of its stock, restaurants and cafes without retail offerings quickly encountered challenges.
In her last all-campus email on the state of the local economy, sent on March 19, President of the College Maud S. Mandel said that business had declined for Ramunto's at the Log, one of the many Spring Street establishments that operate in a College-owned building. Mandel said the owners had recently added a limited delivery service, but remained unsure of their next steps.
Five days later, on March 24, the owners announced on Facebook with a picture of a heart-shaped pizza that Ramunto's at the Log would close, citing safety concerns. The North Adams location of the regional pizza chain remains open with special promotions including delivery deals on beer and wine.
Other College-associated businesses have also drastically changed their operations, even with financial support from the College.
In her March 19 email, Mandel said the Williams Inn, which is managed by the Waterford Company, would close on March 20 and furlough almost its entire staff. According to that email, funds provided by the College to pay furloughed workers ended Monday, although the email included a pledge to continue benefits until employees can transition to the state plan for unemployment insurance.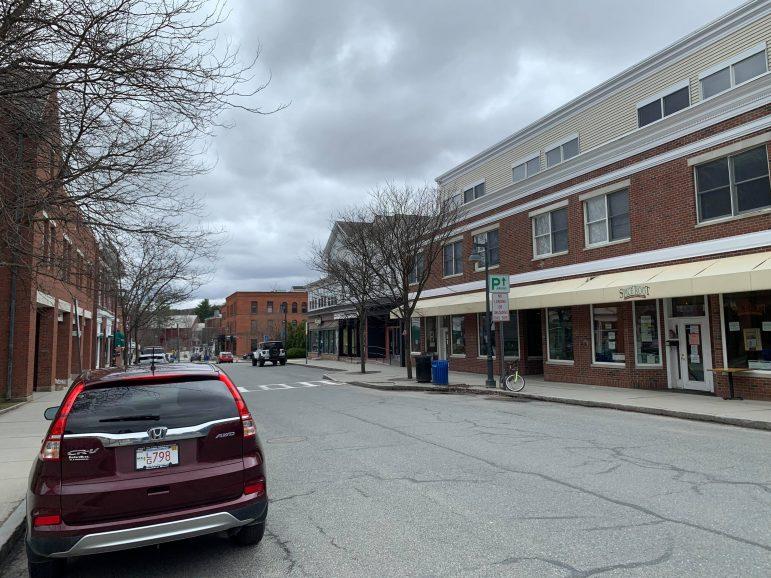 The Williams College Bookstore planned to remain open with shortened hours when the email was sent. But with Governor Baker's stay-at-home advisory on March 23, the retailer transitioned to online only.
Like Ramunto's at the Log, Pappa Charlie's reported that business has been extremely slow since the campus' closure. While the sandwich shop has stayed open, the departure of students almost immediately caused a sharp decline in customers, according to deli clerk Stacy Bolte.
"As things evolve, we adjust," Bolte said. "Right now we are trying to keep open for the students and local folks that are still looking for takeout. We'll be here as long as we can." The lunchtime spot is open from 9 a.m. to 3 p.m., Monday through Sunday, and is offering curbside pickup.
Blue Mango and Spice Root have also made adaptations while staying open. Both restaurants have introduced contact-free delivery services and customers can now view complete menus and place their orders online. Spice Root is additionally advertising curbside pickup and gift card sales and Blue Mango posted on Facebook that it plans to keep providing food through the stay-at-home advisory recently extended by Baker to May 4.
At the base of Spring Street, Tunnel City Coffee is open normal hours, from 6 a.m. to 6 p.m. The northern Berkshires mainstay is offering free delivery across the country for online orders over $75 and free delivery for any online order in Williamstown and North Adams.
As restaurant closures leave staff in financial uncertainty, the Northern Berkshire Tip Jar GoFundMe page has raised over $35,000 for servers and bartenders. Donors are encouraged to specify how they want their contribution distributed and many students and staff have named Spring Street institutions in the comments.
In the meantime, Gosselin said she cannot wait to see students again. "We miss the energy that you bring to the town," she said. "So many of the students have become like family to us. We hope that everyone is safe, and we look forward to the sun coming out, putting the furniture on the sidewalk, turning the music on and cooking and baking for you all!"