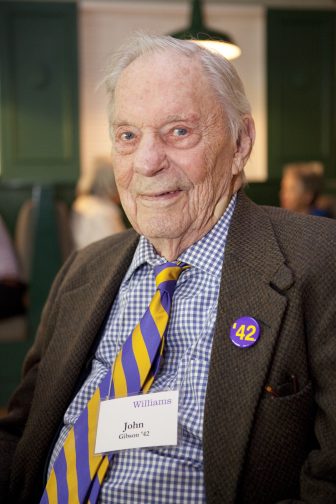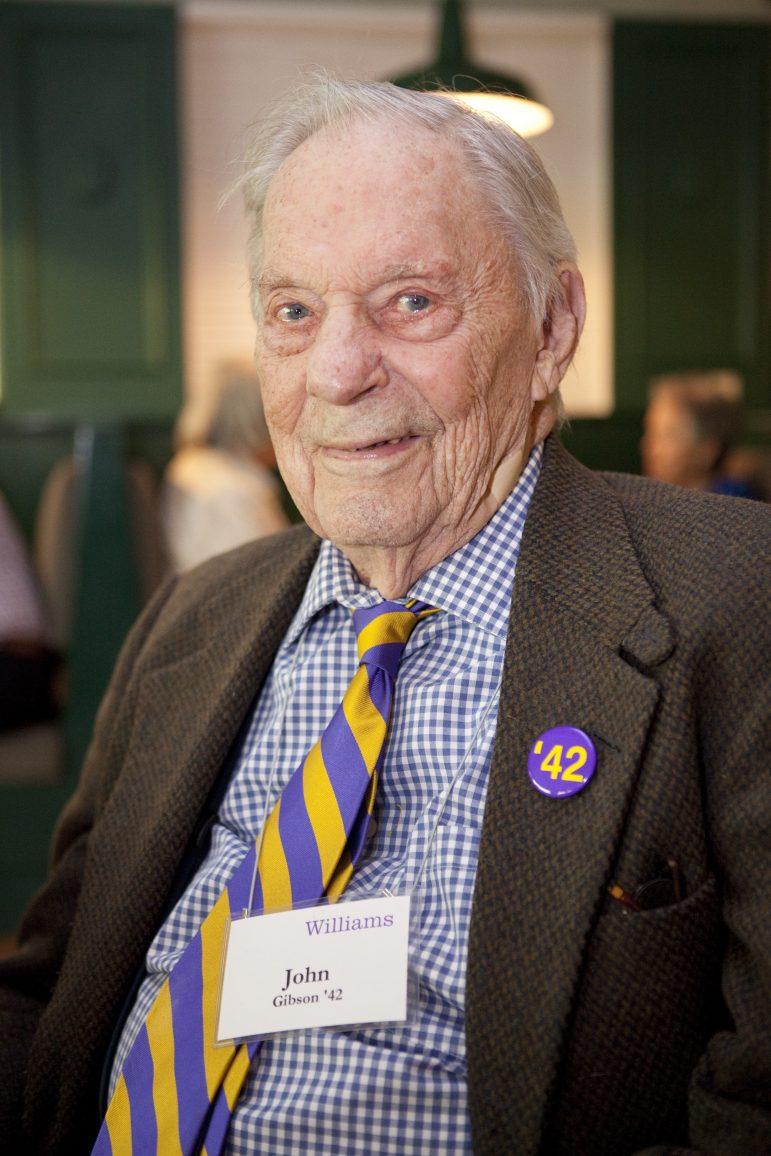 John M. Gibson '42, a retired central Pennsylvania farmer who served as a national board member for the American Heart Association and the Boy Scouts of America and led numerous civic and nonprofit organizations in his longtime home of Lancaster County, died on Saturday in Greenwich, Connecticut. He was 99.
LancasterOnline reports that the cause of death was complications from COVID-19.
Gibson was born in Wilmington, Delaware in 1920 and attended Phillips Exeter Academy. He majored in music and played men's soccer at the College. He also served on the Undergraduate Council and the Thompson Concert Committee and was a member of the Psi Upsilon fraternity.
After graduating in 1942, Gibson served in the Pacific theater of the Second World War as a lieutenant commander in the U.S. Navy aboard a LST or tank landing ship, a new type of amphibious vessel developed during the conflict.
Following the war, he completed a M.B.A. in accounting from New York University in 1948 and took a job as an accountant at DuPont, the large chemical company headquartered in his birthplace of Wilmington. In 1950, he moved to nearby Drumore, Pennsylvania, a rural township on the southwestern edge of Lancaster County, with his wife Sally Dickson Mather Gibson.
Two years later, Gibson made a career change. He became a dairy farmer at his Downpatrick Farm property on the banks of the Susquehanna River.
In the ensuing decades, Gibson became a fixture in the Lancaster County community. He served as president of the Lancaster County Historical Society, organized a local chapter of the American Heart Association, led a local troop of the Boy Scouts of America and was an active member of the Religious Society of Friends.
At the national level, he ascended to chairman-elect of the national board of the American Heart Association by 1978, when he delivered the keynote address at a Pittsburgh conference of heart disease advocates. He likewise joined the national board of the Boy Scouts of America in 1980 and remained on the national advisory council until 2016.
During the mid-1970s, his wife Sally owned the celebrated racehorse Caesar's Wish. The horse won the Black-Eyed Susan Stakes and the Mother Goose Stakes, two out of the three legs of the Filly Triple Crown. The Caesar's Wish Stakes, an annual race in Laurel Park, Maryland for three-year-old fillies, is named after the horse.
Gibson most recently returned to the College in 2017 for his 75th Reunion, where he was one of two members of the Class of 1942 in attendance.
He is survived by eight children, five grandchildren, two great-grandchildren and his second wife June Noble Gibson. He is predeceased by his first wife Sally, who died in 2005.