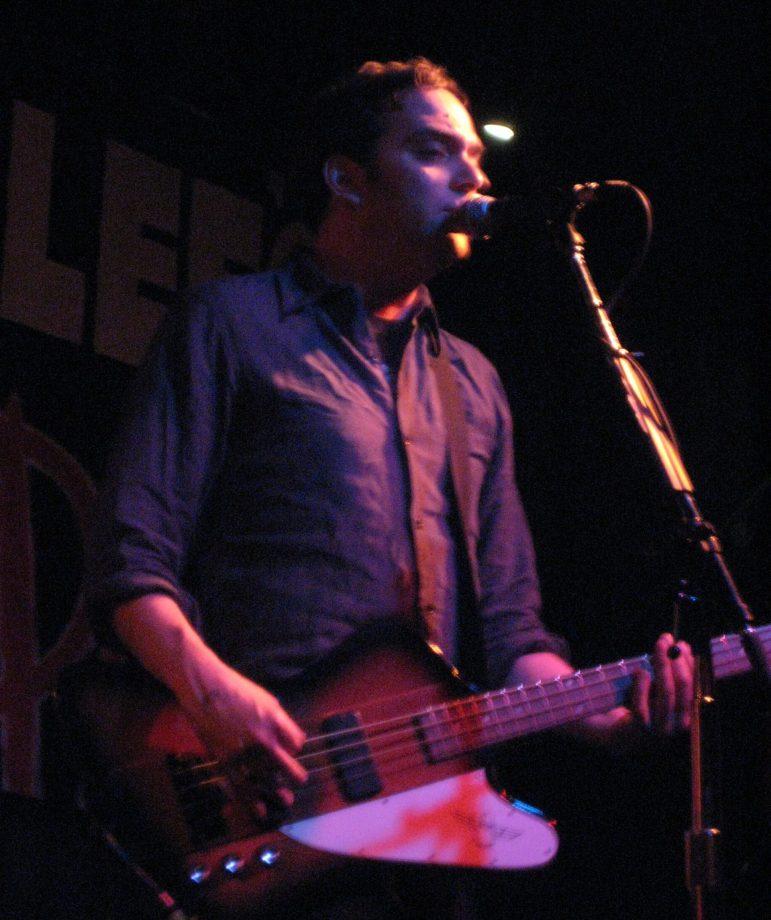 Adam Schlesinger '89, an award-winning songwriter who co-founded the power pop band Fountains of Wayne with Williams classmate Chris Collingwood '89, died on Wednesday in Poughkeepsie, N.Y. He was 52. The cause of death was complications from COVID-19, according to The New York Times.
Although Schlesinger's most famous song was Fountains of Wayne's 2003 hit "Stacy's Mom," he wrote a wide array of successful pieces, both for his own bands and for movies, musicals and television. He won three Emmys and a Grammy and was nominated for Golden Globe, Tony and Academy Awards.
Born in Manhattan on Oct. 31, 1967, Schlesinger grew up in Montclair, N.J. He came to the College in the fall of 1985. The next spring, he met Collingwood on the roof of Lehman Hall, where Collingwood taught Schlesinger "the correct chord changes to an R.E.M. song," according to a 2003 Record article.
The two became friends and continued to collaborate at the College, performing together in a group called The Price Choppers, which featured Schlesinger on piano and Collingwood on guitar. Schlesinger also played piano in the Williams Jazz Ensemble. He majored in English and philosophy.
After graduating in 1989, Schlesinger moved to New York City, where he founded the group Ivy with Andy Chase and Dominique Durand.
In 1995, he and Collingwood reunited, starting Fountains of Wayne along with guitarist Jody Porter and drummer Brian Young. Schlesinger took the name from a lawn ornament store near his home in Wayne, N.J.
On the band's self-titled debut album in 1996, Schlesinger and Collingwood demonstrated their penchant for writing uptempo pop songs with humorous lyrics that often touched on their suburban, East Coast origins. The album found some success with the single "Radiation Vibe." Fountains of Wayne's second album, Utopia Parkway (1999), received mixed reviews and did not perform well on the charts, leading the band to be dropped by Atlantic Records. They began recording their next album without support from a label, relying on Schlesinger to fund the sessions.
But with their 2003 album Welcome Interstate Managers, Fountains of Wayne achieved a breakout hit. "Stacy's Mom," a tongue-in-cheek song about a boy's lust for his friend's mother, earned the band a Grammy nomination for Best Vocal Pop Performance and became their best-known song.
"It's bizarre to be seen as a one-hit wonder, especially so late in our career," Schlesinger said in a 2005 interview with The New York Times. "I always felt that we had a lot of potential singles. If not, we'll be playing 'Stacy's Mom' in Las Vegas when we're 75."
As the song propelled them toward the mainstream, Fountains of Wayne became known for their witty lyrics, to which they added a mastery of the pop-rock format. Often drawing comparisons to bands such as Cars, Squeeze and even the Beatles, Schlesinger and Collingwood distinguished themselves by choosing as their subject matter the mundanities of everyday life, pairing unextraordinary scenes with extraordinary melodies. They wrote about losing one's luggage at the airport, falling in love with an employee at the DMV and waiting hours for coffee at a restaurant.
Their origins in the Purple Valley occasionally peek through in their music, as in "Valley Winter Song," from Welcome Interstate Managers: "The snow is coming down / on our New England town / and it's been falling all day long / What else is new? / What can I do?" They even returned to the College in 2000 to perform at Goodrich, where they played songs from their first two albums and earned a positive review in the Record. Schlesinger also came back to campus in 2017 when he was awarded the Bicentennial Medal by the College.
Between 2003 and 2011, the band released two more studio albums; although both were well-received, the band never recreated the success of "Stacy's Mom." Following Sky Full of Holes (2011), they had no plans to record new material as a group, but Schlesinger and other members of Fountains of Wayne reunited a few years later to contribute to Good Times! (2016), the Monkees' 50th anniversary album.
Schlesinger was also a prolific composer for the stage and screen. In 2008, he and David Javerbaum co-wrote the music for the Broadway adaptation of Cry-Baby, and the duo were nominated for a Tony Award for Best Original Score. Schlesinger and Javerbaum also collaborated on the music for A Colbert Christmas (2008), which won a Grammy in 2010. Over the course of four seasons of the TV show Crazy Ex-Girlfriend, Schlesinger produced and wrote or co-wrote 157 songs.
He contributed music to several movies, including That Thing You Do! (1996), Josie and the Pussycats (2001) and Music and Lyrics (2007). In that capacity, Schlesinger was often given the unusual task of composing hit songs for musician characters who would, in their fictional worlds, achieve success on the strength of those songs. He certainly did so with "That Thing You Do"; written for Tom Hanks' movie of the same name, the song became a minor hit in its own right.
Schlesinger recently wrote the score and co-wrote the lyrics for an off-Broadway adaptation of Sarah Silverman's memoir Bedwetter, which was set to premiere this spring but has been delayed because of the pandemic.
"Mr. Schlesinger is survived by his parents; two daughters, Sadie and Claire Schlesinger; a sister, Laurie Rose; and his partner, Alexis Morley," The New York Times reports. He married Katherine Michel in 1999, but the two divorced in 2013.