Just hours had passed since the deadline for most students to pack up their belongings and leave campus when Nate Orluk '22 took to the student group chat titled "the greatest food in the world," which then comprised more than 300 avowed salmon fans, and put forward a bold message.
"This might be controversial, but I don't even really like salmon," he wrote. "However, I do like clash of clans, and you should all join our clan, mauds marauders."
Orluk was referring, of course, to the app-based, multiplayer strategy game Clash of Clans, in which players can build and lead medieval villages, forming coalitions known as "clans" with other players and pillaging rival bases while defending and upgrading their own.
Along with a few other friends, Orluk was looking to recruit new members of one such team of players, which he and T Wynn '20 dubbed "Maud's Marauders" in homage to President Maud S. Mandel (the apostrophe is mistakenly excluded in the game, Orluk noted in another student group chat, "because our founder doesn't kno [sic] how to spell").
Though the clan accepts players of any skill level, Wynn and Orluk said they were surprised by how many students at the College are so proficient as to suggest a significant investment in the game. "I don't know when they have time for it," Wynn said. "I hadn't had it downloaded on my phone since high school."
Wynn and Orluk created Maud's Marauders as a way to stay in touch over a common virtual activity during a period marked by social isolation, as students are not only scattered across the country but may, depending on their location, be compelled to stay indoors.
Lance Ledet '21 said he had similar goals in mind when he created Winecraft Wednesday, a server on the multiplayer sandbox game Minecraft. Servers allow multiple players to simultaneously occupy a shared virtual world, and although Ledet admitted that interactions between players in the game, which generally involve farming and mining, don't much resemble real life, talking over the phone or through a Discord server while playing can help bridge the gap.
"It's been a great time and a good way to be social despite the fact that we can't leave our homes," Ledet said. The purpose of the server is threefold, he explained: "To wind down, whine about the situation and craft while drinking wine," making the name of the group a triple entendre.
As one of the Junior Advisors (JAs) for Sage EF, Ledet has also faced the challenge of keeping his entry cohesive from afar. One of his co-JAs, Peter Le '21, is one of the co-presidents of the Junior Advisor Advisory Board (JAAB) for the class of 2024. Though JAAB also has to contend with time zone differences — Le, for instance, is currently living in Vietnam — the task of working together remotely regardless of timing can itself be a struggle.
"I think that the time difference isn't the biggest issue with JAAB working remotely across different locations, even though being hyper-aware of time zones and looking at clocks is quite challenging and anxiety-inducing," he said. "In my opinion, the main challenge is psychological, [like] how to get members engaged when we can't meet in person since we have a lot of work cut out for us looking ahead."
Starting April 6, JAAB will orchestrate a series of one-on-one calls between JAs in place of in-person JA excursions, where JAs get to know each other before the co-ranking process that determines their co-groups. Spring training, which usually takes place at the end of the academic year, will have a similar video and discussion-based format.
In contrast to the 54 planned calls each JA will take part in next month — most of which will likely be conducted via FaceTime, Google Hangouts or voice call — some students have recently come to favor mobile apps that allow for video chatting of a more spontaneous nature.
Houseparty is one of many apps that let users video chat with their friends, but unlike Facetime or Skype, users are notified whenever people they know open the app, and anyone can see whom their friends are talking to at any given time. Unless a conversation is "locked" from the inside, any user who is friends with one of the members can join it, making it possible for a single chat room to accommodate a freely rotating group of users as friends come and go.
Eli Miller '21 took advantage of that feature not long after he returned home, celebrating his 21st birthday "social-distancing style" over Houseparty. Instead of having visitors over in person, Miller maintained a Houseparty "room" for much of the day, which allowed him to connect with a broader range of friends than a standard party might. "There were some fun moments when people from very different parts of my life joined the 'house' at the same time," he said.
Miller said he appreciates the casual, often impromptu way Houseparty brings people together, which he compared to the social conventions of the booths in Lee's. "I think it's mostly socially acceptable, when you see a friend with a group of people, to join the Lee's booth and hang out with those people," he said. "It feels like a similar vibe, where you see four people hanging out and you can often join."
When a group of friends don't know each other well enough for it to feel natural to call each other or video chat individually, Houseparty can be an ideal medium for keeping in touch, as the app is unusually well-suited to group interactions. In those cases, or for larger groups — the maximum is eight people at any one time — Miller noted that the in-app games, which range from trivia to Pictionary, can provide a common activity when conversation falters.
Wynn and Orluk said their vision for Maud's Marauders has the video game occupying a similar niche. "I do think things like Clash of Clans, where you aren't asking for a ton of commitment but are still maintaining a connection, help with those types of relationships," Orluk said. "It's the people that you run into in Paresky, where your ten-minute chat with them is a really important part of your day, but it would feel strange to be like, 'Hey, do you want to FaceTime for 10 minutes?'" Wynn said.
In those cases, the video chatting app Marco Polo can be a happy medium. Like Snapchat, Marco Polo lets users record and send short videos in one-on-one interactions, but unlike Snapchat, which allows for both individual and group messaging, the clips don't disappear after sending, so users can go back at any time and view the messages they've sent and received in order. Alex Pear '22 said she has used the app to stay in touch with other players on the women's squash team, and values the fact that conversations remain available indefinitely.
"Marco Polo is wonderful because I can open my phone and see all my friends' faces individually, and pick up where the conversations left off," she said.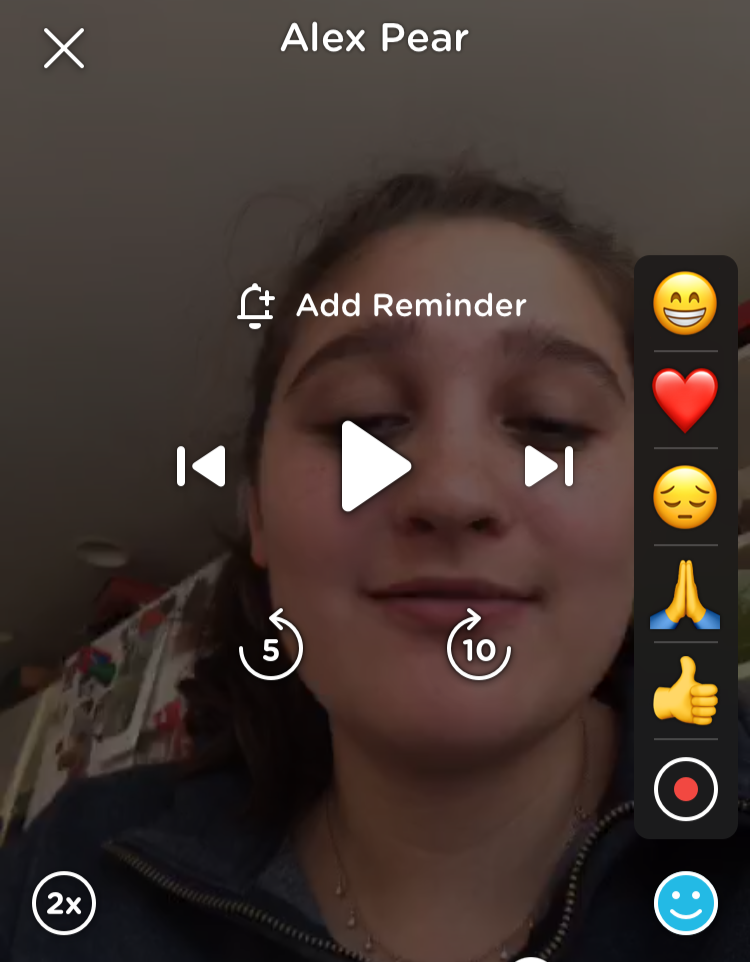 Orluk said the fact that many people are stuck inside with their phones has meant texting is easier than ever, especially in larger group chats, but it can be a challenge to have meaningful interactions without face-to-face contact. "There have been more hour-long conversations going on in group chats than I've ever seen before," he said. "I think it's pretty easy to stay in touch with friends by sending texts. It's harder to stay in touch in a way that actually furthers our friendships."
For people who are less inclined in the first place to text frequently, communication can be a real challenge. "I think it's been very mentally difficult for me to keep up with people virtually since I'm not naturally a texting/calling kind of person," Le said.
Wynn agreed, citing Instagram as a favorite platform because they find it better suited to their communication style. "All my GroupMe [chats] are muted because I'm just bad at that sort of interaction, but I like Instagram because I can see what other people are doing on my terms," they said.
Over the last few weeks, the Instagram story feature, which lets users post an image that disappears after 24 hours, has seen a surge of "challenges," where users complete a certain activity — drawing a fruit or vegetable, doing pushups in front of the camera or posting a song with a certain word in its title — and then publicly challenge a few friends to do the same.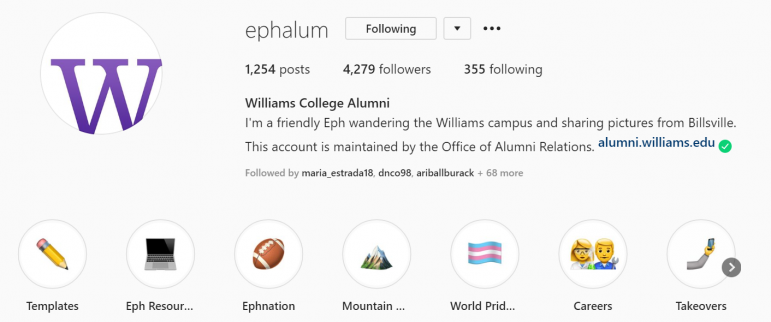 The Instagram account maintained by the Office of Alumni Relations, @ephalum, is behind one story template that has been widely shared among current students at the College. Titled "The Mountains, The Mountains," the template invites users to list a favorite in each of several categories and then tag their friends. All six templates on the ephalum account, which has almost 4,300 followers, were created last week by Kelan O'Brien, alumni fund development officer for communications and student engagement, who manages the account along with Assistant Director of Alumni Relations and Director of Digital Engagement Juan Baena '06.
"I've wanted to create these for a while; in fact, I have a document from March 2019 with a list of ideas for the 'This or That' template," O'Brien said. "Creating and posting them now was a way to try to do something lighthearted to connect members of the Williams community together and luckily, I think they did just that. I've seen people actually get into debates about MASS MoCA vs. The Clark after posting them."
O'Brien said these story challenges have gained in popularity recently as community members try to connect with friends remotely. "While these are not made to take away from the seriousness of the situation, I think people are looking to find joy in different ways from wherever they are," he said. "Social distancing also requires us to connect virtually with our friends and communities, which is why you're encouraged to tag people in these templates."
Tali Natter '23 put up a story on her Instagram account inviting her followers to send her their mailing addresses in exchange for a postcard. In the last two weeks, she has mailed 53 cards to friends and acquaintances across the country, and replies have been steadily flowing back. [Editor's note: Natter serves as a podcast editor on the Record but played no part in the editing process for this article.]
Meanwhile, with almost 3,250 members, the "Williams Memes for sun-dappled tweens" page on Facebook has been extremely active, with several recent posts making light of the transition to remote learning or contributing to debates on the College's newly adopted pass/fail grading system.
Twitter, another major social media platform, has also seen more lighthearted usage recently from students. "My use of other social media platforms hasn't really changed, but I've been finding that Twitter somehow lends itself really well to being in self-isolation," Polly Ellman '22 said. "Suddenly, everything is relatable because we're all going through different versions of the same thing, and 280 characters or less is the perfect amount of space to express that relatability and find the humor in it without falling into a pit of despair."
Ellman said that Twitter allows users to both stay connected with people that they value and express themselves creatively. "I've definitely noticed people I follow sharing more OC [original content] as of late. That probably goes back to the relatability thing, but I think people are also a bit starved of conversation and looking for new ways to make their voices heard and engage with their friends in ways that at least resemble how they communicated back on campus," she said. "I've also been noticing that a lot of people just seem to be really embracing their creative sides in self-isolation, and that could be a part of it too."