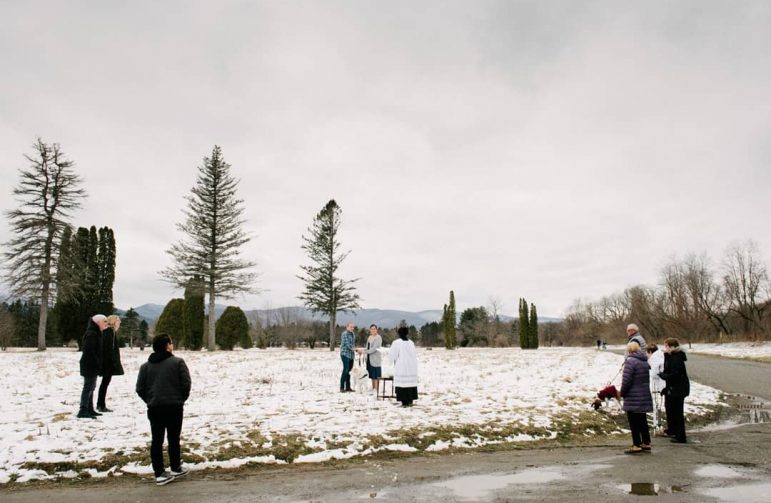 Mackenzie Hunter and Landon Marchant '20 knew from the start that they did not want a "traditional wedding." They originally envisioned getting married in New Zealand this June, during a honeymoon-slash-road trip across the country. When the COVID-19 pandemic brought international travel to a halt a few weeks ago, however, the duo came up with a backup plan much closer to home.
On March 24, Hunter, 29, and Marchant, 28, got married at Spruces Park, only a few miles from their off-campus apartment in Williamstown.  Surrounded – albeit from a distance of at least six feet – by eight of their loved ones, they began their lifelong journey together with a 10-minute-long ceremony officiated by Chaplain to the College Valerie Bailey Fischer. 
Marchant considers themself and Hunter to be "adventure buddies." "Life has just kind of been an adventure," Marchant said. "And it's been an adventure before we met and since we met, so I think getting married in the middle of a pandemic is hilariously on-brand for us."
It was a wedding ceremony planned and executed in two weeks under the stressful and trying times of a global pandemic – a start to their union unlike what Marchant and Hunter had initially imagined it to be. Still, the two decided that getting the legal benefits from marriage now could best ensure good health  in the coming months.
"We wanted to make sure we had all our ducks in a row in case something did happen or if someone is sick, the other person can take care of them," Marchant said.
Over the course of a few chaotic days before the town's government closed its doors for the foreseeable future, the couple filed their paperwork with the town clerk in Williamstown. It was then a matter of finding a location, inviting no more than 10 guests and finding someone to officiate the ceremony – which proved to be doable tasks. In true Williamstown fashion, Hunter and Marchant happened to run into Fischer while on a walk down Spring St. "'Hey Reverend, how would you feel about officiating a wedding?'" Marchant recalled saying to Fischer, who gladly agreed and helped the couple plan a secular ceremony.
Hunter's parents, aunt and grandmother live nearby and were able to attend the ceremony, as was Marchant's "Williamstown family," including Professor of Philosophy Steve Gerrard and his wife.
There were only a few minor hiccups: the attire, the rings and the bachelorette party. Hunter and Marchant had already bought their clothes for the wedding, and were due for a fitting later this spring, but with the sudden changes in date, they settled for formal wear already in their closet. The bachelorette party was supposed to be in April, and the rings had not yet arrived, but the couple was not so concerned.
"We will back-fill our proper wedding," Marchant said with a laugh. Hunter added, "We'll save the dress for a vow renewal or something where we can have a proper ceremony."
Standing together on a fresh sheet of snow in Spruces Park, the ceremony was simple and sweet – nothing more was necessary to confirm their love for one another. Rushing back into the comfort of their apartment to escape the frigid New England day, Hunter and Marchant held a small celebration over a bottle of champagne and cake, gifted to them by the Gerrards.
"It was nice, it was quiet, it was us, and then it was back to usual the next day," Marchant said.
Marchant and Hunter first met after matching on Tinder in 2017. Hunter, who now teaches history at Long Trail School in Dorset, Vt., had just returned from her first year teaching in Kuwait and was staying with her parents in the Berkshires for the summer. Marchant, who previously served in the Air Force and was a plumbing apprentice before coming to the College, was on campus doing summer research and downloaded Tinder as a way to meet other people in the area. "I wasn't looking for anything serious, I wasn't even looking for dates," they said. "I just wanted to go hang out with people and get coffee and wine and meet interesting people." 
"And then I ruined everything," Hunter interjected. Marchant laughed, replying, "Totally and completely destroyed all of those plans."
Their five-hour-long first date started at the now-closed Hops & Vines' margarita night and progressed to The Log on Spring Street. They soon met up again to cook dinner in an on-campus kitchen and ended up talking by the Green River for hours. "By the second date, I knew I was in serious trouble," Marchant said.
"We've found someone who matches our weird," Hunter said.
In the fall, Hunter returned to Kuwait to finish her last two years of teaching and the pair dated long distance. Marchant visited her over spring break both years and they met in the middle to spend their first Christmas together in Spain.
During the summers, Hunter and Marchant were reunited in the Berkshires. In the summer of 2018, Marchant began planning an elaborate proposal that would take place during a weekend trip to Boston. While playing Pokémon GO on a walk through the Boston Public Garden, Marchant sneakily led Hunter to a willow tree and got down on one knee. They fashioned the ring box to look like the iconic Adventures Book from the opening sequence of Disney's Up and asked Hunter if she would go on adventures with them for the rest of their lives.
"My mom was a florist," Marchant joked. "This is not my first rodeo when it comes to planning dumb, cute shit."
Later that day, Hunter reciprocated, asking Marchant to marry her in Boston's Seaport district. Although Marchant promised they would not propose that weekend, Hunter brought along a second ring just in case. "I had been carrying it around for a while," she laughed. Afterward, the pair met up with friends who had traveled to celebrate with them.
When Hunter permanently moved back to the U.S. last fall, they moved in together to a College-owned apartment in Williamstown. Now, the newlyweds also live with their dogs, Malibu and Aspen, and their cat. After Marchant graduates this spring, they hope to remain in Williamstown and move into a house. "We're both really close with this community and feel like it's home," Marchant said.
They are still planning to spend their honeymoon road-tripping through New Zealand once travel restrictions are lifted and it is safe to do so. Hunter, a self-professed Lord of the Rings fanatic, has charted a route that hits all the saga's must-see sites.
Until then, however, they are focusing on the present, as Marchant finishes their last semester at the College and Hunter switches over to remote teaching. Right now, they are trying to train Aspen, who they took in at the beginning of February. Marchant joked that when Aspen finally learns the 'stay' command, "That is probably going to be the highlight of the next few months."
---