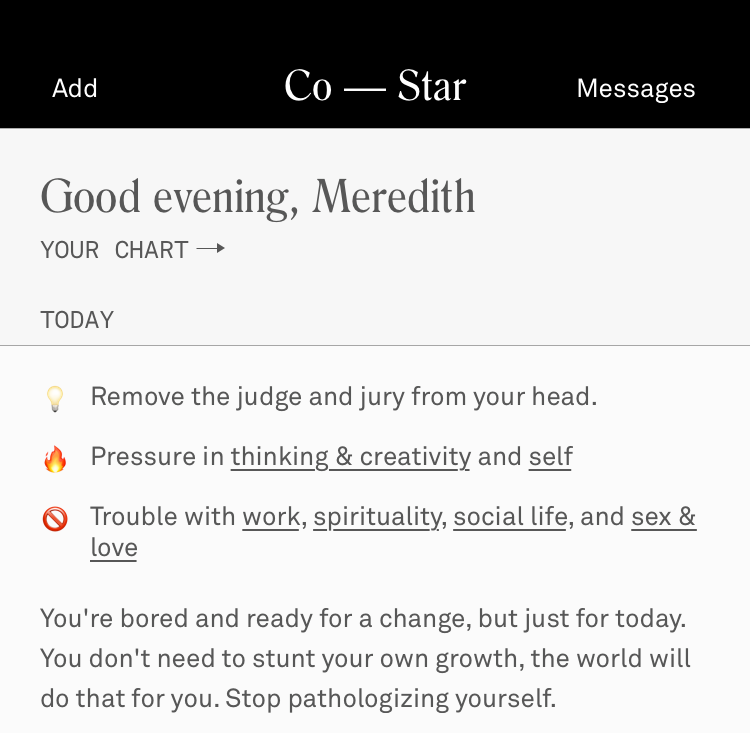 A good friend of Ana Sofia Roldan '23 called her without warning one night during fall semester. "'Hi, I have an extra ticket to see Hiatus Kaiyote' — our mutually favorite band — 'in New York. It's tonight. We leave in an hour,'" Roldan recalled her friend saying.
"I had a paper due the next day that I hadn't started writing, and I was in the process of sending a text saying I wish I can go but I really can't, and Co-Star sends me a notification at that moment that said 'Go out tonight,' Roldan said. "I was like, 'Well, shit — now I have to do it.'"
That night, Roldan wrote her paper in the car on the way to New York.
Roldan said she did not regret making the risky decision. "It was incredible," she said. "I got closer with the friends that I went with. The experience was really meaningful and so worth it."
Roldan, who is a Leo, explained that despite not believing in astrology, Co-Star, an astrology app, is her newfound way to make quick decisions.
Astrology, a pseudoscience that has existed for thousands of years, is a study of the movement and positions of celestial bodies that aims to interpret their influence on human affairs and terrestrial events. It has increased in popularity among young people in recent years, who use apps like Co-Star. Using the user's exact time, date and place of birth, Co-Star generates birth charts for its users. The app claims on its website to be a "hyper-personalized, social experience bringing astrology into the 21st century."
On campus, some students use it for decision-making, and some to reflect on social connections and life goals. The practice is so ubiquitous at the College that Roldan encountered astrology as early as EphVentures. "Our WOOLF [Williams Outdoor Orientation for Living as First-years] group theme was B9: star sign," Roldan said.
Roldan's said she does not always listen to Co-Star. She makes her decisions based on whether daily messages from Co-Star align with what she actually wants to do.
"It's kind of those coin-flip things, if you are debating between two options and you flip a coin," she said. "Either it decides it for you, or if you are not happy with the decision then you know what you should have done anyways."
Roldan's friends have also used Co-Star as a convenient decision-maker. One friend was joking about joining mock trial because she appreciated that the team was going to Olive Garden on the way to an event the next day. She ended up joining when she checked her Co-Star and it told her to "Embrace new opportunities."
Roldan said that these experiences solidified her and her friends' attachment to Co-Star.
"After that, everyone in our circle downloaded Co-Star, and now if we are all hanging out and it hits midnight, we check our Co-star for the day," Roldan said. "It's kind of a ritual."
Meredith Wolf '23, an Aries, uses Co-Star as a fun way to add friends and check compatibility.
"It's almost like a form of social media," Wolf said. "You have your notification for the day, advice and a breakdown of the different areas of your life: work, sex and love, self."
On Wolf's 18th birthday, she and her mother got their charts read by an astrologer that her mom knew through yoga class. The astrologer "had an app that she had designed, very similar to Co-Star, where you plug in all your information, your birth sign, what hospital you were born in, and then she would read it," Wolf said. "It would definitely be a more in-depth analysis because she could tailor it to you."
The astrologer told a story about how a customer, who works in finance, became so involved in astrology that he learned how to read charts and started basing his investments on them.
Wolf said that while Co-Star is widespread on campus, not everyone buys into it. She and some entry mates made their JA download it, but he immediately deleted it.
"He is a chemistry major," Wolf said. "I think people that are into the hard sciences are a little more skeptical about astrology in general. I don't think there is enough hard evidence to back it up."
Sara Sadri '23, a Taurus, said she believes that Co-Star makes astrology social and might become a compatibility analyzer on campus.
"This school is kind of obsessed with EphMatch and DataMatch and trying to figure out their pairings, and I think because it is a small campus, Co-Star is good for that sort of thing," Sadri said. "People like to have reinforcement."
Sadri said she liked the way Co-Star distills horoscopes down to one sentence and at times has very specific and ominous messages.
"I'll be at a lunch table, and we will all just check Co-Star, and it is sort of like a dramatic fortune cookie," Sadri said. "People that I've talked to that are on Co-Star generally get more into astrology because of it."
For her, astrology has become a path for deeper introspection. It is a way to connect the traits each sign carries to personality, and potentially internalize the ideas astrology puts forth. She often questions whether she actually encapsulates her sign.
"It is definitely something superficial for me," Sadri said. "I do think that people that are born at similar times have similar traits just because I think they are coming into the world at the same time. But sometimes the level of specificity, I am a little wary of."