"American Factory" raises questions about the history of unionization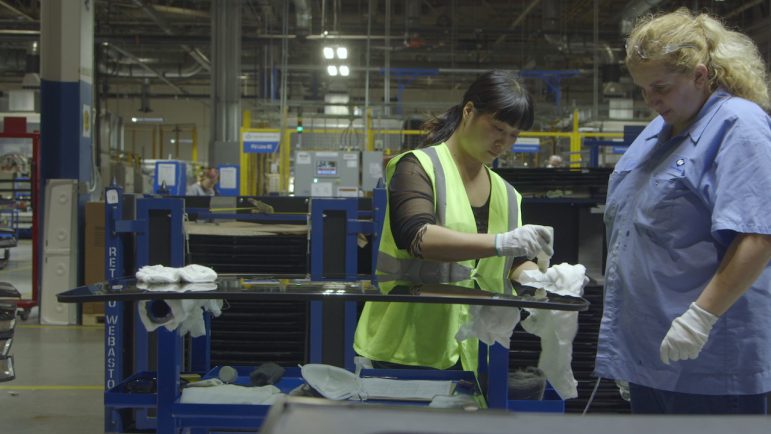 Last Thursday, The Massachusets Museum of Art screened "American Factory," the first documentary of "What's At Stake," which is a spring film series showcasing documentaries about the issues that defined 2020, from voting rights to climate change. "American Factory," a film by artistic team Steven Bognar and Julia Reichart and the winner of Best Documentary Feature at the 92nd Academy Awards, explores the tension between American employees of the Moraine Assembly Plant outside of Dayton, Ohio and the Chinese company Fuyao Glass America, which moved into the previously shuttered factory plant.
Moraine Assembly was home to General Motors from 1981 to 2008, when the plant closed down and laid off its workers. In 2014, however, Fuyao Glass purchased the plant and began providing jobs to local unemployed workers alongside workers who had left behind homes and families in China to resettle in Ohio. By moving into Moraine, Fuyao created more than 2,000 local jobs. The company's arrival, however, changed the culture to which former General Motors employees had been accustomed. The film takes a critical look at the differences between the Chinese and American styles of industrial management and the benefits and pitfalls of each. One particular narrative through the film is the impending question of Chinese economic dominance and American unionization.
Unionization signifies different things for different invested parties; for the American workers who want to create a bargaining unit, it means increased agency in bargaining for safer working conditions, medical benefits and increased pay raises. For Fuyao Chairman Cao Dewang, however, unions infringe upon a company's ability to manage its workers. "As long as there are unions in America, factories [there] will not improve their efficiency," Cao said in an interview with the Beijing News a few weeks after the film was released on Netflix. "If a factory can do without a union, it's better not to have one." Fuyao Glass paid LRI, an anti-union consulting company, more than one million dollars to prevent workers from unionizing. The money paid off, as the workers of Fuyao voted against unionizing. One worker in the documentary noted that the young people, despite wanting to earn more, feared losing their jobs. Though workers cannot legally be fired for going on strike, they can be permanently replaced, a distinction which often offers little consolation.
Though the film is set in the Midwest, the situation which it describes is relevant to North Adams, which experienced a version of the events described in "American Factory" in the late 1800s. In 1869, Calvin Sampson, a shoemaker and North Adams resident, bought a plant on Marshall Street and employed French-Canadian workers to manufacture shoes. Most of these workers were members of the Order of the Knights of St. Crispin, an American labor union formed in 1867 which organized and advocated for shoe factory workers. Sampson's factory was situated directly opposite from the Arnold Print Works, the company that previously occupied what is now MASS MoCA's sprawling industrial campus. The new factory employed the latest in manufacturing technology, reducing the skilled labor previously required for making shoes. Frustrated with the looming automation, and advocating for shorter work days, the labor strike was organized.
In response, Sampson dismissed all known members of the Knights of St. Crispin and brought seventy-five young Chinese men from the West Coast to work at the factory as strikebreakers. Within four years, their numbers increased two fold — these workers were notably more efficient than the former employees, and their presence at the factory inspired other factory owners to consider employing independent Chinese workers rather than union men. The story inspired artist Simon Starling to create The Nanjing Particles, a 2008 MASS MoCA installation that addressed a poignant aspect of North Adams' history as home of the largest population of Chinese immigrant workers on the east coast. Professor of English Karen Shepard's 2013 historical novel The Celestials also deals with the Sampson factory; Peter Glazer, a director and writer from the University of California, Berkeley, is currently adapting The Celestials into a full length play which will have a reading in MASS MoCA's Club B10 this May.
"American Factory," though an interesting look at an isolated case study, arguably misses the chance to engage with the larger and more complicated history of tension between labor unions and Chinese workers in America. The history of Chinese workers in North Adams is just one example of how capitalism weaponized Chinese labor against unions. This weaponization bred racist and xenophobic sentiment within labor activists that eventually gave rise to the Chinese Exclusion Act of 1882, a piece of legislation that barred Chinese immigrants from entering the country and was the first law ever implemented in the United States that barred immigration for all members of an ethnic group. Hints of this xenophobia are still prominent within the film, and, whether or not intended, one gets the message after watching that China's intense and regimented work culture produces workers who are used to compromising their safety, personal life and wages for efficiency. One may walk away with the conclusion that this Chinese ethos poses a threat to the American workers who are not accustomed to making the same sacrifices.
While "American Factory" emphasizes that friendship and cultural exchange can bridge the differences between two groups of workers, it provides no sense of whether Chinese workers might gain perspective about union causes from their American co-workers, as much of their information about unionization is filtered through Cao Dewang's anti-union sentiment. While we know that Moraine voted against unionization, we never find out whether any of the "Yes" votes belonged to Chinese workers. Thus, the presumed anti-union stance of these Chinese workers becomes a threat looming as large in the film as the quintessentially American capitalist conditions to which all workers are subjected. "American Factory" chooses not to contextualize Moraine's story within a broader narrative of anti-Chinese sentiment within American labor unions, and in doing so it misses how unionization is a more fraught history than that depicted.
The "What's At Stake" film series will continue until March, also including films such as Let the People Decide, Border South and Swarm Season.