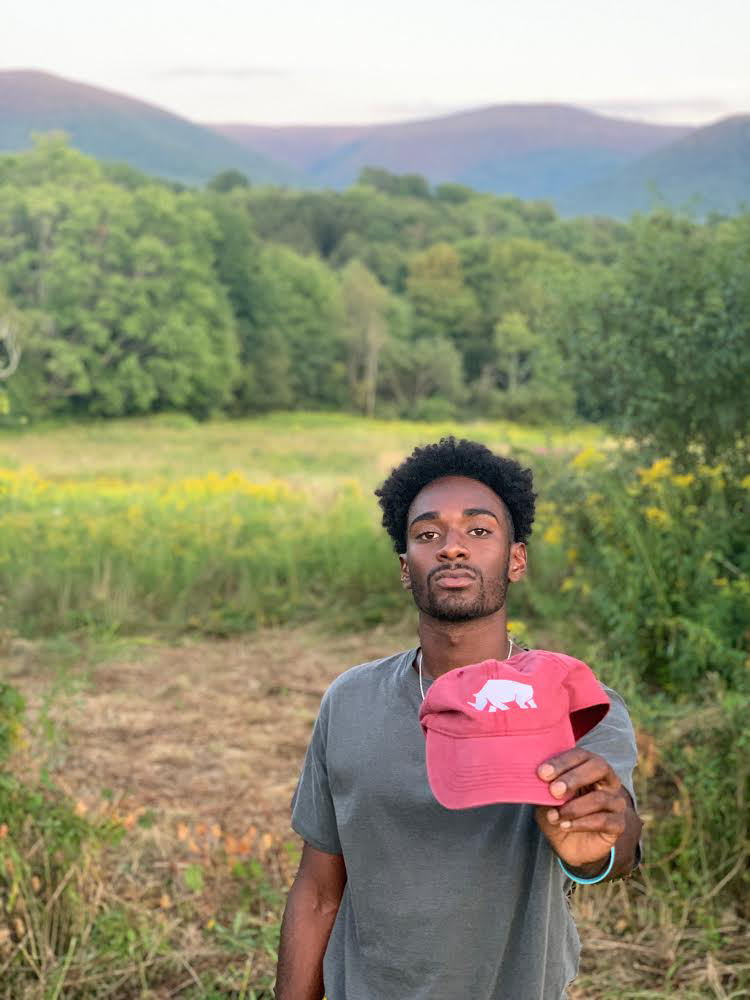 Peter Frelinghuysen '22 and Michael "Misha" Medvedev '22 have been friends since they met while playing junior tennis at age 14. Last summer — half a decade later — they decided to start their own company, Earth Caps.
"We always talked about starting various businesses together," Frelinghuysen said. "Sometimes light-heartedly … and other times more seriously. We knew if we wanted to start a company, we needed some sort of serious underlying mission, and of course we are both big advocates for the environment. Climate change is a big deal, and someone has to do something about it." 
Frelinghuysen and Medvedev, both members of the men's tennis team, are avid hat wearers. Medvedev said he has about 40 hats on his hat rack back home, while Frelinghuysen has at least 200, around 40 of which he has here at school — a diverse assortment of baseball, winter and bucket hats.
"Last summer, we realized that we were both wearing hats every day, and we were talking about climate change on a daily basis," Medvedev said. From there, the pair came up with the idea for a hat company.
Frelinghuysen and Medvedev initially funded the company with earnings from their summer jobs. They designed the logos using Photoshop, looked for U.S. manufacturers and made a website and Instagram page on which their products are available for purchase.
"We have not turned a profit nor pocketed any returns," Frelinghuysen said. "All money made from sales has either been donated or put back into the company itself."
After coming up with the name for the company, the pair developed slogans for Earth Caps, like "Buy a cap, save the earth" and "Saving the earth one cap at a time."
They currently have four hat designs for sale. The hats contain images of a penguin, rhino, wind turbine or coral, which are all aspects of the planet affected by climate change.
The wind turbine hat is "kind of a hurrah to sustainable energy," Frelinghuysen said. "Hopefully our economy will eventually swing toward clean energy, as opposed to dirty fuels."
The two said they hope to make a new hat with a tree logo.
"A lot of what's going on in the Amazon and Australia — I think that's a big issue," Medvedev said.
"[For] each hat we sell, five dollars is sent to a specific non-profit," Medvedev said. The organizations Earth Caps donates to include Make a Change World, Save the Arctic, World Wildlife Fund and 350.org.
Right now, Frelinghuysen and Medvedev are doing research on finding manufacturers that will produce hats made out of plastic water bottles by melting the bottles into threads that are then woven into fabric.
"A lot of companies like Adidas are already making sustainable clothing made out of repurposed fabric, and we are just trying to get into that industry," Medvedev said. He and Frelinghuysen said they hope to set up a bottle collection system at the College to help source the thread for the company's hats.
Frelinghuysen said that the company could not make its first batch of hats out of plastic for two main reasons: Fabric made from plastic is expensive, and the pair did not yet have manufacturers who work with it.
Frelinghuysen said that innovators like Elon Musk and environmentally conscious clothing brands like Fair Harbor inspire him and Medvedev to become better entrepreneurs.
They both said that they are interested in doing something related to sustainable investing after college. Both said they hope that their business becomes a stepping stone for bigger and better projects in the future.
Working on Earth Caps has taught the pair to stay persistent even at the toughest moments, be it in the middle of exams or a big tennis tournament.
"On the business side, we have learned about margins, profits and trying to cut expenses," Frelinghuysen said. "It's just made us smarter with our money and with our decision making, and I think it's also a testament to our friendship. One minute we are joking, playing tennis, and the next, we are on a business call and talking numbers."