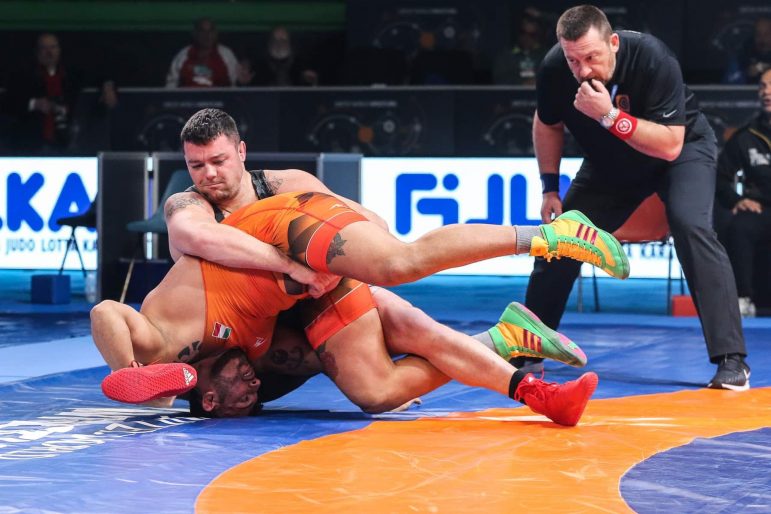 On Jan. 12, Ryan Malo '11 clinched the Italian National Wrestling Heavyweight Title. While he secured the title after winning his four bouts, his journey to the Italian National title was seven years in the making.
Malo, a former Eph wrestler originally from Massachusetts, decided to apply for dual citizenship alongside his uncle after visiting his mother's family in Italy in 2012. While wrestling wasn't the main focus at the time, he was already experienced with wrestling at a highly competitive level.
As a three-time All-American Eph, he finished his senior season with a record of 58–0 and was a two-time State Champion, as well as a New England Champion.
"I initially just wanted to [get Italian citizenship] because I enjoyed the research portion of it and connecting with my family," Malo said. "The idea of wrestling was certainly on the table, but I kind of just wanted to do it because my uncle was really into it too. Throughout that time, I was working different jobs and going back to school. The idea of wrestling over there was put on the backburner, because I was just getting older and had stuff to do."
Once he received his Italian passport in Aug. 2019, he began to consider the possibility of wrestling in Italy more seriously.
Currently in his last year at Georgetown Law School, Malo had to consider his academic and personal commitments into his decision to wrestle professionally. However, after discovering that the Italian National Tournament was held on the last weekend of this year's winter break, he decided that it was worth the effort.
To prepare for the tournament, Malo reached out to his long-time friend and Eph teammate Colin Curzi '12. Curzi, a recent graduate of the Johns Hopkins Carey Business School, already knew about Malo's aspirations to one day compete in Italy. When Malo reached out to him, Curzi not only agreed to help him train, but he also decided to go to Rome with him.
Every couple of weeks, Curzi took the train from Baltimore to Washington, D.C. to help Malo work out. Malo's training for the Italian National tournament, however, was different from the training that Malo and Curzi were used to at the College.
"[Malo] had moved up a division since college to the functional heavyweight, which was my weight class at Williams," Curzi said. "So he needed [an opponent] with a bigger, slower, more defensive style to practice with."
In D.C., Malo and Curzi would hand fight, either in the Georgetown Law gym or in public parks in the city. While Curzi admitted that he found fighting in public parks sometimes embarrassing, he deemed it a worthwhile experience.
"I mean, it was two dudes hitting each other in the park, which catches a lot of attention," he said. "But in the most positive sense, Malo has no room for embarrassment when it comes to what he's after. But it was great, it was a lot of fun."
Malo also received guidance and support from wrestling head coach Scott Honecker and assistant wrestling coach Tom Foote '13.
"[Coach Honecker and I] are always on the phone and he's always giving me tips about wrestling," Malo said. "When I was at Williams, I had a different coach, but [when Coach Honecker] came to Williams, he reached out to me and we've established a really great relationship and friendship. His help and his encouragement were huge in helping me get to Italy in the first place." 
Even though the Italian tournament was Malo's first time competing in seven years, he never fully stopped wrestling after graduating from the College.
After deciding to participate in the Italian tournament, Malo began to train more seriously at George Mason University, having previously worked out with the heavyweights there. He also stayed connected with his high school St. John's Prep and the Doughboys Wrestling Club back home. Over Thanksgiving break, Malo returned back to his roots at the College to train with Honecker, Foote and the wrestling team.
"I got a lot of help from a lot of different people and my friends and wrestling club back home and made it all work," Malo said. "It was really a team effort and I'm thankful to a lot of people for helping make it happen."
Coming off of his victory for the Italian title, Malo is currently participating with Italy's national wrestling team in the European Wrestling Championships, held on Feb. 10-16.
"It's going to be really competitive [and] some of the best guys in the world are going to be there," Malo said. "I'm looking forward to the chance to compete one more time. All of this stuff has been a blessing and I want to take advantage of it and compete and see what happens."
He has no concrete wrestling plans after the European Championships. But regardless of whether or not Malo continues to compete with Team Italy, he is confident that wrestling will continue to be a part of his life.
"I'm graduating this spring, taking the bar [exam] this summer, and then I have some personal commitments and professional responsibilities that I need to attend to and progress through that," he said. "But at the same time, wrestling is a huge part of my life and I'm sure I won't ever be that far from a wrestling mat. I'm trying to enjoy this as much as I can in the meantime, and that's what I'm focused on right now."