Anthony Jack discusses inequality on campuses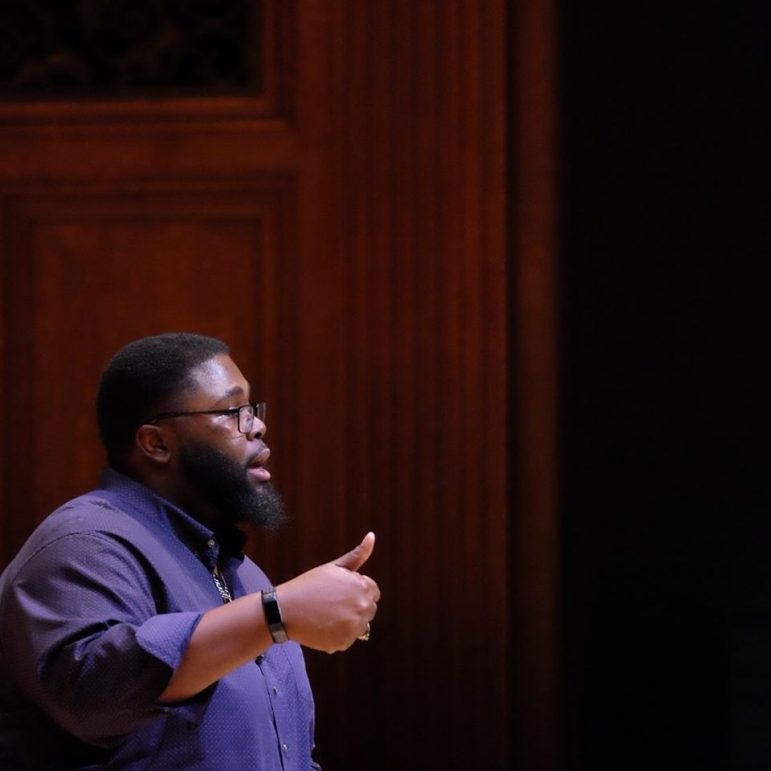 Anthony Jack, assistant professor at the Harvard Graduate School of Education and author of The Privileged Poor: How Elite Colleges Are Failing Disadvantaged Students, gave one of two keynote addresses for Claiming Williams Day last Wednesday in Chapin Hall. Jack's lecture centered around his research on inequality in higher education and included frequent references to his own experience as a lower-income student at Amherst College.
Jack's ethnographic research focuses on two subsets of the lower-income undergraduate population at elite colleges and universities: the "privileged poor," or students who attended private, boarding or college-preparatory schools, and the "doubly disadvantaged," who come to college from under-resourced high schools.
"In this talk today, I begin with my own experiences of being a lower-income, first-generation college student," Jack said, recalling his time juggling multiple jobs in order to support his family back home in Miami. He said the obligation he felt to devote his time to picking up work study hours stifled his freedom and impacted his mental health. "Beyond my inability to go out and get pizza at Antonio's, I thought I couldn't go to concerts — even if tickets were free — if a work shift became available," he said.
Jack eventually realized that his lifestyle was unsustainable, drawing inspiration from Harry Potter's Albus Dumbledorewho said, "It does not do to dwell on dreams and forget to live."
"[Dumbledore's] advice was a much-needed reminder to a college student who worked four jobs to slow down," Jack said.
His anecdotes illustrated a phenomenon at the core of his research: Lower-income and first-generation students often encounter a culture shock upon arriving at elite colleges, especially those students who must also support their families from afar.
Because of their disadvantaged backgrounds, those students are far less likely than many of their peers to end up at elite colleges in the first place. A 2013 study conducted by economists Caroline M. Hoxby of Stanford and Christopher Avery of Harvard found that the vast majority of low-income, high-achieving students do not apply to selective colleges, while their higher-income peers apply to a mix of selective and non-selective schools.
"Higher education is highly unequal and depressingly stratified," Jack said. "Although roughly one out of every two students in college today are the first in their family to go to college, just 14 percent of undergraduates at the most competitive schools are from the bottom half of the income distribution."
Jack went on to note that almost 40 colleges nationwide have more students from the top 1 percent of the income bracket than the bottom 60 percent. "Those from lower-income families are disproportionately relegated to community, for-profit and less selective colleges, where resources are fewer, graduation rates are lower and national investment is all but drying up," he said.
The College defines first-generation students as those who will be the first in their family to graduate from a four-year college or university in the United States. According to the College's website, the average enrollment of first-generation students is about 16 percent.
Jack called for an amplified focus on what it means to be a lower-income student at rich colleges. He referred back to his own story and others pulled from his fieldwork in order to illustrate the diverse ways that underprivileged students navigate their college years. "This is not just my job; this is my life," he said.
Jack emphasized the ways in which his research departs from typical studies on how socioeconomic background impacts students' transitions to rarefied college environments.
"I have long grown tired of analyses comparing those from families who came from money and those who didn't and leaving it there," he said. "My investigation into this overlooked diversity pushes back against the dangerous downplaying of how prolonged exposure to savage inequality in our neighborhoods and in our schools shapes how students make it to college differently, if they get there at all."
When it comes to making elite colleges welcoming environments for all, "access is not inclusion," Jack said, calling on the institution to take concrete steps to even the playing field for disadvantaged students. "Diversity is not a hashtag to be celebrated on one day and put on the backburner the next."
Jack ended his talk by encouraging students to take an active role in ensuring such changes take place. "To the students present today: your college is your home, and you are its citizens," he said. "Do not let the College receive donations in the name of diversity but spend those monies fortifying places where you are not even permitted. Do not sit idly by."
About the Writer
Nigel Jaffe, Executive Editor for Data
Nigel Jaffe '22 is a psychology and sociology major from Jersey City, NJ. He is the executive editor for data. He previously served as a staff writer,...