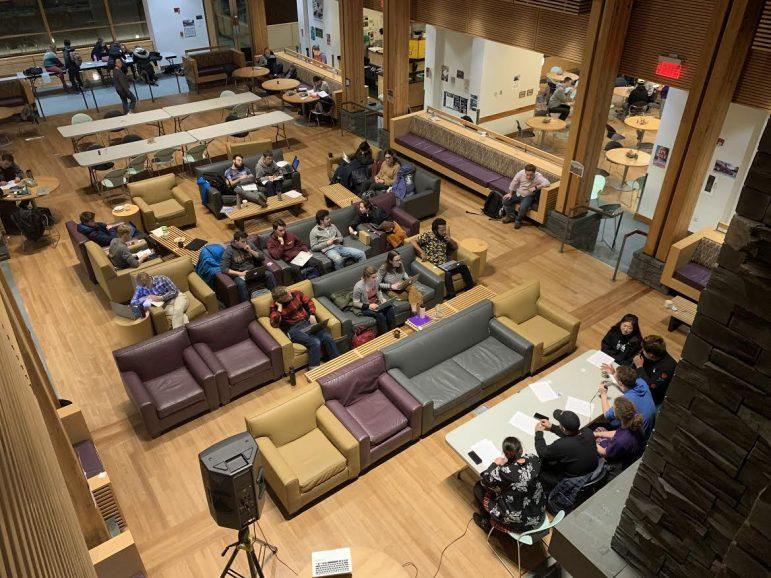 In an email sent to students on Feb. 5, the Student Government Task Force, which was elected last December and was tasked with restructuring the College's student government over Winter Study, recommended that College Council (CC) be abolished and replaced with three independent governing organizations. Under this plan, the College's student government would consist of a funding body, the Facilitators for Allocating Student Taxes (FAST); a board composed of chairs of student-faculty committees, The Advisory Board for Lobbying and Elections (TABLE); and an advocacy group, the Williams Student Union. As each of these bodies forms a new "pillar" of student governance, the overall proposal is entitled the "Three Pillars Plan."
Students have until Friday, Feb. 14, at 7:30 p.m. to vote on the Task Force's proposal. For the referendum to pass, a simple majority must vote yes; there is no minimum turnout requirement. If the referendum does not pass, then the College's student government will remain unchanged.
If the referendum passes, CC will be officially abolished on Sunday, March 1, following elections for members of the newly created bodies.
The Task Force's recommendation comes after a tumultuous year for CC, in which the organization drew criticism for its low-turnout elections, its hesitance to fund Black Previews and its decision not to give the Williams Initiative for Israel registered student organization status — which resulted in a federal investigation of the College over concerns of antisemitism. In the Record's November 2019 list of campus approval ratings, CC was the least popular College institution, with only 10 percent of students saying they approved of it.
In November, CC passed a resolution to create the 16-student Task Force, which worked over Winter Study to examine CC's deficiencies and generate the proposed solution.
Splitting up the functions of CC would mean that students could run for the positions they are best at and most interested in, Adam Jones '21, a member of the Task Force argued. Moreover, he said, having three independent organizations would prevent a problem with one pillar from affecting the others.
"College Council would have a fire," he said. "And because it was all in the same dumpster, the whole dumpster catches fire. So you have some issue, right? And it burns everything else down — there's no time or space to do any of the other functionality of College Council successfully." With the Three Pillars, he said, a metaphorical fire occurring in one body would not harm the others.
FAST
FAST, the funding body, would allocate money from the Student Activities Tax to groups and individuals on campus. FAST would consist of five elected representatives, called "funding facilitators," each of whom would receive an $800-per-semester stipend.
FAST would also be responsible for holding meetings twice a week with the goal of assisting students in finding alternative forms of funding for events. The first half of FAST's meetings would be open, but the second half, where FAST would make its decisions, would be closed, and funding facilitators' votes would not be publicly available.
Porter Johnson '21, a Task Force representative who serves as assistant treasurer on CC's finance committee (FinCom), estimated that the overall annual budget for the FAST would be roughly $500,000, in addition to about $40,000-$60,000 in rollover funds and a portion of the surplus funds which CC discovered last spring.
FAST's constitution dictates that its general fund be divided into five sectors, each allocated a set percentage of the funds. All-campus entertainment (ACE) would receive 28 percent, club sports and competitive teams 31 percent, performance groups 12 percent, and the Minority Coalition 12.5 percent, in addition to the money it receives from the Davis Center. The remaining 16.5 percent is reserved for clubs not included in other sectors, or for individuals seeking funding. Johnson calculated the allotments based on past CC funding records.
"One of the really important things that it does is it makes the job of the funding facilitators less political," said Adly Templeton '20, the chair of the Task Force. "So you don't have to be in this position of deciding how much money club sports gets."
Under FAST, only 90 percent of each sector's allotment can be distributed for clubs' annual budgets, reserving the remainder for clubs or individuals seeking money later in the year. If a sector's share does run out, however, groups will not be able to access additional funds.
"The caps are high enough that it won't be an issue," Task Force member Tyler Johnson '21 said. "Probably. I hope."
The Task Force's proposal not only restructures the student government's funding body but also reframes its purpose. In a departure from the CC bylaws, the FAST bylaws do not require that the events it funds be open to all students. The bylaws also state that one of the considerations funding facilitators should take into account is "the degree to which the event is demanded and accepted by the student body." In the CC bylaws, an analogous clause refers to "the student demand for the product or services," with no mention of student acceptance.
At a town hall on Monday, Perry said that the clause was not designed to enable funding facilitators to make value judgments on funding requests.
"'Accepted' just means that it's a community event and that the campus wants it as a whole," Perry said. "'Accepted' is a word that is supposed to signal community."
"These are not meant as hard and fast rules," Jones said. "These are meant as guidelines for the treasurers for when situations have nuance." He pointed to a clause in the FAST bylaws that notes, "these conditions are not legally binding."
Will Howie '20, a member of CC who has served on FinCom for the past year, expressed skepticism about FAST. He said FAST seems very similar to FinCom, although he acknowledged that FAST differs in that funding facilitators would take on a new role assisting students seeking funding. In addition, a funding proposal cannot be rejected without at least four out of five FAST members voting in the negative.
"The big change is that they've made it a lot harder to say no," he said. "Which, in principle, is a good idea because one thing we heard very strongly from the student body is that they didn't appreciate the fact that FinCom seemed arbitrary and was saying no to things that people thought they should say yes to."
Howie noted that he will decline to vote on the proposal, saying, "I worry that it's going to lead to fiscal irresponsibility, because CC has had issues with that in the recent past."
Much of the criticism of CC's funding process has centered on the lack of communication between FinCom and those with rejected funding requests. Often, Templeton said, groups were denied funding due to unfamiliarity with the committee's bureaucratic process.
"The previous system really rewarded treasurers who knew how to game the system," she said. "It was very easy to access College Council money if you knew the treasurers. If [not], it was very, very difficult."
The FAST panel of advisors is the Task Force's attempt to make the funding request process more transparent. The body would include three staff members from the Office of Student Life (OSL), the Davis Center and the Dean's Office, and would review all denied funding requests under $2,500. The panel would have the power to overturn FAST's original rulings, as well as make changes to FAST members' compensation.
"If you have people with bias on a specific issue [and] they made a bad decision on funding, you put it to an independent panel, who is maybe not as close to the issue, so they can take a second look," Jones explained.
Another significant difference from FinCom is that FAST funding facilitators would receive an $800-per-semester stipend. In a report released last November, an outside consultant examining CC suggested hiring a part-time OSL employee to handle its financial matters. "I would recommend, if budget allows, hiring a temp for 20 hours a week to take care of financial paperwork, run reports for groups and answer emails about budgets, expenses and the like," consultant Leah Flynn Gallant wrote in the report.
Task Force members decided against this suggestion, favoring greater student involvement in the process. "Putting all the stuff on OSL would probably be the easiest solution," Jones said. "But then you have no control over it. It is student money, and students should maintain control over our money."
Because the funding facilitators would fill the role of College staff, the five funding facilitators would be compensated for roughly four hours every week, combining to match Gallant's 20-hour estimate.
The $800 stipend corresponds to about 62 hours of student work, given the standard $13.00 hourly rate. Essence Perry '22, a Task Force representative, noted that compensation will decrease the financial barrier of joining FAST for those who must hold on-campus jobs.
TABLE
TABLE, a body comprising five student chairs of student-faculty committees, would appoint students to committees and provide the general student population an opportunity to discuss issues with the chairs, who would be elected by students. Currently, CC's executive committee is in charge of recruiting students for and appointing them to committees.
"Half the committees now are just empty," Jones said. "Committees are important — they're not sexy — but students have a voting voice on committees. And it's really important when you have a five-four faculty-student committee that you actually have four students in the room."
Current CC co-President Carlos Cabrera-Lomelí '20, who supports the plan, attributed the lack of student representatives to CC's limited appointment period. CC fills appointments only at the start of each academic year, Cabrera-Lomelí said. Therefore, he explained, seats not filled at the very beginning of the academic year often remain empty, regardless of later interest. Additionally, when student representatives choose to leave their appointments, there is no replacement process until the following fall. Under the Three Pillars Plan, TABLE would fill committee vacancies throughout the year.
The Williams Student Union
According to its constitution, the Williams Student Union would "create spaces for students to air grievances, talk about student concerns, and voice opinions" and "serve as a link between the administration and students, especially for important campus issues or policies." It would hold regular forums for students to voice their concerns and advocate to the administration on behalf of students.
"It has the same advocacy authority [as the College has mandated for] the current College Council, which is zero," Jones said. "It can collect voices and amplify them."
In the spring of 2021, students will vote in a referendum on whether to keep or dissolve the Union.
"The worst-case scenario for the Williams Student Union is that it does nothing," Jones said. "It's a no-harm organization."
William Ren '21 was the lone vote on the Task Force against having a separate advocacy body.
"Personally, I felt like [advocacy] was a duty that College Council never did," he said. "Also, I think the best cases of advocacy are when students themselves come together. Oftentimes, I think the formal structure misrepresents people and does a worse job." He said that despite his reservations about the Union, he plans to vote for the referendum, since he supports separating the funding and committee functions from each other.
The referendum
Voting opened on Sunday when Templeton sent out an all-campus email containing an electronic voting form, and will close after five days on Friday.
In the days leading up to the election, the Task Force posted memes advertising the proposal everywhere from the walls of the Paresky Center to the "Williams Memes for sun-dappled tweens" Facebook page.
If the referendum does not pass, Cabrera-Lomelí said, CC will soon hold elections for a new Executive Committee. Regardless of the referendum's outcome, CC and FinCom will meet as usual through March 1. "CC will continue its role 100 percent," Cabrera-Lomelí said. "Nothing's changing until the very last minute of College Council's existence."
Jones said the Task Force will host a referendum party in Baxter Hall this Friday night. "I think it's mostly going to be, you come, have pizza, popcorn, whatever it is, and that's where we'll formally announce the results," he said. "And I think people will be excited about that."