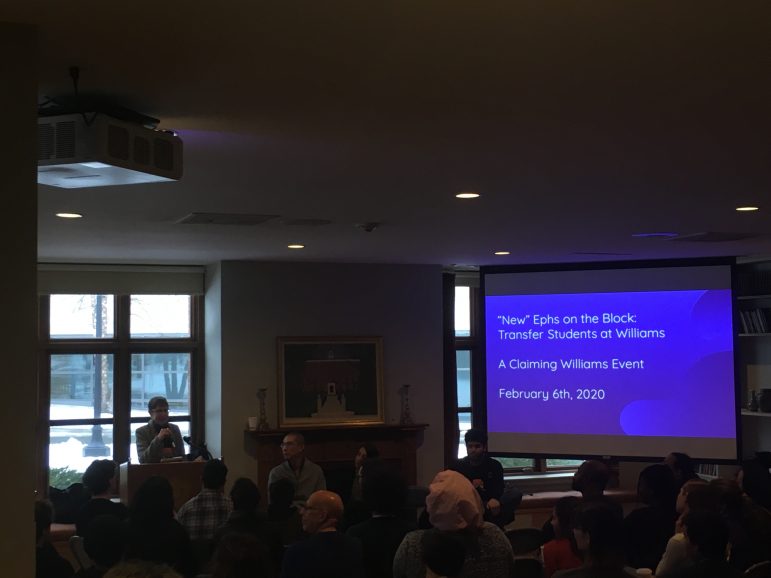 Last Thursday, several transfer students organized a Claiming Williams event entitled "New Ephs on the Block: Transfer Students at Williams." The event centered on the experience of transfers at the College and featured several panel speakers who had varying experiences with the college transfer process. 
The event began with an introduction by one of the organizers, Armanis Fuentes '22, who delivered a presentation detailing the history of transfer students at the College, once of whom was U.S. President James Garfield.
"The reason I'm here is because we're gonna make our presence known," Fuentes said in his introduction. "We want this program to be growing and to be integrated into the community. I don't want transfer students to just be a trend at this school. We need to make space for ourselves, and this whole event is us doing that."
Carrie Greene '84, director of commencement and academic events, then shared the story of her transfer experience at the College. Due to illness, Greene withdrew from Brown University and took 18 years off of higher education before becoming a part-time student at the College.
According to Greene, the program has evolved significantly throughout her time here. "I think it's amazing that the transfer program is becoming more robust," she said. "I think having a cohort on campus while you're a transfer student sounds like a great experience."
Professor of English Bernie Rhie followed with his experience as a transfer student from Santa Rosa Junior College to The University of California, Berkeley. Rhie talked about the valuable experiences that came from his community college education. "I think what really profoundly affected me about community college is the nature of the community college classroom," he said. "The radical diversity that you see is amazing."
Assistant Director of Admissions Alex DiAddezio concluded the panel by discussing her work managing the transfer and veteran admissions process. She said that, over the past several years, the College has focused its transfer program on finding talented students from many different kinds of populations. "The exciting thing about the transfer/veteran program is that they are bringing a whole host of life experiences to the table," DiAddezio said. "They've been informed by those experiences, and they bring those perspectives here to campus."
The event's organizers had originally planned to follow the presentation with a large group discussion, but the number of attendees exceeded their expectations. Instead, Lara Meintjes '22, an organizer of the event, led a Q&A, with transfer students in the audience answering questions and sharing their experiences with the crowd.
One of the main focuses of the discussion was how to better integrate and accommodate transfer students on campus. Several transfer students noted the lack of a specific space on campus for them, while others mentioned the need for an established cohort of transfer students on campus, with an orientation tailored towards transfer students. Many argued that small actions, like professors and students reaching out to welcome new transfers, make a significant difference in creating a positive transfer experience, especially for those coming from a starkly different academic environment.
As for the future, Fuentes said he is planning on repurposing his presentation for a Previews event, provided that transfer students are included in the upcoming year's Previews as they were last year. Fuentes and Meintjes said they hope to continue expanding the transfer program and create a more solidified transfer student association.
"We're slowly building this community that's not this invisible community anymore," Fuentes said. "There've been transfer students here for a long time. It's just that no one ever thought of them as a cohort, so now we're building that community."